Two-Year College Degrees Have Diminished in Value
(Bloomberg Opinion) -- The employment-to-population ratio of Americans ages 25 through 54, the most straightforward measure of the health of the job market, has now clawed back about 80% of its pandemic losses.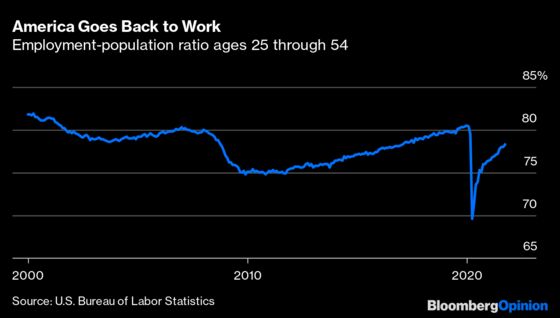 This leaves so-called "prime age" Epop a little more than 2 percentage points, or 2.5 million jobs, short of its pre-pandemic level. But the recovery has been much, much faster than those that followed the 2001 or 2007-2009 recessions. The October reading of 78.3% released last week was higher than at any time during Barack Obama's presidency.
So who isn't back on the job yet? There are many ways to slice that. Here I'm going to focus on educational attainment, a flawed but indispensable way to get at the various kinds of work people do, as well as maybe their social class. It doesn't get a huge amount of attention in monthly jobs report commentary because the Bureau of Labor Statistics doesn't release most of the numbers in seasonally adjusted form, meaning that you can't really compare October to September and so on. The BLS also releases educational breakdowns only for all people 25 and older (and thus not 25 through 54). Here's how October's numbers compare with those from before the pandemic in October 2019.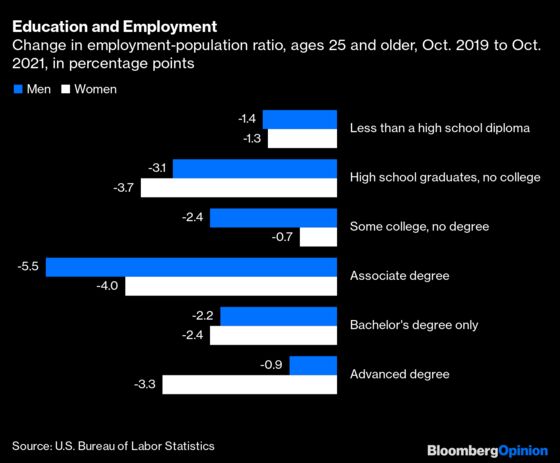 When last I examined these data early last year, what stood out was how tough the pandemic had been for women with only high school degrees — both in absolute terms and in comparison with men at the same education level. The high school-only category is the largest of the groups in the above chart, accounting for about 28% of the 25-and-older population in 2020. It's also a rough approximation for the working class, and working-class women were hammered last year by a double whammy of jobs lost because of pandemic-related shutdowns and child care challenges brought on by remote schooling. As of February 2021, their employment-population ratio was 6.2 percentage points lower than it had been in February 2020, versus a 4.6-point decline for high school-only men.
Employment is still way down among high school-only women, but things have clearly been getting better for them in both absolute and relative terms. The real standouts on the above chart (in a negative way) seem to be both men and women with associate (two-year-college) degrees and women with advanced degrees.
Before one starts pontificating about the deeper economic meanings of this, it's probably worth checking whether it's just random noise.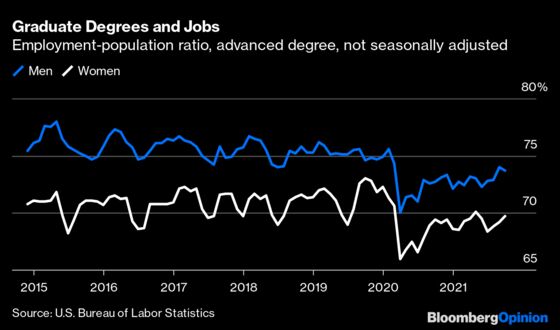 For women with advanced degrees, it might well be mostly noise. That is, employment is definitely down for them, but October 2019 provides an anomalously high benchmark. Compared with October 2018 the group's Epop is down 1.7 percentage points versus men's 1.5 points; compared with October 2020 it's up 0.3 point versus men's 1 point. There's a modest gender gap and not a huge improvement over the past year for either women or men, but on the whole people with graduate degrees are doing OK.
The big declines in employment among both men and women with associate degrees, though, seem too big to explain away like that. (This chart goes back further than the previous one because there are more years of data available from the BLS.)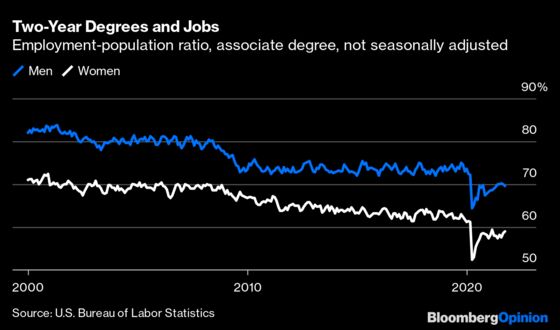 Americans with two-year degrees and only two-year degrees are not a massive group: just 10.4% of the 25-and-older population in 2020. Only the less-than-a-high-school-degree category is smaller, and this size may affect the reliability of the data. Also, some of what's going on here is that women, who since the mid-1990s have made up more than 60% of associate degree recipients, are increasingly either adding on more degrees after the associate or skipping it entirely. So the population and skill set of women with only associate degrees is different from what it was a decade or two ago. Plus, a fair number of them are still in school working on that next degree.
Overall, though, it does seem that the associate degree has diminished in value, especially over the course of the pandemic. Associate-degree holders earn higher wages and are more likely to be employed than those with only high school degrees. But they've seen their employment-rate advantage over high school graduates shrink while falling yet further behind those with four years or more of higher education.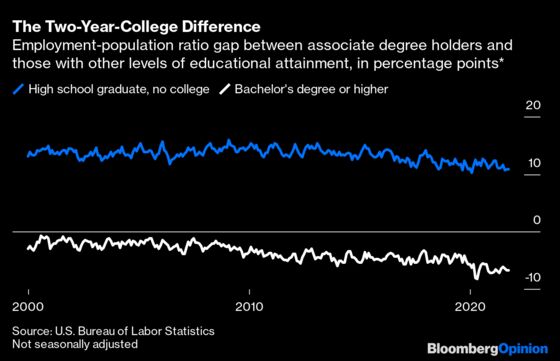 There are specialized two-year degrees and shorter certificate programs for which the job prospects are great, but more than 40% of the associate degrees awarded in 2018-2019 were in liberal arts and sciences, general studies and humanities, and another 11% were in business. Those all seem more valuable as stepping stones to more college than as stand-alone career credentials, yet according to the National Student Clearinghouse Research Center just 31% of two-year college students transfer out to four-year colleges and only 15% complete a bachelor's degree within six years.
The pandemic's outsize impact on people with two-year degrees is admittedly a bit mysterious. Yes, many work in jobs that can't be done remotely and either disappeared or became a lot more dangerous with the onset of the pandemic, but that's true for those with less education, too. Some of their employment drop might still turn out be statistical noise.
Young adults seem to be seem to be taking notice of it, though. The NSCRC estimates that freshman enrollment at public two-year colleges is 20.8% lower this fall than it was two years ago (at public four-year colleges it's down 9.1%, and at private nonprofit four-years it's down 4.9%). Reversing this trend could be impossible given looming demographic shifts, but even just slowing it might require that two-year schools come up with a better value proposition.
This column does not necessarily reflect the opinion of the editorial board or Bloomberg LP and its owners.
Justin Fox is a Bloomberg Opinion columnist covering business. He was the editorial director of Harvard Business Review and wrote for Time, Fortune and American Banker. He is the author of "The Myth of the Rational Market."