Trump's New Immigration Tool Blocks Future Carnegies
(Bloomberg Opinion) -- Since his election, President Donald Trump hasn't managed to pass any major legislation to reduce immigration to the U.S. His proposal to tilt immigration from family reunification toward employable skills never made it through Congress, nor did similar plans by his political allies. But Trump has discovered that a great deal can be accomplished through the power of the executive branch alone.
First, by changing the rules for granting asylum and signing agreements to divert migrants to other countries, Trump effectively halted the flow of asylum seekers from Central America. The administration also has made it harder and more complex to navigate the immigration system. Refugee resettlement also has dropped to record lows.
But the biggest impact may have come from the administration's frequent use of xenophobic rhetoric. No longer does the U.S. advertise itself as a nation of immigrants; Trump, instead, declares that the country is "full," denigrates immigrants from African countries, and his top immigration adviser repudiates the inscription on the Statue of Liberty. That attitude is probably giving pause to a lot of people who might otherwise want to live in the country; in 2018, the annual increase in the foreign-born population dropped by about 70% from the previous year, to only 200,000. People are still moving to the U.S., but in much smaller numbers than before.
The administration now is launching a new attack on legal immigration. In a close vote, the Supreme Court allowed the administration to go forward with its planned redefinition of an old rule barring immigrants who are at risk of becoming dependent on government benefits.
Versions of the so-called public-charge rule have been in place since 1882, though the language has been modified several times. The rule states:
Any alien who, in the opinion of the consular officer at the time of application for a visa, or in the opinion of the Attorney General…is likely at any time to become a public charge is inadmissible
But just what it means to be a public charge is up for interpretation. Past administrations had only labeled an immigrant as a public charge if they got more than half of their income from government cash benefits. But under the Trump administration's stricter interpretation, any immigrant who receives certain means-tested public benefits -- housing vouchers, food stamps, Medicaid and so on -- for as little as just 12 months during a three-year period will be considered a public charge.
Naturally, this will deter would-be immigrants from using these benefits. But that might not be enough to save them because the rule doesn't require applicants to actually get the benefits to be denied visas -- all it requires is that immigration officials deem the applicant likely to use one of the benefits in the future.
This obviously introduces opportunities for substantial bias in who Trump's immigration officials decide to let in. They are allowed to consider a large number of factors -- age, credit scores, family size, English ability, financial assets and so on. But there is no assurance that application of these factors will be uniform, and there is the risk that bias against applicants of certain races, religions and national origins will figure in admissions decisions.
But even if the guidelines were applied fairly, this harsh standard will exclude large numbers of the most desirable entrants. The most enterprising, successful immigrants often come to the country with few assets and spend years struggling before they or their children make it to the top. Studies show that immigrants' families show remarkable levels of mobility from the first to the second generation: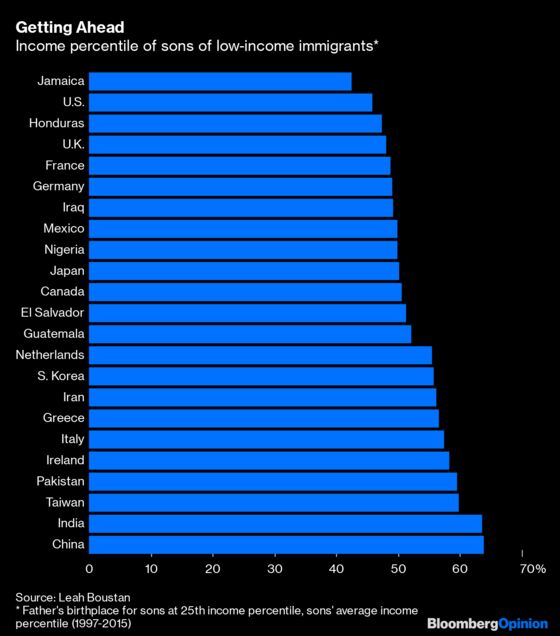 Andrew Carnegie was born in abject poverty in Scotland and made his way to the U.S., only to found U.S. Steel Corp. and become one of the richest Americans ever; he could easily have been excluded under the Trump administration's definition of a public charge. How many future Carnegies will the new rule turn back? And how many will it scare away with the message that the U.S. is no longer a place where rags can be turned into riches?
Even without major legislative action, Trump probably will accomplish what his most ardent supporters elected him to do -- choke off the flow of immigrants. The country will be poorer and weaker as a result. But those who believe in the U.S.'s national mission of taking in the world's huddled masses shouldn't despair; this is not the first time the country has been wracked with spasms of nativism. Those episodes always faded in the past, and hopefully will again. 
This column does not necessarily reflect the opinion of Bloomberg LP and its owners.
Noah Smith is a Bloomberg Opinion columnist. He was an assistant professor of finance at Stony Brook University, and he blogs at Noahpinion.