The Most Important Number of the Week Is 2.51
(Bloomberg Opinion) -- By now you have to wonder whether the only people left holding bonds are masochists. The U.S. Treasury market foisted losses on investors last year for the first time since 2013 and for only the fifth time since the early 1970s. This year hasn't started any better, with the market on pace to drop around 2.5% for January, which would make this month the worst since November 2016, when Donald Trump was elected president after suggesting the U.S. should renege on its debt obligations. But just like that famous scene in the 1975 British comedy "Monty Python and the Holy Grail," the bond market "is not dead yet."
It's no secret why the bond market is under pressure, translating into higher yields that ultimately push up borrowing costs for the government, companies and consumers. First, the inflation rate has risen more than most anyone expected and has failed to retreat as many anticipated would happen by now. As a result, the Federal Reserve is under pressure to boost its target interest rate three to four times this year, end its bond purchase program much sooner than it said it would and even start shrinking its $8.79 trillion balance sheet by selling the bonds that it holds into the market. If you're a bond investor, this is the ultimate perfect storm. 
And yet a rather large and important corner of the market is sending a very bullish message: U.S. Treasury auctions. The Treasury Department on Wednesday sold $36 billion of 10-year notes, and demand was not what you would probably expect given all the talk that the economy is in a new era of persistently high inflation. What was notable is that investors submitted bids for 2.51 times the amount offered, which was in line with the average of 2.46 over the past five years. (The securities are auctioned monthly.) In that time, the so-called bid-to-cover ratio at the monthly auctions of 10-year notes has ranged from as low as 2.17 in May 2019 to as high as 2.69 in January 2018, data compiled by Bloomberg show.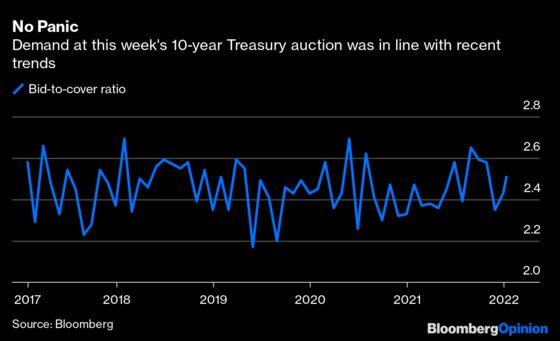 Not to be outdone, the auction of $22 billion in 30-year bonds a day later was equally stable relative to recent history. The bid-to-cover ratio for that maturity was 2.35, compared with the average of 2.32 since 2017.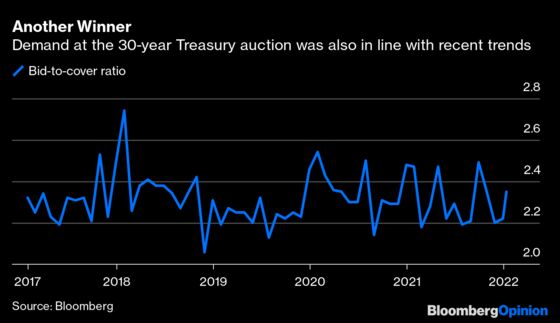 To be clear, inflation erodes the value of bonds' fixed-interest payments, making the securities worth much less. This is especially true for longer maturity bonds. So if traders truly believed inflation was poised to keep accelerating, the last thing they would do is pile into 10- and 30-year Treasuries.
There's little doubt that the rate of inflation, which the government said this week rose 7% in December from a year earlier, will remain elevated for some months. But economists do see a break coming. A monthly Bloomberg survey released Friday showed that the median estimate of more than 70 analysts is for the consumer price index to rise 4.6% this year, little changed from 4.7% in 2021, before increasing a more modest 2.4% in 2023.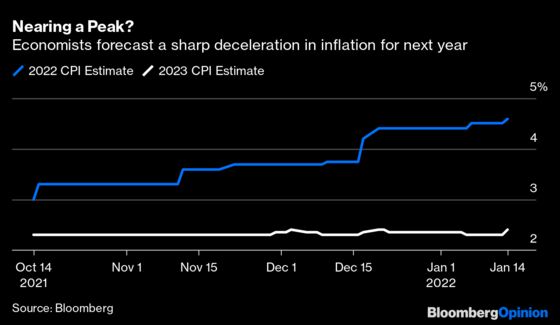 Granted, a lot can happen between now and 2023, and economists' forecasts can be way off the mark (the CPI estimate for 2021 in the Bloomberg Survey last January was 2.1%), but bond investors play the long game. Plus, conditions can change quickly. It was just a couple of weeks ago that fourth-quarter economic growth was tracking at about a 5.2% annual rate, but some economists guess that's likely to be pared back to around 3.5% after the government said Friday that retail sales for December plunged a much worse than estimated 1.9%, the biggest drop in 10 months.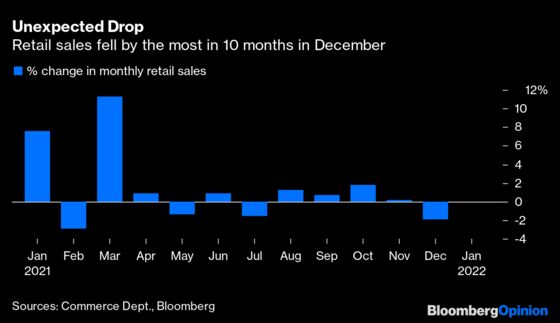 The retail sales data was extra jarring because it suddenly cast into doubt the financial strength of consumers, who had until then used massive savings built up during the pandemic thanks to extraordinary government fiscal stimulus to cushion the blow from rising prices for goods and services. Perhaps the poor retail sales report may end up being an early warning signal that the economy is too fragile for the Fed to tighten monetary policy as much as it is expected to do without causing some economic harm. This is what the bond market seems to be suggesting. Sure, at 1.76% the yield on the 10-year Treasury is up from around 1.20% in early August, but it's only back to where it was at the end of last March.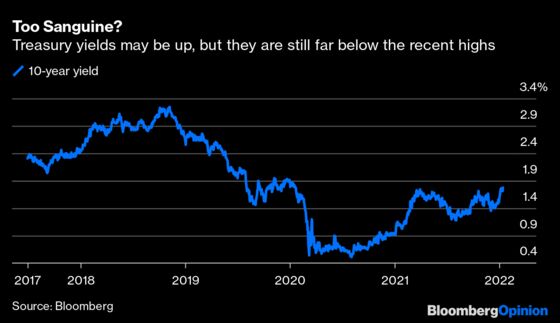 This is not to say that it won't be another tough year for bond investors. The median estimate of economists and strategists surveyed by Bloomberg is for 10-year yields to grind slowly higher to 2.16% by the end of the year. But even that is low by recent history. And let's not forget that yields were above 3% heading into 2019. 
The Covid-19 pandemic and the response by governments and central banks has generated all kinds of economic surprises that few, if anyone, saw coming. The December retail sales report was a strong reminder of that; only two of the almost 70 economists surveyed by Bloomberg expected it to be that bad. Would it really be shocking if more surprises were on the way, like a quick shift lower in inflation rates that keeps the Fed in check?
More From Other Writers at Bloomberg Opinion:
This column does not necessarily reflect the opinion of the editorial board or Bloomberg LP and its owners.
Robert Burgess is the executive editor for Bloomberg Opinion. He is the former global executive editor in charge of financial markets for Bloomberg News. As managing editor, he led the company's news coverage of credit markets during the global financial crisis.