It's Not Just You Who Needs a Blowout Summer Holiday
(Bloomberg Opinion) -- It's not just stressed out home workers who are in desperate need of a holiday in the sun. TUI AG, the world's biggest package tour operator, wants you to pack your suitcases too.
The company on Wednesday said that its operating losses grew from 795 million euros ($964 million) to 1.3 billion euros in the six months to March 31. Since January, it has burned through 300 million euros per month and is laboring under 6.8 billion euros of net debt.
And yet TUI is trying to stay optimistic, even pointing toward some positive signs about a restart in international travel.
For example, the weekend after the U.K. announced which countries English consumers could travel to without having to quarantine, bookings to Portugal, one of the approved destinations on the so-called "green list," rose 182% compared with the previous weekend. TUI says its bookings among Germans and Belgians have also improved over the past five weeks.
Its customers have even been buying swankier holidays — trading up, for example, from 10 nights in a four-star hotel to 14 nights in a five-star. Consequently, average selling prices are up 22% compared with 2019. This should eventually help reduce the amount of cash that TUI is burning through.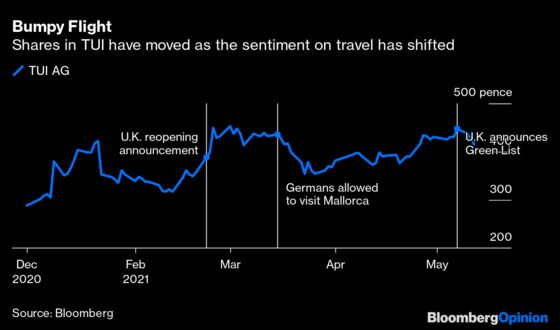 But the limited extent of Britain's reopening to travel has pushed many to postpone trips planned for May and June until August and September. In March, TUI said 2.8 million customers had booked holidays for this summer. This is now down to 2.6 million. Capacity remain at 75% of what they were in summer 2019. Some Brits are forgoing trips in 2021 altogether and instead are looking toward next year. Chief executive officer Fritz Joussen said there was a good chance next summer could be even better than 2019.
Travel in other important markets is still up in the air. Germany, TUI's other big market, has yet to fully open up. And any resurgence in infections or in the spread of new variants could jeopardize the loosening of travel restrictions across Europe for the summer. Even with pent up demand for vacations, TUI expects revenue in the year to September 2021 to be below what it achieved in 2020.
TUI could be under-promising in the hope of over-delivering. But the company doesn't have that much wiggle room. As of May 7, it had 1.7 billion euros of liquidity. Analysts at Jefferies estimate that this is enough to operate for five to six months excluding customer refunds. There is scope to sell off some assets, such as hotel properties and cruise ships, but the company may have to raise equity to reduce net debt to a more manageable level. Analysts at Citigroup estimate that it'll need at least 2 billion euros. 
The company's shares fell as much as 5% on Wednesday, before recovering slightly. Despite the rising optimism around summer, TUI can't bank on a carefree holiday just yet.
This column does not necessarily reflect the opinion of the editorial board or Bloomberg LP and its owners.
Andrea Felsted is a Bloomberg Opinion columnist covering the consumer and retail industries. She previously worked at the Financial Times.