Why Won't Libor Die? It's Complicated
(Bloomberg Opinion) -- The funeral dates for Libor are finally set, with some sensible concessions that keep part of the suite of interest rates alive for longer than initially planned. Those exemptions must be strictly controlled so as not to impede a much broader acceptance of the replacement benchmarks. For now, that's proving harder than even those most resistant to change might have expected. So market regulators need to step up efforts to force bankers and financiers to embrace Libor's successors.
The London interbank offered rates fell into disrepute for being easily rigged by the traders charged with submitting borrowing costs. Plus, the underlying wholesale funding market they're based on melted away during the global financial crisis. In mid-2017, the U.K.'s Financial Conduct Authority said they'd be phased out by the end of 2021.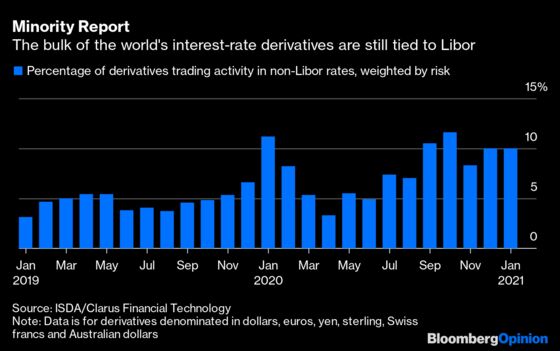 Those figures mask important regional differences. In the year ended Feb. 26, the notional value of trades in dollar-denominated interest-rate derivatives tied to Libor was more than $20.8 trillion, dwarfing the $472 billion that referenced SOFR, according to ISDA data. U.S. swap traders still haven't kicked their Libor addiction. But figures for January suggest the U.K. regulator's efforts to encourage sterling traders to switch to the new interest-rate flavor are showing signs of success.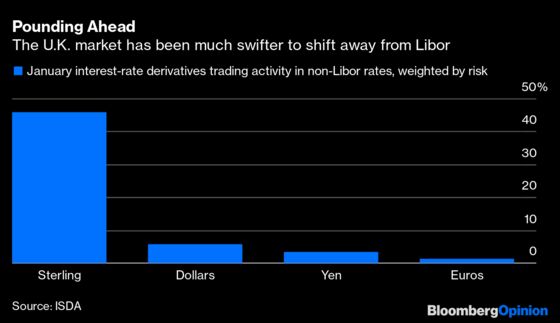 Even in sterling, though, the most active market remains beholden to Libor. Just 20% of the risk traders took in three-month interest-rate futures was connected to Sonia rather than Libor in January, according to Intercontinental Exchange Inc.
Beyond the excuse of inertia, the market's caution in adopting the new benchmarks is understandable. The replacement rates are based on overnight lending, which has made it tricky to calculate the matrix of different maturities to match Libor.
Moreover, speculation that some of the more important rates might get a stay of execution proved correct. While the bulk of the Libor spectrum will be phased out at the end of this year, the key one-, three-, six- and 12-month dollar rates will survive until mid-2023, allowing the bulk of existing financial contracts to mature without needing to be changed. That's a smart concession to market reality.
The FCA estimates the value of outstanding financial contracts that still reference Libor is about $260 trillion, with cleared interest-rate swaps and exchange-traded derivatives accounting for about 80% of that total. The figure, though, excludes the bond, loan and mortgage markets.
And those are where life gets trickier. The FCA is considering allowing synthetic Libors — based on the new rates but adjusted for maturity and with an added credit spread — to take the contractual place of the current rate in contracts that can't easily be switched to the replacement benchmarks. It's a legal sleight of hand that slides the new borrowing costs into existing contracts, covering hard-to-adjust legacy documentation that might not even surface until after Libor's demise.
But regulators should take a hard line on restricting what qualifies for that special treatment, otherwise firms will have an excuse not to make the change and Libor will linger on indefinitely. Banning new contracts from referencing Libor was a good start, but forcing banks and insurers to list their exposures to the old benchmark by category would do wonders. It would focus attention on the need to revise the terms of those trillions of dollars of outstanding obligations. Goldman Sachs Group Inc. for example, said this week that it's still deciding how to deal with about $29 billion of Libor-linked bonds and preferred shares that run past Libor's expiry date.
With the FCA's final timetable for Libor's endgame, regulators will be hoping the pace of adoption of the new reference rates accelerates. If it doesn't, more stick might be needed to shift market players out of the status quo. Enlightened self-interest would suggest it's time to euthanize Libor.
This column does not necessarily reflect the opinion of the editorial board or Bloomberg LP and its owners.
Mark Gilbert is a Bloomberg Opinion columnist covering asset management. He previously was the London bureau chief for Bloomberg News. He is also the author of "Complicit: How Greed and Collusion Made the Credit Crisis Unstoppable."