$500 Million of SPAC Cash Vanishes Under the Sea
(Bloomberg Opinion) -- A controversial project to mine the Pacific ocean floor has suffered a rocky start after investors withheld almost $500 million in funding.
TMC The Metals Company Inc., formerly known as DeepGreen Inc., went public last week, after merging with Sustainable Opportunities Acquisition Corporation, a special purpose acquisition company. But it was an underwhelming debut. The shares sank 11% on Friday.
Despite having no revenues and around two dozen employees, the start-up was valued at more than $2 billion by its blank-check partner. It plans to exploit a rich deposit of battery metals located on the seafloor in between Hawaii and Mexico. It says these minerals are sufficient to electrify 280 million vehicles. 
However, the Canadian start-up has had an early cash disappointment. The SPAC merger ended up delivering only $137 million of fresh money, as investors asked for their money back or failed to deliver promised funding. The company estimates that $7 billion is needed for large-scale commercial production.
The cash struggles encapsulate the current ructions in the SPAC market, where neophyte companies — many in the electric vehicles space — are starting to meet investor skepticism and heightened regulatory scrutiny.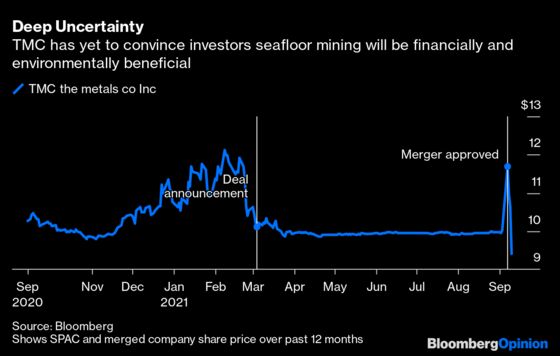 The dilemma also shines a light on the investment world's worries about greenwashing. In the rush to attract eco-friendly capital, companies and fund managers are touting their green credentials — SOAC styled itself as one of the first "ESG SPACs." But the risks are that environmental benefits get exaggerated or downsides brushed aside.
TMC wants to mine the seabed for potato-sized nuggets ("polymetallic nodules") of metals like nickel, copper, manganese and cobalt. These are in high demand — nickel prices are at a 7-year high — and are used in cathodes and wiring for electric car batteries and other types of energy storage. Its commercial partners include commodities giant Glencore Plc and the offshore marine service division of A/P Moller-Maersk A/S.
TMC refers to the nodules as "EV batteries in a rock" and says mining them will help decarbonize the transport sector and thereby help solve the climate crisis, all while causing less ecological damage, and at less cost, than extracting the same materials on land.
Environmentalists claim that TMC's activities will damage sensitive ecosystems and destroy vital biodiversity. For them, the company's cash squeeze is a resounding win.
"The abyssal zone of the ocean is the largest desert-like area on the planet, it just happens to be covered by 4000 meters of water," Gerard Barron, TMC Chief Executive Officer, told me. "There's life there, we don't deny that, but we can mitigate the impacts [of mining]… We don't have to move rainforests to get at this resource."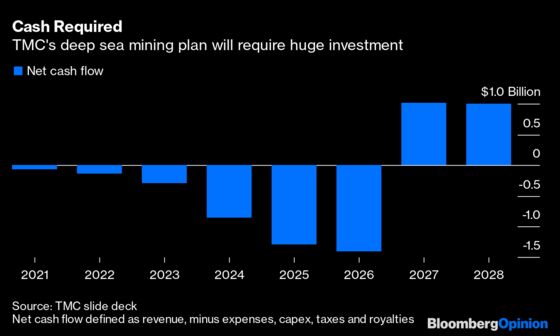 But funding for SPACs is temperamental. With many blank-check firms trading below $10, investors (often hedge funds) are increasingly exercising their right to demand their money back rather than seeing through SPAC mergers. In this instance, these so-called redemptions exceeded 90%, and accounted for $270 million of TMC's cash shortfall.
PIPEs are a supplementary pot of cash typically raised in conjunction with a SPAC merger. They're supposed to provide a guaranteed financial backstop so the target receives at least some cash. They also help validate the value the SPAC has ascribed to the target. So it's pretty embarrassing that some of TMC's PIPE investors didn't deliver. 
TMC says it "will seek to enforce the funding obligations of the two non-performing investors." In plain English, it sounds like lawyers will be kept busy. However, it can't be sure it will get the money.
While the investors' decision to hold back may have nothing to do with environmental worries, the scale of TMC's cash shortfall suggests it has yet to convince capital markets that its multi-billion dollar valuation is justified, given the risks. And these risks go well beyond bringing rocks to the ocean surface. 
Since the SPAC deal was announced in March, more than 500 scientists have signed a letter calling for a moratorium on deep-sea mining  until the environmental risks are better understood. Large companies like BMW AG, Samsung Electronics Co. and Google have leant their support to a temporary ban. The ethics of once-obscure deep-sea mining has even made the cover of last week's Time Magazine. (In it, a conservationist compared nodule mining to "making cement out of coral reefs.")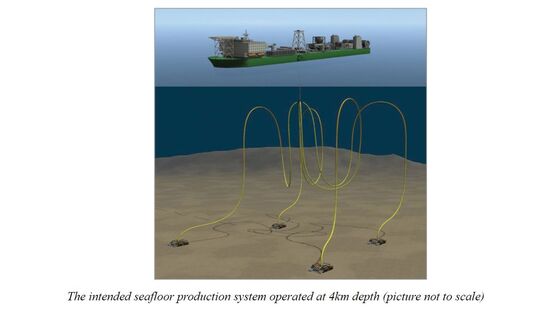 Meanwhile, NGOs including Greenpeace and Global Witness called out TMC in a petition to the U.S. Securities and Exchange Commission — saying the company's disclosures underplayed the environmental risks. TMC amended its initial financial filings to acknowledge "there is significant uncertainty regarding the impact of polymetallic nodule collection on biodiversity," and the SEC ultimately approved the prospectus, thereby allowing the merger to close. 
TMC's mining ambitions shouldn't be dismissed out of hand. The oceans also face acute risks from planetary heating, and the minerals it holds can play a role in curbing that.  
Still, in our haste to solve the climate crisis, we mustn't overlook the potential environmental impacts of seabed mining. Despite extensive research, some of it funded by TMC, there are still many ecological unknowns. The company lacks some necessary production permits, and global rules to allow exploitation of the seabed have yet to be agreed upon by the International Seabed Authority (though there's reason to think this could happen within two years).
Mining deep below the ocean is hard, but convincing investors that TMC's activities are, on balance, beneficial for the planet could prove even more challenging. To succeed, it will need a lot more money.
After deducting transction expenses and reflecting existing cash, the companynow has around $110 million to play with.
TMC hasoutlined various ways it expects to reduce and fund this capex bill. This needn't involve issuing equity, except opportunistically
SOAC didn't identify most of the PIPE investors when it announced the transaction. One it did identify, subsea pipeline construction company Allseas Group S/A, told me they hadcontributed their PIPE money as planned. The PIPE placement-agents Citigroup, Nomura and Fearnley Securities, all declined to comment.
This column does not necessarily reflect the opinion of the editorial board or Bloomberg LP and its owners.
Chris Bryant is a Bloomberg Opinion columnist covering industrial companies. He previously worked for the Financial Times.