The Hut Needs to Step Up Its Makeover, and Fast
(Bloomberg Opinion) -- THG Plc is best known for selling lipstick and liquid eyeliner. But its second biggest shareholder selling a chunk of stock in the online retailer is not a good look.
BlackRock Inc. was a cornerstone investor in the company's initial public offering last year, even describing it as a "British national champion." But on Monday it offered 58 million shares via Goldman Sachs Group Inc. at a price representing a 10% discount to the last closing price, Bloomberg News reported. That's equivalent to about half of its stake held in various funds. BlackRock has been a long-term investor.
Shares in THG, formerly known as The Hut, fell a further 7% on Tuesday, to just over 200 pence, less than half of their 500 pence per share listing price. They had already fallen from a high of almost 800 pence in January.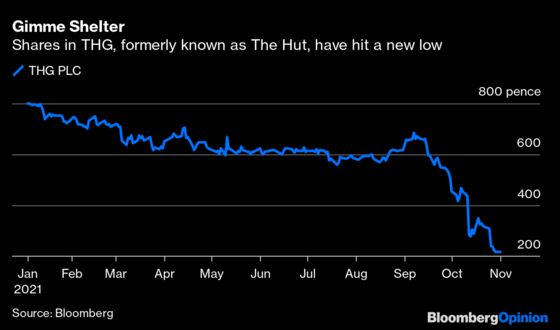 The latest plunge leaves THG management, led by Chief Executive Officer and Chairman Matthew Moulding, with even more of an uphill battle to restore credibility. 
The company has been making efforts to improve its corporate governance — one of investors' key concerns. For example, Moulding will give up his "golden share," which allows him to block a potential takeover, and he and his wife Jodie no longer have any of their shares in the company pledged as security against a 100 million-pound ($136 million) personal loan from Barclays Plc. The group has also appointed headhunter Russell Reynolds Associates to search for an independent chairman.
But these are relatively easy changes to make. Much tougher, and badly needed, are improvements in disclosure. This includes, for example, detailing the profits of its three main divisions — beauty, nutrition and Ingenuity, which provides web services to consumer groups.
Although THG has given some useful guidance on Ingenuity, it still needs to set out exactly how much the tech division will charge the group's beauty and nutrition businesses for its services when it becomes a separate company next year. Greater clarity on the group's organic growth — the revenue it would have achieved without acquisitions — would be helpful too.
The plunge in valuation also raises questions about whether SoftBank Group Corp. will exercise its option to buy a 20% stake in Ingenuity for $1.6 billion, valuing the division at 4.5 billion pounds. That now dwarfs the whole group, with THG's market capitalization about 2.5 billion pounds.
If SoftBank were to renegotiate this agreement, or pull out altogether, then THG would have to look elsewhere for a capital injection. Although it had 700 million pounds of available cash at Sept. 30, and is now entering the time of year when it achieves the biggest chunk of sales, it has historically been highly acquisitive and generates little cash.
Life is also getting tougher for online retail. Simon Bowler, an analyst at Numis estimated organic sales growth of 7% for the beauty division and just 3% for nutrition in the three months to the end of September. THG also cautioned that adverse currency movements would put pressure on margins.
THG needs to show that its makeover has only just begun. Major shareholders selling out makes this even more imperative.
This column does not necessarily reflect the opinion of the editorial board or Bloomberg LP and its owners.
Andrea Felsted is a Bloomberg Opinion columnist covering the consumer and retail industries. She previously worked at the Financial Times.