THG Is a Long Way Off From Resembling Powerhouse Ocado
(Bloomberg Opinion) -- THG Group Plc, the under-pressure e-commerce business, has been said by some optimists to resemble Ocado on steroids.
But even if the British owner of beauty and nutrition websites did manage to emulate online grocer Ocado Group Plc and win major contracts from multinational consumer groups, that still might not be enough to transform the company.
Last week, THG hosted an investor event about its prized Ingenuity unit that was nothing short of disastrous. Key concerns about the business — which provides e-commerce services for other brands and in which Masayoshi Son's SoftBank Group Corp. has an option to buy a stake — were left unaddressed. Shares fell 35% to 285 pence, almost half of the 500-pence listing price, wiping 1.9 billion pounds ($2.6 billion) off the market capitalization.
Shares have recovered some of their losses, rising 21% on Monday, after Chairman and Chief Executive Officer Matthew Moulding said he would give up his golden share that allowed him to veto a takeover.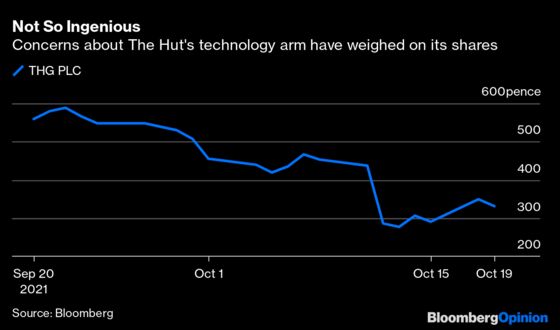 Nevertheless, analysts have since slashed the value ascribed to Ingenuity, which provides such services as web hosting and managing influencers, translation and delivery. Roland French at Davy Securities said the division had an implied value of "close to zero."
The situation reminds me of the predicament Ocado found itself in a couple of years after its initial public offering in 2010. In 2012, concerns mounted about its stretched balance sheet and its trading, as sales were disrupted by events including the London Olympics. UBS, one of the banks that helped it come to market, slashed its price target to 51 pence. It had listed at 180 pence per share.
Although the issues facing Ocado were different — fears revolved around whether it would breach its banking covenants rather than around disclosure and governance like at THG — there was a similar loss of confidence among investors in the newly public digital-based business.
Ocado eventually raised cash from shareholders and trading stabilized. Most important, the online supermarket reinvented itself as a tech company. On top of selling groceries via the internet, CEO Tim Steiner developed a second business stream: running the grocery e-commerce operations of international food retailers, such Casino Guichard Perrachon SA and Kroger Co.
If Ingenuity is described as "business in a box" by THG management, then Ocado is business in a big-box warehouse. So it makes sense that THG fans could look at Ocado with hope. After all, its share price has soared from just over 50 pence to about 18 pounds.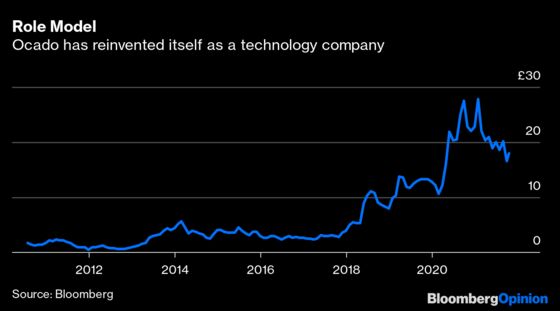 But Ocado's trajectory also has some not-so-encouraging lessons for THG.
First, it took Steiner four years to land a deal with a European grocer. While THG's Ingenuity has signed up the likes of Nestle SA and Mondelez International Inc. as clients, its success lies in expanding these partnerships — from serving single corporate divisions or geographies to multiple ones, for example, and from offering more services to them. If Ocado's example is anything to go by, this will take time.
Second, even if THG does succeed in winning and extending deals, investors shouldn't expect instant payback.
Ocado has been investing heavily in the infrastructure and technology to support its international contracts. Yet, under accounting rules, it can't recognize any revenue from these deals until its partners actually start delivering groceries to their shoppers. Consequently, it is still not making any profit from its international wins. At some point this will flip, as capital expenditure goes down and more facilities become operational. But at present, Ocado investors are still waiting for these contracts to pay off.
True, THG may not need to invest as much in its partnerships. Ocado's agreements require the construction of huge automated warehouses, whereas THG has already spent $1 billion on Ingenuity and has facilities all over the world, including at least 30 data centers and an extensive courier network. And yet THG has historically been a big spender, requiring significant amounts of capital to fund these and other investments, as well as a string of acquisitions.
Taking all of this into account, it's fair to say that Ingenuity is probably worth more than zero. But it's also likely worth much less than the 4.5 billion pounds implied by SoftBank's option to acquire a 20% stake. If SoftBank were to decide to not exercise the option, or to renegotiate the deal at a lower price, THG would miss out on at least part of the promised capital injection.
THG said last week that it had 700 million pounds of available cash at Sept. 30. But the company generates little free cash flow, and online retail sales growth across the market is slowing.
If the group can't count on SoftBank's infusion, and if it wants to keep up its historic pace of investment and dealmaking, it may have to take another leaf out of Ocado's book and raise money elsewhere. Right now, that would be a very hard sell.
This column does not necessarily reflect the opinion of the editorial board or Bloomberg LP and its owners.
Andrea Felsted is a Bloomberg Opinion columnist covering the consumer and retail industries. She previously worked at the Financial Times.