There's Still Hope for Thomas Cook After Its Travel Fail
(Bloomberg Opinion) -- Two years ago, Thomas Cook Group Plc was Santa Claus, rewarding shareholders with the first dividend in five years. Now it has turned into the Grinch, with an ugly profit warning on Tuesday, and a decision to ditch the payout.
The shares fell as much as 33 percent. It's clearly a very difficult time as the company struggles to cope with a confluence of factors that have knocked it off course. But all is not lost.
That the company's bookings were hit by Europe's hot summer shouldn't have been a surprise. It had already cautioned in September that 2018 earnings would be below expectations.
What is more concerning is that underlying profit before interest and tax would be 30 million pounds ($38.3 million) lower than the previous guidance because of a range of one-time charges, including 14 million pounds to write-down the value of money owed to the group's hotel arm. These would normally have been classified as exceptional items, but the group's auditors advised that they should be included in operating income.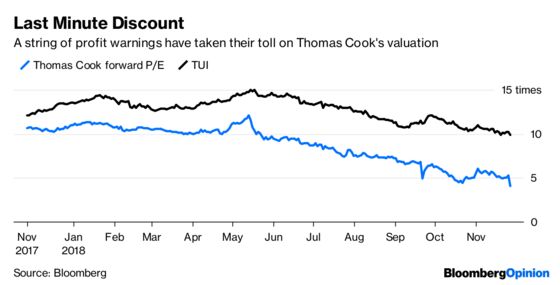 With the group having parted company with Finance Director Bill Scott in September after less than nine months, this raises questions about whether it has a good enough grasp of forecasts and one-time charges.
Up until now, Thomas Cook had done a very good job of bringing down its borrowings, to the point where it could reinstate its dividend in 2016. The company says it has headroom in its banking covenants. But the increase in net debt in 2018 and the shelving of the payout are unhelpful.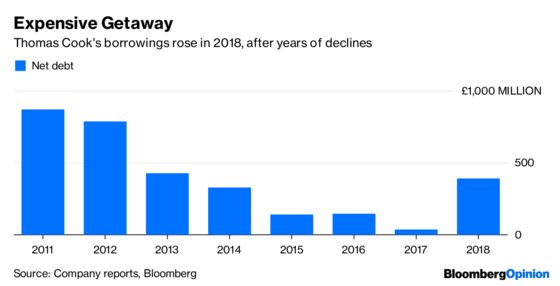 In normal circumstances the travel agency could expect a bounce in sales in 2019 – assuming the heatwave isn't repeated. But its business from the U.K., which accounted for about a quarter of sales in 2017, faces uncertainty over Britain's exit from the European Union. The company said winter bookings were 3 percent down on last year, while summer 2019 has been mixed so far – here, a disorderly Brexit that hits the pound could cause further damage.
Though that discount looks justified, amid the turbulence there there are some potential positives.
If Thomas Cook has got to grips with its legacy financial issues, that should improve the quality of earnings going forward. The new finance director says there have been too many one-time charges, and the company will be more disciplined going forward.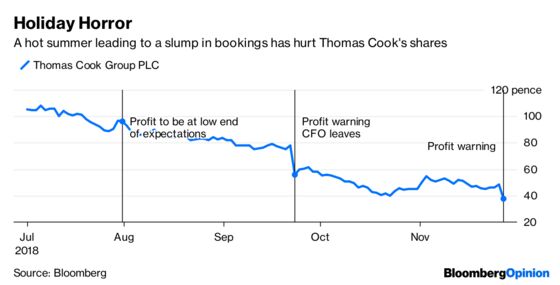 As I have argued, spinning off the airline could free up cash to invest in developing its own-brand hotel business. Thomas Cook was at pains to point out how strong its performance had been, indicating that it is leaving the door open to this possibility.  The division could be worth almost 1 billion pounds before debt. That cash would be useful in rolling out new accommodation concepts to help it compete with Airbnb Inc. and TUI AG, which has its own hotel brand.
What's more, Chinese conglomerate Fosun International Ltd. is hanging on to its 13 percent stake. Thomas Cook has long looked like a potential acquisition target, and the slump in its value shortens the odds on a takeover.
The company has delivered a nasty surprise at an awkward time. But in an environment where activist investors are looking for the next European target, shareholders shouldn't be completely bereft of seasonal cheer.
This column does not necessarily reflect the opinion of the editorial board or Bloomberg LP and its owners.
Andrea Felsted is a Bloomberg Opinion columnist covering the consumer and retail industries. She previously worked at the Financial Times.