The U.K. Should Let Inflation Rip for a Bit
(Bloomberg Opinion) -- The Bank of England is trapped in a policy box of its own making, having dithered and delayed on whether and when to withdraw pandemic stimulus. Although inflation is now roaring away, it shouldn't try to make up for lost time.
Fiscal tightening on the way reduces the urgency for a monetary squeeze. And while a modest rise in borrowing costs to prevent inflation expectations from becoming unmoored is justifiable, the guardians of U.K. economic stability need to be wary of throttling the economy by moving too aggressively to address price pressures that are largely outside of their control.  
Consumer prices increased by 5.1% in November, the fastest pace in a decade, outstripping the 4.8% rise anticipated by economists. Central bank Governor Andrew Bailey has said he expects the figure to reach 6% in the coming months – triple the 2% target set by the government.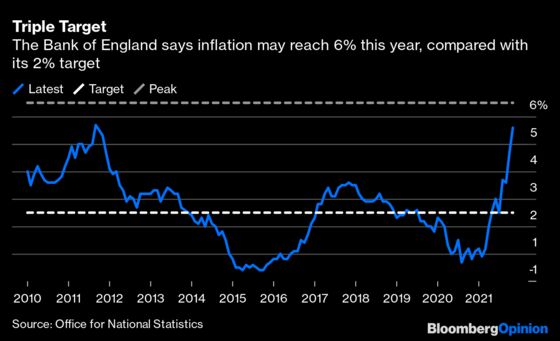 Evidence that U.K. inflation will prove to be anything but transient is piling up. Greggs Plc, Britain's biggest bakery chain, has raised the prices of foodstuffs including sausage rolls and bacon baguettes by about 5% to cover higher costs for ingredients and workers. Retailer Next Plc said last week it expects to have to boost wages by an average of 5.4% this year, while the prices it charges for its autumn and winter clothing collections will rise by 6% to reflect a sustained jump in shipping costs.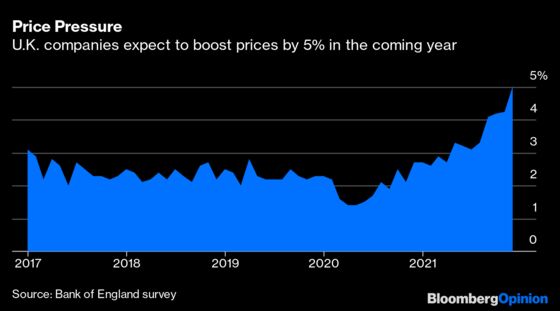 All that explains why the U.K. central bank raised its benchmark policy rate to 0.25% from 0.1% last month, and probably needs to reassert its inflation-fighting willingness by moving to 0.5% when it next meets on Feb. 3. But then it should pause. Most of the recent price gains cannot be controlled by increasing borrowing costs. It would be a futile gesture against soaring natural gas prices, for example, and will do nothing to curb freight costs. A squeeze on domestic incomes is on the horizon, with tax increases and higher energy bills in April unlikely to be offset by wage increases, which always lag the sticker shock of accelerating consumer prices. And while prices may remain higher, the rate of inflation will ease as year-on-year effects kick in to slow its pace.
A February hike would have a double impact, with rates reaching the threshold at which the central bank has said it's willing to allow its 895 billion-pound ($1.2 trillion) balance sheet to start reducing naturally; it will let bond holdings mature rather than reinvest the proceeds. February is very much viewed as a live meeting, with overnight indexed swaps indicating an 80% chance of an additional 25 basis point increase next month.
Reduced quantitative easing stimulus will lessen the need for tighter monetary policy. And the fiscally contractionary measures on the docket in the coming months make for an economic landscape that will reduce the upward pressure on consumer prices. The BOE needs to avoid the policy mistake of overreacting to its own delayed response on combating inflation, rather than risk plunging the economy into a downturn. The inflation storm should pass of its own accord.
More From Other Writers at Bloomberg Opinion: 
This column does not necessarily reflect the opinion of the editorial board or Bloomberg LP and its owners.
Marcus Ashworth is a Bloomberg Opinion columnist covering European markets. He spent three decades in the banking industry, most recently as chief markets strategist at Haitong Securities in London.
Mark Gilbert is a Bloomberg Opinion columnist covering asset management. He previously was the London bureau chief for Bloomberg News. He is also the author of "Complicit: How Greed and Collusion Made the Credit Crisis Unstoppable."