The Stock Market Is Too Narrowly Focused
(Bloomberg Opinion) -- The breadth of the stock market is a measure of its health, and the wider the better. So, a narrowing of its focus, as we've seen recently, is often a red flag, both for the overall market and the darlings of the moment.
The 10 largest stocks by market capitalization account for 30% of the S&P 500 Index's total value, and five — Apple Inc., Microsoft Corp., Nvidia Corp., Alphabet Inc. and Tesla Inc. — accounted for about a third of the index's 27% gain in 2021. In short, if anything goes wrong with that handful of equities, as well as mutual and exchange-traded funds based on the broad market, everyone might be in trouble.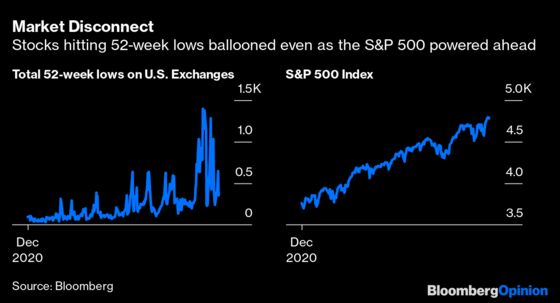 As we all know, trees don't grow to the sky. Investment firm Dimensional Fund Advisors examined the fate of a stock after it became one of the 10 biggest in the S&P 500. It found that in the decade before joining the club, a stock outperformed the broad market by 10% a year. Nevertheless, investor enthusiasm that pushed a stock into that elite category often pushed it too far, and it lagged behind the broader mark by 1.5% per year over the following decade. 
If that's not worrisome enough, the trailing price-to-earnings ratio of the S&P 500's top tier in November was 68% higher than their average multiple over the past 25 years, according to JPMorgan Asset Management. And that quarter of a century included the tech-bubble years of the late 1990s.
In most periods of excessive speculation, the lesser lights are the first to fall before the woes spread to the leaders. In the tech arena, fitness equipment company Peloton Interactive Inc. plunged 76% in 2021, online resale platform Poshmark Inc. tumbled 81% and education tech company Chegg Inc. dropped 66%. These and other so-called stay-at-home companies aren't necessarily headed for bankruptcy, but in 2020 their stock jumped much more than their sales and profits growth could justify.
Sure, many stock investors like to put their money in "One Decision" stocks, as they were called in the early 1970s. These were companies with underlying earnings expected to grow so rapidly and steadily that investors only had to make one decision — to buy them — since they never would need to be sold. But there's no such thing as a free lunch. One-decision stocks eventually climb to the point where they have only one way to go — down.
Back then, investors focused on what was known as the Nifty Fifty group of stocks. The club, though, shrunk to the point where investors concentrated on hamburger chains (McDonald's), amusement parks (Disney), gimmick cameras (Polaroid) and motor homes (Winnebago). At the time, I wrote that by constricting their focus to the outward flourishes, investors were anticipating big trouble for the guts of the economy, which they were shunning. As the 1973-1975 recession and bear market unfolded, investors did make a second decision, dumping Polaroid and knocking a zero off the stock's price as it plunged from $140 a share to $15.
Since 1980, there have been 11 instances in which the market breadth narrowed as sharply as it did between April and October of 2021, according to Goldman Sachs Group Inc. The S&P 500 went on to generate below-average returns over subsequent one-, three-, six- and 12-month intervals most of the time.
Selloffs in growth stocks that would drag down the whole market might well unfold as the Federal Reserve begins to raise interest rates as soon as March. It's widely believed that the stocks of companies with explosive profits expected in the distant future sell today at the discounted value of those anticipated earnings. So they're very sensitive to interest rates. Earnings of $1 in 10 years are worth 82 cents today with a 2% discounting rate, but only 61 cents if the discounting rate is 5%.
Fed tightening of monetary policy will augment slower economic growth this year that could even turn into a recession. My Dec. 10 column explained that a big inventory cycle may unfold soon as consumers, satiated by early holiday gift-buying, meet growing supplies of goods as all those ships from Asia are finally unloaded and their cargoes are distributed and hidden inventories surface.
In November, real spending on consumer goods fell 0.8% after October's 1.5% jump. With the Omicron scare, restaurant seatings nationwide were down 27% in the week ending Dec. 26 from 2019, a steeper decline than in late November, reports reservation site OpenTable. Wall Street economists are busy cutting their forecasts of first quarter real GDP growth from the 5% to 6% range to 2% to 3% at annual rates.
Not only is the Fed reversing course from ease to credit restraint, but barring a recession, further rounds of fiscal stimulus are also unlikely. So the consumer-driven economy is on its own.
Investors polled by the American Association of Individual Investors found that 42% expect stock prices to fall over the next six months, the most bearish reading in over a year. Perennially-bullish Wall Street strategists foresee a small 4.5% gain in the S&P 500 in 2022, a disappointment after the 27% jump in 2021. FactSet reports that the number of companies issuing negative earnings guidance for the fourth quarter was greater than the upward revisions for the first time since the second quarter of 2020 in the depths of the pandemic.
Many economic and financial market uncertainties lie ahead in 2022, so I urge investor caution with equity emphasis on defensive stocks such as consumer staples and utilities while soft-pedaling growth stocks and consumer cyclicals. With my forecast of fading inflation and economic weakness, Treasury bond prices will climb.
More From Other Writers at Bloomberg Opinion:
This column does not necessarily reflect the opinion of the editorial board or Bloomberg LP and its owners.
Gary Shilling is president of A. Gary Shilling & Co., a New Jersey consultancy, a Registered Investment Advisor and author of "The Age of Deleveraging: Investment Strategies for a Decade of Slow Growth and Deflation." Some portfolios he manages invest in currencies and commodities.