The Number of the Week Is 7
(Bloomberg Opinion) -- A lot can happen in two years. No one in early 2018 was predicting a global pandemic that would shut down the world in 2020, destroying lives and wrecking the economy. Back then, the Federal Reserve had just raised its target interest rate for overnight loans between banks to 1.5% and was forecasting a steady increase to around 3.5% in 2020. Rates never got anywhere close to that level, topping out at 2.5% in 2019 before the Fed started cutting them to 1.75% in the last half of that year amid signs the economy was slowing and possibly headed into a recession in 2020.
I bring this up because markets suffered a bit of a tantrum this week after the central bank updated its outlook, and seven of the rate-setting Federal Open Market Committee's 18 members predicted a rate increase — not this year or even in 2022 but sometime in 2023.
Even though the seven represent a minority and none were likely to have been the committee's three most powerful and influential members — Chair Jerome Powell, Vice Chairman Richard Clarida or Federal Reserve Bank of New York President John Williams — the bond market sold off anyway, sending yields on longer-term benchmark Treasuries to their highest since January 2020. The S&P 500 Index closed the week lower.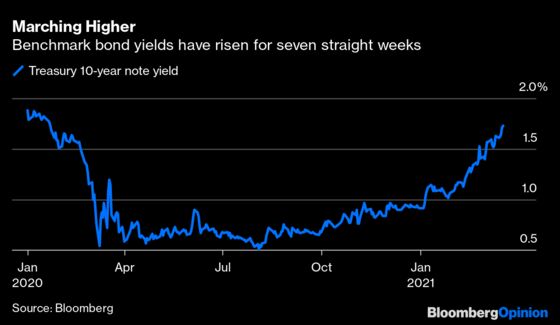 I can understand that reaction for a few reasons. The primary one is that the Fed's forecast means the days of extraordinarily easy monetary policy are numbered, and the end may come even sooner than the Fed expects if inflation accelerates because of the trillions of dollars in fiscal stimulus.
But there are many more reasons to discount the reaction in markets, especially in the bond market. Consider the worries about inflation. There's no doubt that various year-over-year measures of inflation will show a marked pick up in coming months, but that's largely because such measures dipped in the early months of the pandemic last year. The Consumer Price Index fell by the most since the end of 2014 last March and April, and April's decline was the biggest since the end of 2008 during the financial crisis. And there's no doubt that prices for things such as airline tickets, hotel rooms and other service-oriented items will spike as more people get vaccinated and the economy opens further.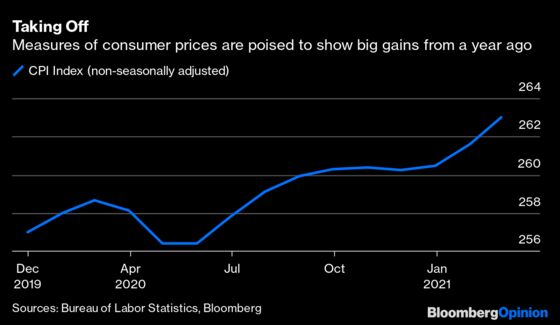 The question, though, will be whether those increases will be transitory or structural. The Fed thinks it will be the former. After all, more people will dine out and travel, but they won't do it every day. In its updated forecasts Wednesday, the FOMC sees its favored measure of inflation — the core personal consumption expenditure index — coming in at 2% to 2.3% this year, 1.9% to 2% in 2022 and 2% to 2.1% in 2023. All those are in line with the Fed's target of 2% for this measure. Plus, it has said its policy now is to tolerate the measure exceeding its target for some time to make up for past shortfalls.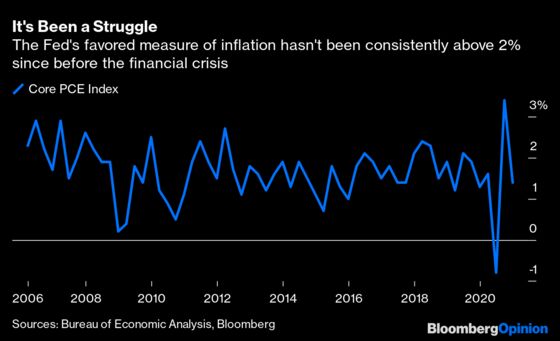 For inflation to make the switch from transitory to structural, the economy needs to see a sustained boost in capacity utilization by companies, which would allow them to raise prices more easily — as long as their peers are also experiencing tight capacity. DataTrek Research issued a report this week that found the "magic number" to be right about 80% as the point where capacity utilization results in faster inflation. The problem is, that level hasn't been reached since early 2008, before the financial crisis.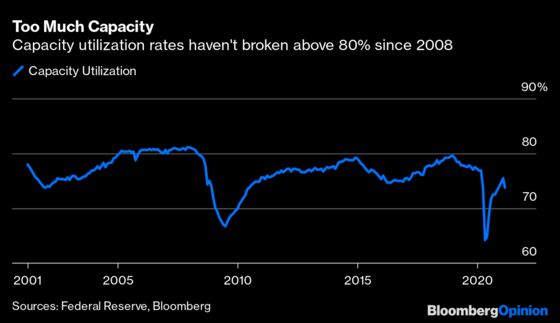 "An expected post-pandemic surge in consumer demand is the crux of the inflation story just now," the DataTrek analysts wrote in their report. "For it to generate real, lasting inflation it will need to push the (U.S.) economy's capacity utilization past any point in the 2010s and keep it there for some time. Possible? Sure. Likely? We remain skeptical for now."
As I have pointed out in this space before, plenty of smart people have been warning about the potential for much higher rates of inflation ever since the Fed began its policy of quantitative easing — printing money to inject directly into the financial system through bond purchases — in the aftermath of the financial crisis more than a decade ago. But it has never materialized.
Sure, that could change now with the government ramping up its fiscal stimulus and putting money directly in the pockets of consumers. Bloomberg Economics estimates that Americans amassed $1.7 trillion in excess savings since the beginning of the pandemic through January, a sum being augmented by a new round of stimulus payments.
And yet the Fed sees no significant uptick in inflation this year, in 2022 or 2023. As my Bloomberg News colleague Craig Torres noted, Powell acknowledged during a press conference Wednesday that forecasting a rate increase two years from now "is highly uncertain." He's right, and that's why those seven forecasts should be discounted.  
This column does not necessarily reflect the opinion of the editorial board or Bloomberg LP and its owners.
Robert Burgess is the Executive Editor for Bloomberg Opinion. He is the former global Executive Editor in charge of financial markets for Bloomberg News. As managing editor, he led the company's news coverage of credit markets during the global financial crisis.