The Number of the Week Is 4,100
(Bloomberg Opinion) -- Something has to give. The S&P 500 Index blew past 4,100 on Friday for the first time, closing at 4,128.80 and bringing its year-to-date gain to almost 10%. How surprising is this? Consider that almost two dozen Wall Street strategists surveyed by Bloomberg News didn't expect the benchmark to reach those heights until the end of this year. And therein lies a dilemma.
U.S. stocks have effectively crammed in a year's worth of gains in a little more than four months. The reasons are not surprising. Trillions of dollars of fiscal stimulus combined with a Federal Reserve that has no intentions of lifting its benchmark interest rate from near zero until 2024 or cutting back on the $120 billion it's pumping into the financial system every month through its bond purchases means the environment for risky assets remains attractive. And yet those whose job is to predict the future of stock prices don't seem to have a lot of faith in the rally continuing. It's not that they have been playing catch-up, raising their forecasts as equities rose. Rather, they came into 2021 predicting 4,100 would be reached and haven't changed their collective mind.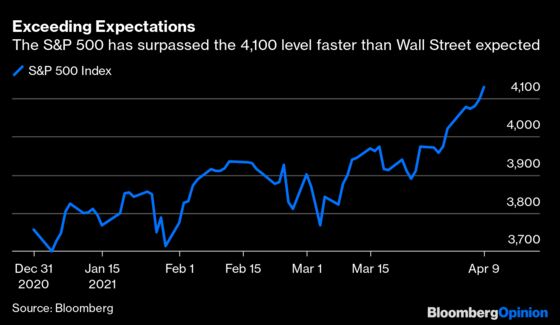 As a result, the market is at a crossroads of sorts. Stocks are either dead money for the rest of the year, or strategists will start raising their estimates, giving equities a boost. The odds favor the latter. The reason is we're heading into earnings season, when companies will not only be providing results for the first quarter but will also update their outlooks for the rest of the year. There's no reason to expect executives will be anything but optimistic, guiding earnings estimates higher.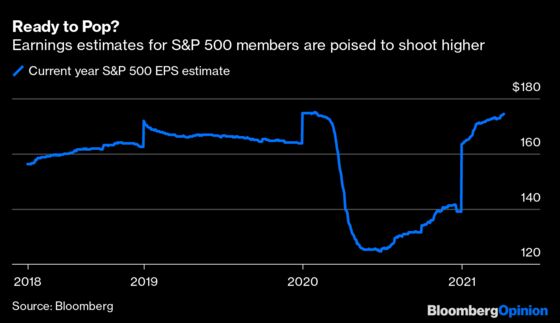 Some of the recent evidence includes the labor market. On Tuesday, the Labor Department said job openings rose to a two-year high of 7.37 million in February. Bloomberg News reported that the gains were led by some of the industries hit hardest during the pandemic, indicating employers are poised to ramp up hiring in the coming months. On Friday, a monthly Bloomberg News survey found that economists raised their forecasts for how much gross domestic product will expand this year to 6.2% from the already lofty 5.5% estimated in March.
Indeed, the analysts who cover individual companies regularly are already upgrading their profit estimates. Citigroup Inc.'s Global Earnings Revision Index — a worldwide measure of analyst upgrades minus downgrades of profit expectations — has climbed to levels last seen in the aftermath of the financial crisis in 2009, a period that that turned out to be terrific for equities.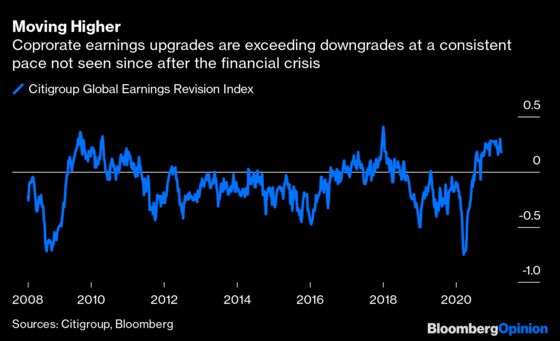 There's no denying stocks are expensive, suggesting valuations already reflect the good news. And there's still the risk that the pandemic doesn't go away as soon as expected, with the virus mutating into something that the current vaccines can't stop. Then there's the possibility that the Biden administration's grand fiscal stimulus plans get bogged down in a legislative quagmire.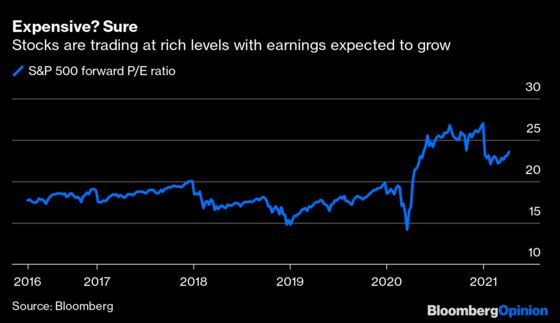 But saying investors are already "all in" on stocks is not exactly true. Consider the State Street Global Markets monthly index, which is derived from actual trades rather than survey responses and covers 15% of the world's tradeable assets. This monthly measure shows that institutional investors are far from irrationally exuberant. The latest index reading of 93.9 (where 100 indicates investors are neither increasing nor decreasing their long-term allocations to risky assets) is below the average of 106.3 going back to 1990. In the recent past, it reached as high as 115.3 in April 2018 and 127.1 in June 2015. It was as high as 141.8 during the dot-com boom of 1999 and 2000.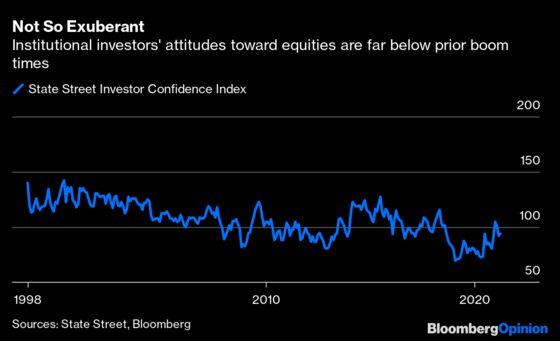 The cynics would suggest that the rally to new highs despite the absence of a corresponding boost in strategists' earnings forecasts is proof that the equity market has no fundamental underpinning and has thus become overextended. The more logical explanation is that strategists are being too cautious and that the next few weeks will see a bonanza of earnings upgrades as companies post results and further fuel the positive sentiment.       
This column does not necessarily reflect the opinion of the editorial board or Bloomberg LP and its owners.
Robert Burgess is the Executive Editor for Bloomberg Opinion. He is the former global Executive Editor in charge of financial markets for Bloomberg News. As managing editor, he led the company's news coverage of credit markets during the global financial crisis.