The Most Important Number of the Week Was 46
(Bloomberg Opinion) -- It's hard to overstate what Democrat Joe Biden's victory in the U.S. presidential election has meant to the stock market. Between Election Day and Inauguration Day, the S&P 500 Index surged 14.3%, the most ever for the period, according to LPL Financial. The gains more than doubled the 6.2% return under Donald Trump, who was seen at the time of his victory as perhaps the most business-friendly president ever elected.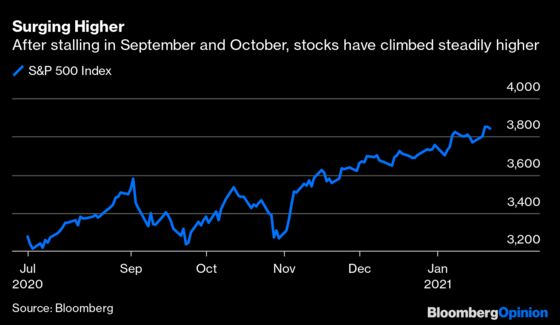 It's not as if stocks were cheap heading into the election, which would have helped explain the subsequent rally and tempered all the talk of  a "bubble" forming on Wall Street. The S&P 500 had already surged 48% from last year's closing low on March 23, pushing valuations to about 21 times earnings estimates for the following year, which is not far below the record highs during the dot-com bubble of the late 1990s.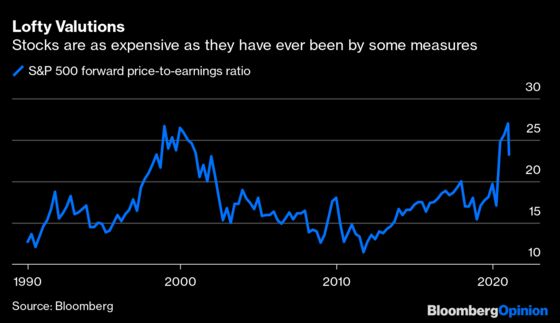 Therein lies Biden's gift and curse. It should comfort Biden to know that he has the support of financial markets, which are signaling that his policies are the correct ones for the moment. But Biden and his advisers should also realize that markets are priced for perfection, meaning any misstep on the policy front could lead to a nasty correction that makes it appear that he has lost the support of investors. No president wants to be known as the one who was in charge when the markets tanked.
It won't be easy. Wall Street strategists are already gaming out what a Senate divided straight down the middle might mean for Biden's campaign promises, specifically the $1.9 trillion economic relief plan that had done so much to spur equities during the past few months. What would happen if the plan was scaled back to, say, $1 trillion? It's possible; a number of moderate Republicans such as Mitt Romney of Utah and Susan Collins of Maine have questioned the need for such a high amount given the nation's $3 trillion budget deficit and $27 trillion debt load.
Even the Biden administration appears to be tamping down expectations. Biden's team is increasingly worried the coronavirus pandemic is spiraling out of control — imperiling his promise to contain the outbreak — as cases and deaths mount, vaccinations lag and a more-transmissible strain emerges in the U.S., Bloomberg News reported Wednesday, citing people familiar with the matter.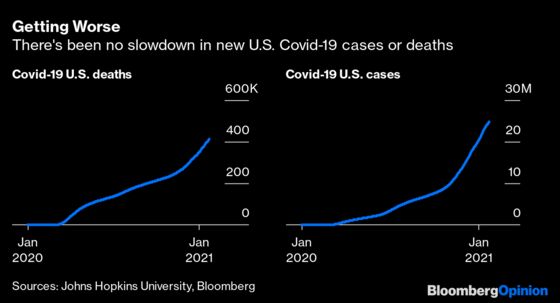 Just how important is the stimulus plan to the economy and ultimately to the financial markets? Consider that the economists at Goldman Sachs Group Inc. just boosted their growth estimates for this year to a stratospheric 6.6%. As Bloomberg News notes, the upgrade was fueled by the expectation that Biden, aided by a Democratic-controlled Congress, will deliver ample amounts of state fiscal aid, education and public health spending and unemployment insurance benefits. The median estimate in a Bloomberg survey of 84 economists is for growth of 4.1%.
Many Wall Street strategists have been raising their estimates for the S&P 500's ceiling this year and the increase in corporate earnings. Between mid-November and this week, the median 2021 year-end S&P 500 estimate in a Bloomberg News survey rose from 3,800 to 4,100, suggesting an additional 6.58% increase from current levels. The benchmark's earnings-per-share estimate jumped to $175 from $166.
It's not hard to imagine those estimates dropping quickly if the relief plan gets watered down. But price-to-earnings ratios suggest investors believe earnings estimates are too low rather than too high. "If you're long the S&P 500 today, you're essentially long meaningful upside earnings revisions," Nick Colas, the co-founder of DataTrek Research, wrote in a research note to clients this week. "We're OK with that because we believe there is still real and unappreciated operating leverage available to corporate America as the domestic and global economy recovers." 
To be sure, not even the Goldman economists figure that Biden will get the whole $1.9 trillion plan passed. They are expecting something around $1.1 trillion. But whenever markets get too stretched, as they are now, fundamentals often take a backseat to sentiment. In other words, it may not matter to investors that $1.1 trillion is still a lot of support; all that would matter is it's a much smaller number. 
An infinite amount of variables goes into determining market values, and no one investor can ever say with any degree of certainty which ones are going to matter more at any given time. One thing is assured, and that is presidents tend to get too much credit in bull markets and too much blame in bear markets. So although it may not be fair, there's a real risk that a watered-down relief package, even though it would still be good for the economy, would disappoint investors and trigger a nasty pullback that inflicts a black mark on the Biden administration in the critical early days that may be hard to recover from.
Markets were closed on five inauguration days going back to the early 1900s. Reagan was sworn in during a smaller ceremony on Sunday, Jan. 20, before the bigger inaugural event the next day.
This column does not necessarily reflect the opinion of the editorial board or Bloomberg LP and its owners.
Robert Burgess is the Executive Editor for Bloomberg Opinion. He is the former global Executive Editor in charge of financial markets for Bloomberg News. As managing editor, he led the company's news coverage of credit markets during the global financial crisis.