The Most Important Number of the Week Is Zero
(Bloomberg Opinion) -- It may be a cliche, but there's truth to the saying that if something sounds too good to be true, it probably is. Equity markets were flying high through the first four months of the year as economists played a version of "can you top this?" by jacking up their predictions for 2021 U.S. economic growth to the highest since the first half of the Reagan administration. The latest surveys have gross domestic product expanding 6.5% as more of the economy reopens and Congress passes sweeping fiscal stimulus measures. In December, those forecasts averaged around 3.70%.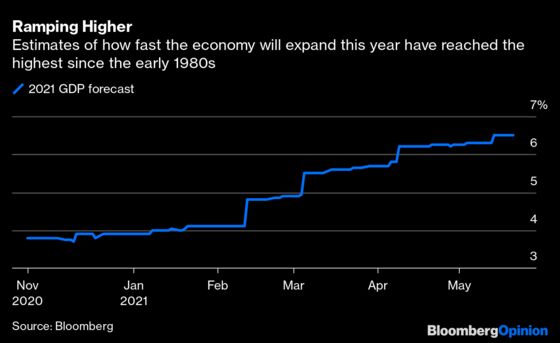 Now, though, investors might want to ask whether those lofty estimates are too good to be true. Recent reports on everything from jobs to retail sales and consumer confidence to existing home sales show that the economic recovery from what was the sharpest downturn since the Great Depression will be anything but linear. Citigroup Inc.'s Economic Surprise Index, which measures the degree to which data is either beating or missing expectations, fell below zero on Thursday for the first time in almost a year before ending a bit higher.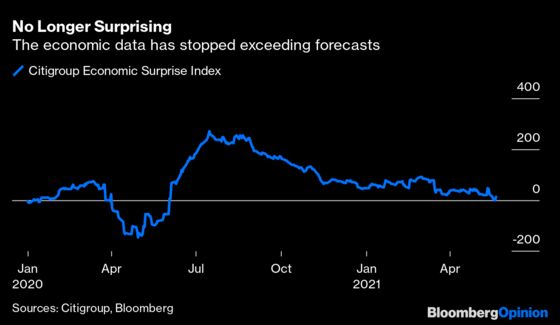 This should be worrisome to stock bulls because the whole thesis underlying the epic rebound in equities from the pandemic-era lows last March — as well as the late 2020/early 2021 slump in demand for safe assets such as Treasuries and gold — was that unprecedented fiscal and monetary stimulus would supercharge economic growth. And until recently, that was the case, with the data consistently topping expectations and stocks humming along nicely. 
To be clear, the data is still signaling a strong economy; it's just that reports are not exceeding forecasts as they were through the last half of 2020 and early 2021. And the reasons some recent data failed to meet expectations could be seen as largely bullish for the economy. For example, companies hired fewer workers in April not because they didn't need them but because they couldn't find enough people willing to fill open positions. And even though existing homes sales dropped for a third consecutive month in April, the reason has more to do with a limited inventory than decreasing demand.
You can't really blame economists for being overly optimistic. As I wrote after the big miss in the April jobs report, the economy is in uncharted waters and analysts are having a hard time adapting old models to the new order. It was always going to be tough to predict how the economy would respond to trillions of dollars of fiscal support along with the trillions of dollars pumped into the financial system by the Federal Reserve during a serious pandemic. Add to that the fact that nobody could realistically predict the challenges and how long it would take the economy to fully reopen after an unprecedented shutdown and deep contraction.
As the largest bank in the U.S., JPMorgan Chase & Co. most likely has a good handle on what's happening on the ground floor of the economy. So a research note this week by one of its economists, Jesse Edgerton, flagging disturbing trends in some real-time data shouldn't be taken lightly. Here's what he and his colleagues wrote:
But after surging from February into March, restaurant and travel indicators have generally decelerated in April and May, after accounting for normal seasonal patterns. Restaurant spending in our Chase card data has dipped recently and remains about 15% below its pre-COVID trend, while lodging spending is little changed over the last month and still 35% below trend. Chase airline spending has continued to rise, although airport travelers reported by (the Transportation Security Administration) are only narrowly above the peak seen in late March, and still down 35% from trend. Hotel occupancy rates have also plateaued.
Sure, the strides made by the economy have been miraculous, but with equity valuations  well above historical levels, all market participants see are headlines that scream how another data point has fallen below forecasts. That can't be good for sentiment and partially explains the slight "risk off" vibe in recent weeks, with the S&P 500 Index stuck in a tight trading range since early April.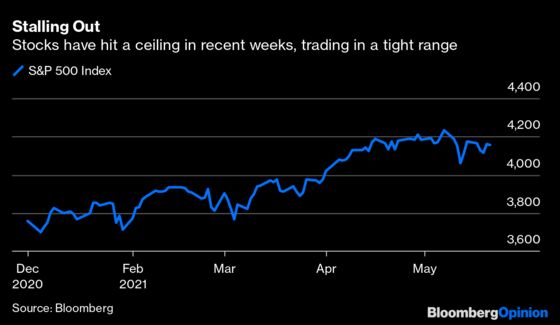 The bond market has taken notice as well. Yields on benchmark 10-year Treasury notes have stopped rising after their epic increase in the first quarter. Clearly, investors again see the need for the safest of assets. And the dollar, after a brief rebound in the first quarter, has resumed its slide.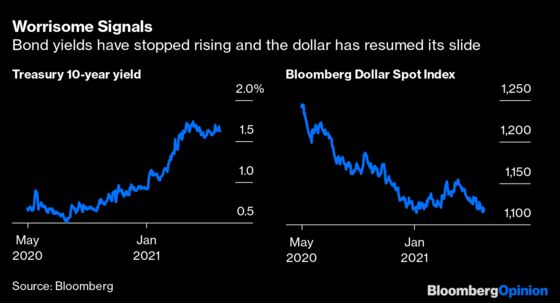 The notion that inflation is about to accelerate rapidly is less of a concern if this week's government auction of 10-year inflation-protection Treasuries is any indication. The securities drew a yield of minus 0.805%, about 2 basis points above where it was in presale trading, a sign that demand for the notes fell short of dealer expectations. Also, breakeven rates on five-year Treasury notes, a measure of what traders expect the rate of inflation to be over the life of the securities, is the same now as it was two months ago.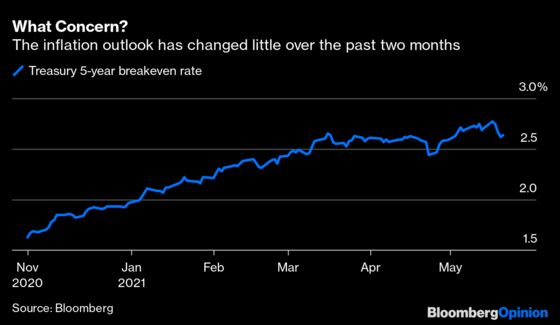 A few key items to watch next week are the Conference Board's Consumer Confidence Index for May and the April durable goods and consumer spending reports from the Commerce Department. All are forecast to be down from the prior month, but if there's an even bigger disappointment, we may start to see those lofty GDP estimates start to come down, which won't be good for riskier financial assets.    
This column does not necessarily reflect the opinion of the editorial board or Bloomberg LP and its owners.
Robert Burgess is the Executive Editor for Bloomberg Opinion. He is the former global Executive Editor in charge of financial markets for Bloomberg News. As managing editor, he led the company's news coverage of credit markets during the global financial crisis.