The Most Important Number of the Week Is 6.4%
(Bloomberg Opinion) -- Any notions that the U.S. economy is struggling should have been wiped away on Thursday, when the Commerce Department said gross domestic product expanded at a 6.4% annualized rate in the first quarter. Economists were quick to point out that the strong results mean the level of activity this quarter is now certain to reach —  or even exceed — where it was before the pandemic hit. 
Clearly, the very few who were brave (or lucky) enough to predict a swift, V-shaped recovery were right — at least for now. And with vaccines providing hope that the worst of the Covid-19 crisis is over, some economists and investors have started to turn their attention to the long-term effects of the pandemic on the economy. The early research suggests those forecasting a new "Roaring '20s" may be disappointed.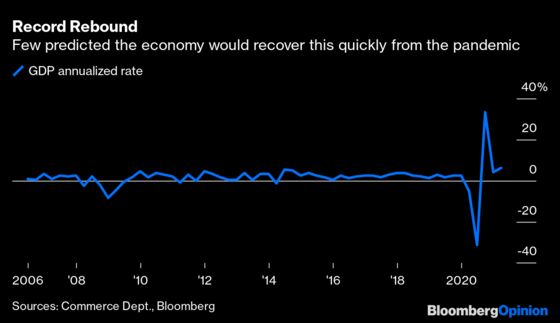 At issue is the number of deaths attributed to Covid-19. In the U.S. alone, the count surpassed 575,000 this week, and data suggests that there will be about 1 million "excess deaths" before the pandemic is over. These are deaths over and above normal demographic forecasts.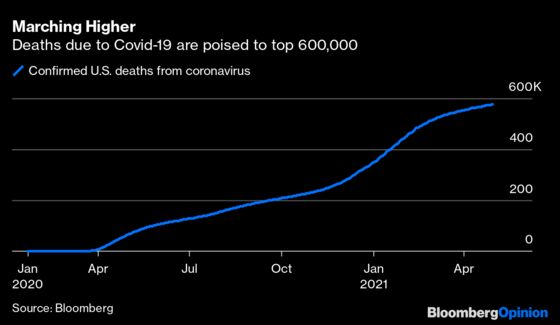 Cumberland Advisors Inc. co-founder and Chief Investment Officer David Kotok took the concept of excess deaths one step further in a research note to clients this week. He pointed out that each excess death results in a computation known as years of life lost, or YLL. A study published in the Journal of Public Health last month estimated there were 9.2 YLLs per death. 
Sure, Covid-19 has impacted the elderly disproportionately, with those 65 and over accounting for 80% of deaths and therefor contributing relatively little to YLL. But that's still means a not insignificant 20% are under the age of 65. Cumberland estimates a Covid-19 shock of about 10 million YLL in the U.S. by the end of this year, contributing to a lasting economic "demand shock" that will act as a drag on growth:
The 100-year-old person who died of COVID in a nursing home counts as a COVID death but makes only a small contribution to this economic estimate. The 30-year-old nurse who died of COVID while caring for COVID patients in a hospital, on the other hand, makes a large contribution to YLL and will be sorely missed, as will the 50-year-old engineer or computer scientist. So, too, the truck driver or teacher. COVID has killed many who are highly skilled, and it has killed many who had years yet to contribute to the labor force.
This analysis doesn't even take into account the millions of Covid-19 "long haulers," or those that have developed, or are likely to develop, severe medical issues from the disease that prevents them from working full schedules. Cumberland notes that the evidence shows there are around six to eight Covid-19 long haulers for every death.
That doesn't bode well for an economy that is a long way from replacing all the jobs lost during the pandemic. At 61.5%, the labor force participation rate is closer to the pandemic-era low of 60.2% reached last April than it is to the pre-Covid high of 63.4% in January of 2020.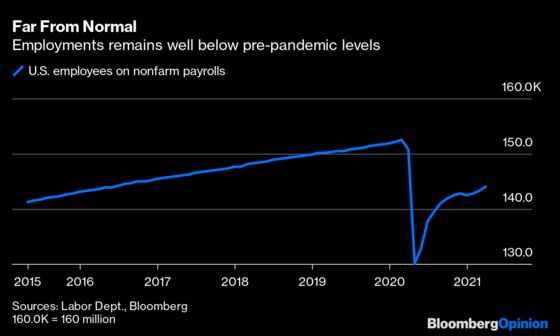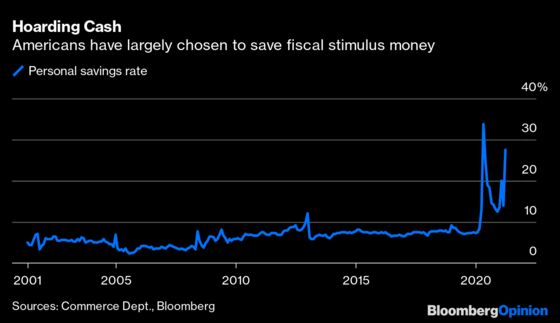 The conventional wisdom among economists is that all these savings will provide fuel for the economy in the years ahead, potentially driving inflation rates much higher and causing another set of economic problems. The trouble is that consumers show little signs of conspicuous consumption from the savings windfall. As mentioned previously in this space, retail sales growth has been lumpy, corresponding more with government handouts than consumer confidence.
Also, a measure of how much money turns over in the economy — which was already at record low levels heading into the pandemic — has dropped even further and is nowhere near recovering. And if money isn't turning over at an accelerating rate, it becomes much harder for economic growth rates to pick up or temporary spikes in inflation rates to become entrenched.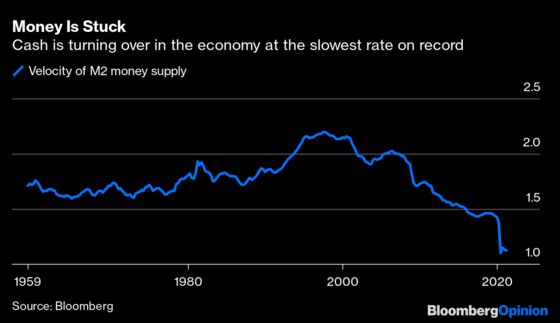 There's another trend developing related to Covid-19 that should worry economists: early retirements. Bloomberg News reports that government data show 2.7 million Americans age 55 or older are contemplating dropping out of the workforce years earlier than they'd imagined because of the pandemic. This promises to be an added drag on growth in the years to come, given the reduced consumption patterns of retirees. 
Just as those who predicted it would be many years before the economy recovered from the pandemic were proved wrong, there's a good chance that those forecasting many years of roaring growth will also have to come to terms with a different reality. There is just too much that scientists don't know about the virus, its mutations and the longer-term effectiveness of vaccines for economists to be confident in making forecasts beyond the next few quarters, let alone calling for a new "Roaring '20s."
This column does not necessarily reflect the opinion of the editorial board or Bloomberg LP and its owners.
Robert Burgess is the Executive Editor for Bloomberg Opinion. He is the former global Executive Editor in charge of financial markets for Bloomberg News. As managing editor, he led the company's news coverage of credit markets during the global financial crisis.