The Coronavirus Won't Bring the End of Big Meat
(Bloomberg Opinion) -- There's one obvious culprit in the looming U.S. meat crisis being driven by the spread of Covid-19: The decline of the American slaughterhouse. 
Despite being the world's second-largest meat consumer after China, the country stuns, kills and dismembers almost all of its annual production of 130 million pigs, 33.6 million cows and 2.3 million sheep in just over 800 facilities. Five decades ago there were more than 10 times as many.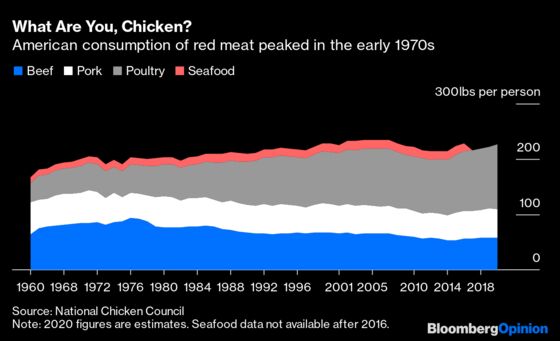 If anything, those figures understate quite how concentrated the slaughter industry is. About two-thirds of America's pork passes through the 24 giant facilities owned by Smithfield Foods Inc., JBS SA, Tyson Foods Inc. and Clemens Family Corp. More than 80% of beef comes from about a dozen abattoirs owned by Tyson, JBS, Cargill Inc. and Marfrig Global Foods SA.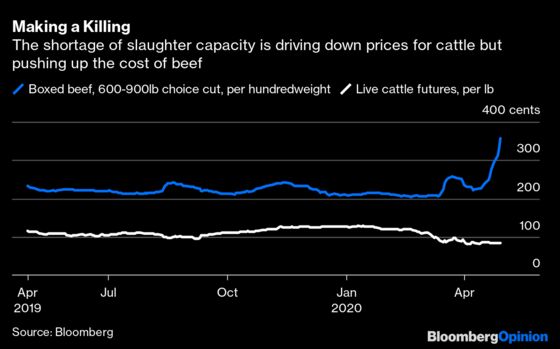 That presents a bottleneck for the American meat trade not unlike the one causing such ructions in the country's oil business. It's worryingly easy for disease outbreaks to spread among slaughter-plant staff, who work for low wages, in close quarters, in long shifts, and often share tightly packed break rooms and transportation around the site.
Once one plant becomes a Covid-19 hotspot, the knock-on effects can be profound. Supply chains aren't configured for pigs and cows to leave the site except in the form of chilled cuts, so it's not easy to move them elsewhere. 
Those who expect the current situation will lead to a revival of smaller-scale abattoirs forget how America's meat industry ended up this way in the first place. If the current shape of the livestock supply chain is a result of anything, it's been the interplay of more than a century of food-safety regulation, logistics and labor force arbitrage. The coronavirus will just move that process another step forward.
Scale, and the problems it engenders, has always been a central feature of the industry. When canals and rail routes through Chicago first joined the Midwestern farm belt to the populous East Coast in the mid-19th century, the slaughterhouse at the juncture — Union Stock Yards — grew to be the world's largest. 
Conditions in the yards were notorious, with little regard for the safety of either the meat produced or the low-wage, immigrant workforce. Upton Sinclair's 1906 novel "The Jungle" attempted to draw attention to the latter, but its most lasting result was the regime of federal slaughterhouse regulations. Now there's approximately one government food inspector for every 10 employees in slaughtering and packing.
Over the past 40 years, tighter oversight, better transport and economies of scale have driven slaughterhouses out of America's cities to giant facilities across the Midwest, Great Plains and South. More than a dozen of these little-known sites are about as large as the Union Stock Yards. Modern slaughter plants are built close to feedlots and the grain and soy fields that supply them. That means most meat is transported in the form of cuts, which pound-for-pound cost about a hundred times as much as live animals. Located in rural areas, they can pay their workers less than would be expected in the city, too.
It's hard to see how making these facilities more resilient to infectious outbreaks among workers would reverse the concentration of previous decades. After all, better hygiene and humane standards for meat, and the (worthwhile) regulatory burden that entails, are one of the main reasons so many small-scale slaughterhouses have closed down in recent decades. The sorts of changes that would be needed post-coronavirus — spacing workers further apart and separated by screens, staggering shift periods and providing more break rooms — are likely to be easiest for larger plants to implement. To the extent that better practices help improve the meager wages of abattoir workers, that, too, will probably benefit the meat producers with the biggest market share and ability to pass on costs to consumers.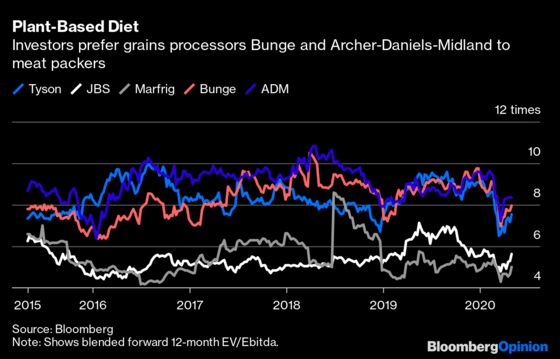 Returns at the biggest businesses are sufficient to cover their capital costs, but hardly excessive. Investors generally prefer grains processors such as Bunge Ltd. and Archer-Daniels-Midland Co. Red meat consumption in the U.S. has fallen by a quarter since the 1970s. The concentration of America's meat packing industry is ultimately a symptom of its weakness, rather than its strength.
We're counting only federally inspected slaughter plants, which make up more than 95% of the industry, as they're the only ones allowed to transport their product across state lines. There are also about 300 federally inspected poultry plants, in addition to several thousand downstream plants where carcasses are further jointed and processed.
This column does not necessarily reflect the opinion of the editorial board or Bloomberg LP and its owners.
David Fickling is a Bloomberg Opinion columnist covering commodities, as well as industrial and consumer companies. He has been a reporter for Bloomberg News, Dow Jones, the Wall Street Journal, the Financial Times and the Guardian.