The Coronavirus Puzzle Boom Is Not Puzzling at All
(Bloomberg Opinion) -- About a week into this socially distanced work-from-home adventure, I gave up trying to read novels. A bookworm since I learned to read — as a child, I had once tried reading a book in the shower, with predictably disastrous results — I found I just couldn't focus. My eyes moved across the page, but the words slid through without registering.
I tried my other go-to drug of choice — a British murder mystery TV series — but found myself reaching for my phone, tempted by Instagram even as the killer stalked his next victim. After an evening involving four hours of Zoom calls I realized: I needed to find another way to spend this self-isolated time.
The obvious solution: a jigsaw puzzle.
I don't think I'd ever purchased one for myself before, and I'd never completed one more than a few hundred pieces. But here I was ordering a 1,000-piece puzzle depicting the fictional continent of Westeros, from George R. R. Martin's "Game of Thrones" series. I even paid for expedited shipping.
The week after it arrived, I spent many a happy hour assembling it, finally finding that state Mihaly Csikszentmihalyi called "flow": a deep concentration in which the world recedes and hours slip by unnoticed. We also call it being "in the zone." I found the puzzle so addictive, I ordered another one before I even finished — only to find that apparently many other people had had the same idea, and some popular puzzles had sold out.
The New York Times reports puzzle makers receiving a "sudden blizzard of orders" that makes even the Christmas rush look comparatively sedate. North American puzzle sales for one maker jumped 370% in late March over the same period last year; Google searches for puzzles were up more than 600%. "Every day is a new record," the owner of a puzzle distributor in Missouri told his local news outlet. He's hired 10 new employees to keep up with demand.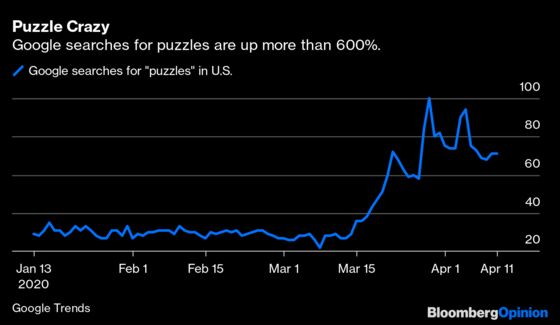 Puzzling has become one of those things that many people seem to have thought of at once as a great way to spend our stuck-at-home time, like adopting a dog or starting seeds or baking bread.
Puzzles have always offered a social diversion for families trapped inside together, whether during a rainy weekend at the beach or during months of self-isolation amid a deadly global pandemic. And now, when so many of us are spending our days glued to various screens — for remote schooling, remote working, or just keeping up with the news — it's logged-off leisure time.
But puzzles can fulfill psychological needs as well. They're cozy and comforting and distracting. In a time when the real world is a giant car wreck we can't look away from long enough to read a book — jigsaw puzzles offer a not-too-taxing mental exercise. Normally, I find them a little bit boring. But "a little bit boring" is about all I can keep up with at the moment.
At the same time, the puzzle is challenging enough to be utterly absorbing — which is perhaps one reason everyone from Bill and Melinda Gates to Queen Elizabeth II find them addictive.
Puzzling easily fits into new daily routines, too — a replacement for the commute I am no longer doing. I assembled King's Landing over my morning coffee; after work, I poured myself a glass of wine and pieced together a chunk of the Narrow Sea. (Dorne proved just as difficult for me to conquer as it did for successive generations of Targaryen kings, but in the end I brought it into the realm.)
Perhaps most of all, jigsaw puzzles offer a way to measure tangible progress in a moment when time seems to be running in a nightmarish loop.
One curious facet of life under lockdown is repetition: the endlessly turning wheel of working, cleaning, cooking and sleeping. The puzzle shows me today is a new day, because I can see a continent taking shape on my dining room table.
Harvard Business School professor Teresa Amabile, in a now-famous study of motivation, asked more than 200 workers to keep workday diaries. After studying thousands of entries, she and her colleague Steven Kramer found that what really motivated people were the small wins that let them know they were making progress, the daily markers of advancement. They called it "the progress principle."
Maybe it's not that complicated. Perhaps puzzles are booming simply because, when the world seems to have fallen to pieces, they let us put some back into place.
This column does not necessarily reflect the opinion of Bloomberg LP and its owners.
Sarah Green Carmichael is an editor with Bloomberg Opinion. She was previously managing editor of ideas and commentary at Barron's, and an executive editor at Harvard Business Review, where she hosted the HBR Ideacast.