The Bank of England Ties Itself Up In Knots
(Bloomberg Opinion) -- "It was a close call" is about the only clear signal sterling markets got on Thursday as the Bank of England explained its decision to leave monetary policy unchanged. It was a spectacular failure of communication from Governor Andrew Bailey: Modern central banking should not allow major global bond markets to fully price in a rate move and then leave them hanging. So much for runaway inflation fears.
The sterling money market swiftly reversed expectations of a rate hike to 0.25% this year, from the current record low 0.1%. The pound fell 1.4% against the dollar and 10-year gilt yield fell 13 basis points. Traders and investors were left scratching their heads as to when interest rates might now rise.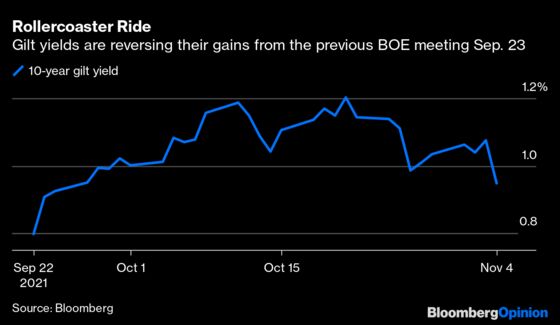 The previous meeting on Sept. 23 produced a surprise passage that laid open a possible hike before the still ongoing QE program is due to end in mid-December. Bailey followed up on this with several newspaper articles reinforcing the signal, notably telling an online panel on Oct. 17 that "we, at the Bank of England have signaled, and this is another signal, that we will have to act." On Thursday, that was downgraded to "likely need to hike in coming months."
Forward guidance this is not — as evidenced by the reaction of sterling assets. In contrast, look at the super-smooth dollar market's reaction to the Federal Reserve's announcement of its QE taper on Wednesday.
It was a painful BOE press conference for those of us trying to divine the Monetary Policy Committee's collective reasoning for not meeting market expectations. Clearly, policy makers are split. Nonetheless, there was a team effort from the two deputy governors who gamely pushed back on recent market pricing of a series of rate hikes. Unfortunately, this came without any coherent alternative. Bailey's definition of what represents transitory inflation was particularly vague.
The fallback answer for the decision to stay on hold was: Let's wait for more data on the labor market. Indeed, the pandemic furlough scheme has just recently ended and there is still a lot of flux in the job market. However, the latest data from the Office for National Statistics released on Thursday showed the pandemic impact on the overall employment market has been largely minimal. The MPC will not have seen this data before its decision but it did not seem to impinge on any reasoning from Bailey in the press conference.
It is still when interest rate rise not if. But the pound has moved closer to the lows of the year now that its interest rate prop has been kicked away for the time being.
Bailey made clear that "there won't be an unstitching of the 'low for longer' framework," which should calm some of the wilder rate hike expectations in the futures market. It should also provide support for the gilt market to rally, with a double whammy for gilt QE purchases: In the next five weeks, the BOE pandemic bond-buying program will finally end with the purchase of 20 billion pounds ($26.9 billion) of government debt.
The bigger boost will come in the spring when QE will, in effect, start again with the likely reinvestment of the BOE's 28 billion pound holding in the 4% March 2022 gilt. The expectations had been that, by February, the bank rate would be raised to 0.5%, thereby triggering automatic non-reinvestment — that is, balance sheet reduction. That dual-tightening just got booted into the long grass by Thursday's hold. There will be just net 3 billion pounds of new gilt supply to April — the government having just cut its issuance plans.
Bailey tried to rewrite history during his Bloomberg TV interview later on Thursday saying it was "not our job to steer markets" and that recent market moves were both puzzling and overdone. This approach will not endear him to markets, a lesson that European Central Bank President Christine Lagarde had to learn the hard way.
It is absolutely bewildering for the governor to claim to be so puzzled. He claimed that nothing is off the table but the problem is more that there is nothing on the table. Will the BOE hike rates in December? It could but we are no further towards having any idea if that will actually happen.
Confused? Watch the next episode of U.K. Central Banking on Dec. 16.
This column does not necessarily reflect the opinion of the editorial board or Bloomberg LP and its owners.
Marcus Ashworth is a Bloomberg Opinion columnist covering European markets. He spent three decades in the banking industry, most recently as chief markets strategist at Haitong Securities in London.