The Billion-Dollar Race for Lasers Is Getting Out Of Control
(Bloomberg Opinion) -- A $6 billion Silicon Valley laser quest is at risk of overheating. Laser-maker Coherent Inc. is the subject of three conflicting takeover bids, each one more exorbitantly priced than the last.
The battle reflects a belief that displays are going to be an even more pervasive part of our lives. Yes, you might already have a smartphone, laptop and television, but in the future your car might also have a three-foot-wide display panel and everything from wallpaper to clothing could have bendable displays. Foldable smartphones are just the beginning.
Coherent is the only company that makes a key piece of laser-based machinery needed to produce displays that rely on organic light-emitting diodes or OLEDs — a technology that is growing in popularity due to its energy efficiency and usefulness for curved surfaces. OLED screens are already the go-to for high-end iPhones and televisions, which is why Chinese companies such as BOE Technology Group Co. and China Star have been investing heavily in new OLED factories, a market that was historically dominated by South Korea's Samsung Display and LG Display Co.
Coherent's machines are essential in the production of OLEDs for smartphones, and its lasers are also used in other industrial and medical applications.
That's why bidding for the California-based firm is getting so aggressive. Last year it was valued at as little as $2 billion. Last month, the board approved a $5.7 billion cash-and-stock acquisition by Apple supplier Lumentum Holdings Inc. Last week, MKS Instruments Inc., another maker of machines used to make semiconductors and displays, trumped that offer with an unsolicited $5.9 billion bid. Then on Friday, II-VI Inc., a competitor of Lumentum in supplying lasers for the iPhone, outbid both companies with its own $6.4 billion approach.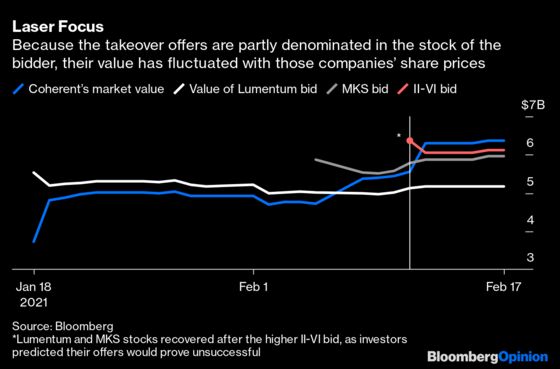 The Coherent board subsequently entered talks with both MKS and II-VI (pronounced "two-six"). For now, it still recommends the Lumentum bid.
The Lumentum agreement was already generous. The fact that two other companies are also willing to overpay seems to indicate how unpredictable earnings can be in the laser business. Growth has come in fits and spurts — when there's a new smartphone widget or spate of investment in fiber optic cables that depend on lasers. The industry is seeking new opportunities since their core business can be volatile.
The problem is that most of the investment in OLED manufacturing facilities has already happened — if anything, there's too much capacity right now. In fact, spending on the laser equipment that Coherent manufactures is set to decline in the next few years, according to analysis firm Display Supply Chain Consultants. Equity analysts predict Coherent's total revenue will hit $1.4 billion this year, an increase on the fallow 2020 but less than the year before that. For all of the excitement about displays taking over the world, Coherent's technology is only really needed for smartphone screens, according to DSCC co-founder Ross Young.
II-VI nonetheless seems to have outmaneuvered its rivals — the Coherent board will surely end up recommending its bid. Because its shares trade at a higher multiple of earnings than its rivals, including Lumentum, its stock is more valuable. That's made it easier to offer a higher bid and one that's more aggressive: Even though it expects to extract more cost savings from the merger, it will generate lower returns than either Lumentum or MKS. But these two firms may find it too expensive to improve their bids, as both of their share prices declined after their offers were made public.
It's a tough rap for Lumentum Chief Executive Officer Alan Lowe, who must have been thinking two weeks ago that he'd secured a transformational takeover. For all of OLED's promise, though, he might do better sticking with his current hand.
This column does not necessarily reflect the opinion of the editorial board or Bloomberg LP and its owners.
Alex Webb is a Bloomberg Opinion columnist covering Europe's technology, media and communications industries. He previously covered Apple and other technology companies for Bloomberg News in San Francisco.