Sotheby's Is Shaping Up Fine for Billionaire Patrick Drahi
(Bloomberg Opinion) -- Billionaire Patrick Drahi may be an art lover, but he is also an opportunist. The soaring fortunes of the wealthy, along with the art world's digital revolution, must create a strong temptation to sell a piece of Sotheby's back to the stock market just two years after he took the auction house private.
When Drahi agreed to buy Sotheby's at a $3.7 billion valuation in June 2019, the acquisition looked primarily like the purchase of a long-term trophy asset. The entrepreneur said the investment was for his family. He would maintain the firm's strategy, and telecoms and media would stay his principal focus. The auctioneer's board said the company could develop faster in private ownership and would be in excellent hands "for decades to come."
But the move was also opportunistic. You grab unique assets like this only when their owners are willing to sell them and rival buyers are scarce. The shares had fallen 41% in the preceding 12 months amid expectations of declining sales. Drahi offered a 61% premium, making the bid value just below the shares' one-year high. No rival suitor challenged him for the deal.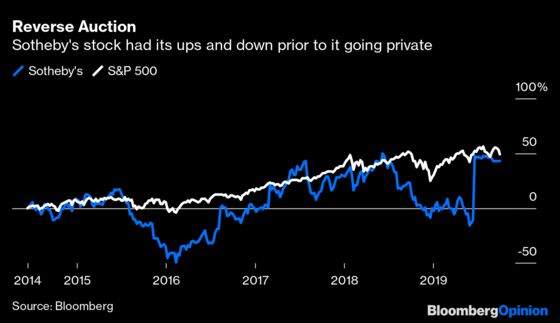 What happened next? Sotheby's investors who sold to Drahi probably aren't regretting it yet. Indeed, if they reinvested the proceeds in the S&P 500, they have almost certainly made more money than if they had rejected the takeover and kept their shares.
Drahi ought to be taking a longer view, but the deal has not been so bad for him. He put just $1.45 billion of equity into the transaction, borrowing the rest. Even though the pandemic was declared five months after he got the keys, he's been able to load Sotheby's with further debt and recoup $465 million via two dividends.
He is now weighing an initial public offering as soon as this year, Bloomberg News reported last month. Clearly, a stake sale could free up capital to deploy elsewhere, while keeping the tycoon in control. Telecoms are now as unloved as Sotheby's was, and Drahi has been building a stake in the U.K.'s BT Group Plc.
An IPO pitch looks easy. After a couple of tough years, Sotheby's achieved record art sales in 2021, touching $7.3 billion by mid-December. The business now auctions non-fungible tokens (NFT) and sneakers — capturing the zeitgeist — and it's conducting more sales online. Auctions last year saw a record number of bidders, 44% of them new clients, the firms says. Of NFT bidders, 78% were new to Sotheby's and more than half were aged under 40.
The traditional fodder isn't doing too badly either. Botticelli's "Portrait of a Young Man Holding a Roundel" fetched $92 million, a record for an Old Master at Sotheby's.
The company can also be seen as a play on the expansion of the wealthy class. The number of millionaires globally could rise from 56 million in 2020 to 84 million come 2025, according to Credit Suisse Group AG research. Luxury is booming: Analysts at UBS Group AG expect the industry to achieve record sales and margins this year.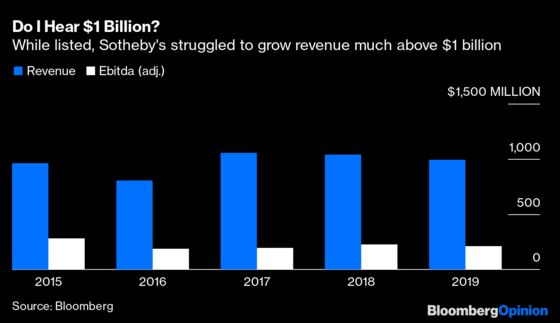 But there are some snags. Sotheby's borrowings are high at $1.6 billion, excluding a revolving credit facility. To service this, underlying profits on the Ebitda measure were $227 million in 2020 (after lease charges), according to Moody's Investors Services. Even if net debt is lower (deducting some cash in the bank) and the pandemic's impact on profit has abated, an IPO would probably need to raise capital to strengthen the balance sheet. Investors will want to feel they're doing more than just plugging a hole.
Above all, having extolled the virtues of private ownership, Sotheby's would need to explain the change of tack. Incoming shareholders would need convincing that this business is in a durable upswing. Art sales have historically been cyclical, and Sotheby's former share price was volatile: In the five years before going private, it ranged from $19 to $60. NFTs may have ushered in an industry shift, but that doesn't necessarily change the seesawing dynamics.
Perhaps Drahi has other investment plans and needs more cash than he can extract in dividends. With stock markets high but wobbling, an opportunist might judge there won't be a better moment for an IPO for a while. The question remains whether Sotheby's is truly ready to return to the stock market.
More From Other Writers at Bloomberg Opinion: 
This column does not necessarily reflect the opinion of the editorial board or Bloomberg LP and its owners.
Chris Hughes is a Bloomberg Opinion columnist covering deals. He previously worked for Reuters Breakingviews, as well as the Financial Times and the Independent newspaper.