Texas Blackout Shows Where the New Energy Jobs Are
(Bloomberg Opinion) -- When millions of Texans lost power during the coldest weather to hit the Lone Star State in seven decades, Republican Governor Greg Abbott blamed frozen wind turbines and other forms of clean energy for the greatest forced blackout in U.S. history. Never mind that the grid operator in the second-largest state said alternative energy, generating 25% of its winter supply, contributed less than 13% to the outage, while fossil fuels — the overwhelming source of electricity — failed twice as much in the debacle.
Lost in Abbott's false narrative excoriating Democrats' Green New Deal is the reality that renewable energy is a boon to Texas, which is among the world's biggest contributors to global warming, and to the rest of the U.S. Renewables have been the fastest-growing source of new jobs during the past two years after E-commerce in discretionary consumer goods.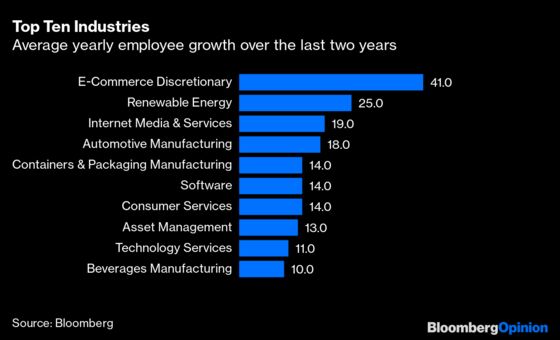 Large and small publicly traded companies in the Russell 3000 increased their workforce at an annual average of 9%. But the 13 alternative-energy companies, including Tempe, Arizona-based First Solar Inc. and San Jose, California-based SunPower Corp., grew more than 2 1/2 times that rate, according to data compiled by Bloomberg.
The blackout in Texas, whose energy transmission isn't connected to the rest of the U.S. grid, underlined the need for nationwide power lines and storage systems that can supply electricity whenever and wherever demand suddenly surges.
The disaster also marks a turning point for corporate America. Since 2018, employment growth has increasingly favored clean-energy companies, which weren't among the top 10 industries hiring the most people as recently as 2014. Even with its minuscule 0.2% in the Russell 3000, renewable energy punches way above its weight as a significant employer, more than doubling its annual hiring during the past five years, according to data compiled by Bloomberg.
Tesla Inc., for example, employed fewer than 900 people when it launched the all-electric, zero-emission Model S sedan almost a decade ago in Fremont, California. Tesla's worldwide workforce has increased more than 53 times since then to 48,000. Its market capitalization appreciated more than 300 times to $755 billion, representing 2.2% of the S&P 500 index.
Chief executive officer Elon Musk's recent move to Texas, where Tesla is building a factory outside Austin to meet growing demand for its vehicles, underscores the irony of Governor Abbott's disparagement of clean energy in his state: The technology's most affluent and visible champion has just become a new resident responsible for ever more jobs.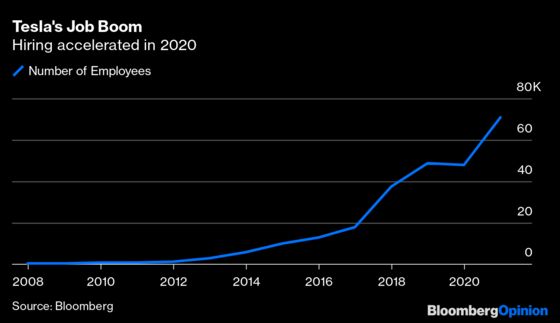 Tesla has added employees at an annual rate of 41% during past five years and created a total of 51,000 jobs in California, including workers throughout its supply chain. The hiring outlook for most of the auto industry is dismal by comparison. General Motors Co. reduced its workforce by an annualized 5%. Toyota Motor Corp. and Volkswagen AG, No. 1 and No. 2 in vehicle sales with a combined 46% of Tesla's market capitalization, increased at rates of just 1% and 3%, respectively.
Clean energy, still in its infancy, is exploding. Plug Power Inc., a Latham, New York-based provider of zero-emission fuel-cell solutions, saw employment rise 38% during each of the past two years. Enphase Energy Inc., the Petaluma, California-based maker of solar panel systems, has experienced 31% annual labor growth since 2018, according to data compiled by Bloomberg.
Almost 3,000 closely held alternative-energy firms, including biofuels maker Big River Resources LLC in Dyersville, Iowa, with $824 million in annual sales and Riverside, California-based SolarMax Technology, with $90 million annual sales, could become public during the next decade, according to data compiled by Bloomberg. 
Meantime, employment in oil, gas and coal shows no signs of rebounding from a widening slump. Among the 24 companies in the S&P 500 Energy Index during the past five years, the mostly fossil fuel crowd is cutting workers at a 2% yearly rate. ConocoPhillips and Chevron Corp. are losing employees at annual rates of 11% and 6%, respectively, while ExxonMobil has shown no increase since 2014.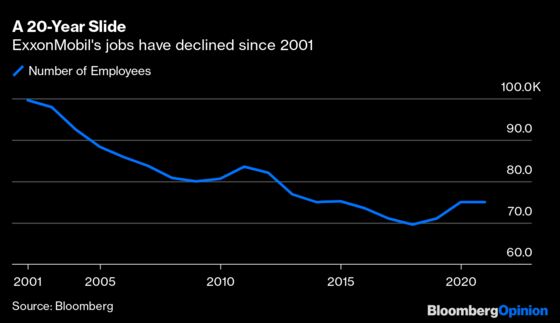 Saudi Aramco was valued at more than $2 trillion as the world's largest company in its December 2019 initial public offering. In a sign of the times, the fossil fuel giant has declined 8.3% since then, and was supplanted last July by Apple Inc. as the world's most valuable company. Microsoft Corp. is now poised to overtake it as the global No. 2. If the market reveals anything, it's that technology is ascendant when the market's fossil-fuel mainstays are losing the confidence of investors.
In the historic Texas blackout, the weather extremes of climate change are increasing incentives for alternative energy. And that's where the jobs are.
This column does not necessarily reflect the opinion of the editorial board or Bloomberg LP and its owners.
Matthew A. Winkler is Co-founder of Bloomberg News (1990) and Editor-in-Chief Emeritus; Bloomberg Opinion Columnist since 2015; Co-founder of Bloomberg Business Journalism Diversity Program in 2017. During his 25 years as Editor-in-Chief, Bloomberg News was a three-time finalist and winner of the Pulitzer Prize for Explanatory Reporting and received numerous George Polk, Gerald Loeb, Overseas Press Club and Society of Professional Journalists and Editors (Sabew) awards.