Texas and Energy: The Alone Star State
(Bloomberg Opinion) --   I've been thinking about something Rick Perry said in the middle of the Texas blackouts:
Texans would be without electricity for longer than three days to keep the federal government out of their business.
The former state governor and ex-U.S. energy secretary paints a stirring picture of shivering Texans shrugging off the long arm of the Federal Energy Regulatory Commission. This reminds me of something another former official from the Lone Star state communicated when his fellow Texans were freezing in the dark; the ex-mayor of Colorado City's dictum that "no one owes you or your family anything," adding "Sink or swim, it's your choice!"
Getting the download from a friend in Houston on Monday, he is in the market for a new generator for his house in preparation for the next emergency. He isn't alone, it seems. Aaron Jagdfeld, CEO of Generac Holdings Inc., told CNBC last week his company can't make generators fast enough to keep up with demand. Generac's stock closed at an all-time high at the end of Texas' week from hell.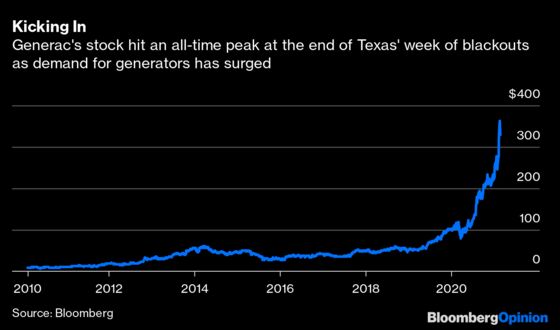 Self-reliance is an admirable quality, of course, and one that is central to the Texan self-image. But there's a reason we refer to the electricity system as "the grid" for shorthand. Networks are efficient and resilient. They let suppliers sell to the widest market possible, raising utilization and reducing the price for everyone, enabling even those at the network's remotest corners to be connected. They balance shifting demand patterns across regions (and time, if the network is wide enough).
Most importantly, a network is an expression of what might be called rugged collectivism. It provides insurance against loss of service, with some generators stepping in when others fail to deliver, or some consumers backing off to ease the strain.
But systems can fail — as happened in Texas. The actual grid, as in the wires, doesn't appear to have been much of an issue. However, the Arctic blast froze equipment at multiple types of power plants, as well as icing up gas wellheads and pipelines. Cascading failures fed back on themselves as loss of power knocked out equipment such as pipeline compressors. Water networks were also impacted, with pumps failing due to lack of power and pipes freezing and bursting due to lack of heat. Some residents were left being instructed to boil water on electric stoves with no power.
One root cause: lack of adequate winterization. The weather was extraordinarily harsh, no doubt. Yet Texas had been warned about the need for grid hardening after another disruptive freeze in 2011. That this wasn't enforced can be put down to the same reason Texas generally runs with a thinner margin of spare generating capacity: It's cheaper in the short run.
No one actually likes paying for insurance, but Texas must raise its premium. The next question it faces is how best to go about that.
Systemic problems demand systemic solutions. Yet the prevailing ethos appears skewed toward putting more risk on the shoulders of individuals. Some folks can afford generators while others cannot. Power contracts that exposed homeowners to wild fluctuations in wholesale pricing have left them facing a monthly bill running to thousands of dollars. This is more lottery ticket than insurance policy.
While the market structure itself cannot be blamed for frozen equipment, heavy emphasis on low prices raises the risks of outages over time, either through vulnerable equipment or reduced spare capacity. Texas stands out for the industrial sector's big share of energy demand relative to the U.S. as a whole. For a factory manager, a system that delivers cheap power in general but occasionally trips offline isn't ideal but may be preferable from a raw cost-benefit analysis. It may not pencil out quite as well for individual households scrambling to keep warm and get clean water.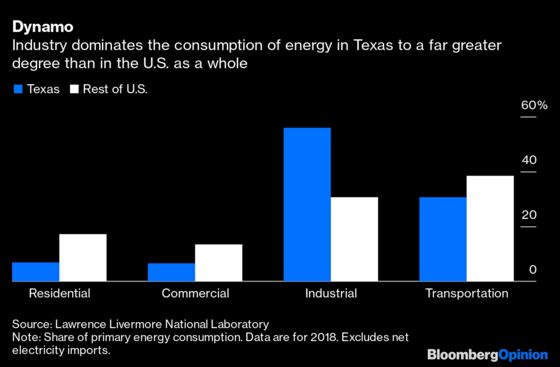 Since the blackouts immediately became fodder for the culture war over climate change — and freak weather events are likely to become less freakish —  it's worth pointing out a similarity here. Just as too much of the tail risk in Texas' energy system devolves to householders, so opponents of action on climate change will often throw responsibility back onto individuals for driving a car or booking a flight. Yes, we all participate in our mostly fossil-fuel powered modern world. But it's an absurd rhetorical sleight-of-hand concealing the need for, once again, systemic change. 
Texas' famed isolation from the rest of the U.S. grids has rightly come under scrutiny again. But the loneliness of Lone Star energy extends all the way down to the socket, atomizing some risks rather than pooling them. For the likes of Perry, keeping the Feds at bay may take precedence. For ordinary Texans whose fortitude he counts on, ideology may be good for getting the blood boiling, but it won't keep them warm.
This column does not necessarily reflect the opinion of the editorial board or Bloomberg LP and its owners.
Liam Denning is a Bloomberg Opinion columnist covering energy, mining and commodities. He previously was editor of the Wall Street Journal's Heard on the Street column and wrote for the Financial Times' Lex column. He was also an investment banker.