While Tesla Delays, Rivals and Drivers Move On
(Bloomberg Opinion) -- If the topic is a new Tesla model, then the first item on the agenda is how long it will be delayed. The polyhedral wonder that is the Cybertruck continues this grand tradition. While traditions hold true, however, the world around them changes.
The Cybertruck was first unveiled at that impromptu window-smashing event in late 2019, scheduled to be available later this year, and is now reportedly delayed until late 2022, with high-volume production not happening until a year after that. This follows hot on the heels of a tweet from CEO Elon Musk saying Tesla Inc.'s revamped Roadster sportscar should ship in 2023 provided 2022 goes easy on him. That model was first unveiled almost four years ago, with an original launch date of last year. Incidentally, that unveiling was a mere digestif to the main event, the reveal of the Tesla Semi truck, due to begin production two years ago and still due.
This is all pretty familiar stuff. Tesla wouldn't be Tesla without missed deadlines and elusive products. And with the company valued at more than $730 billion, it hardly seems to matter. This makes sense from a certain perspective: If your whole bull case rests on terminal value anyway, then shifting the cash flows a few cells to the right hardly makes much difference. It also makes sense from another perspective, which is that Tesla's valuation never has much to do with numbers other than those on the trading screen.
Yet such delays are going to matter more. Because drivers move on, even if Tesla's hodlers don't.
The most consequential delay for Tesla concerned the Model 3. This was the company's leap to mass(ish) market cars, and the delays and snafus around manufacturing it actually did take a toll on cashflow, the stock and, given the coincidental timing of pedo-gate and "funding secured," probably Musk himself. But Tesla did enjoy one advantage back in 2017: It had virtually no competition.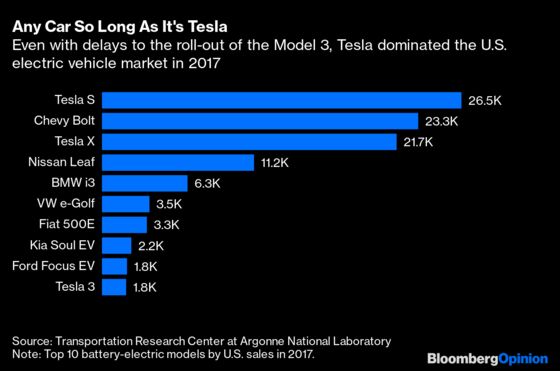 Tesla accounted for one in four electric vehicles sold in the U.S. that year and almost one in two if you discount plug-in hybrids. This actually understates things. The non-Tesla models were mostly quasi-research projects for incumbent automakers dipping a toe in electrics, or just didn't really compete with what Tesla was offering. The Chevy Bolt and BMW i3 are fine cars, but hardly anyone thinking of buying a Model 3 — let alone an S or X — would seriously consider them as alternatives.  
The world has changed a lot in the intervening four years, not least because the Model 3 eventually took off, and so did Tesla's stock. Incumbent automakers' EV budgets have ballooned, and other upstarts are surfing the ESG bubble. Back in 2017, there were 18 battery-electric models available in North America, according to BloombergNEF, and most of them were best described as just that: available. Today, there are more than 50, and that's projected to rise to 80-plus by the time the Cybertruck is now supposed to show up.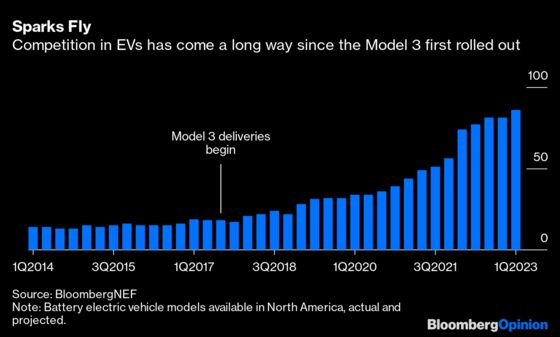 Besides quantity, the quality of models has changed. Ford Motor Co.'s Mustang Mach-E is a genuine — and, the company claims, profitable — alternative to Tesla's Models 3 and Y. The same goes for existing and imminent models from the likes of Volkswagen AG and BMW AG. High-end offerings from Porsche Automobil Holding SE and Lucid Group Inc. target potential buyers of the Model S.  There is also apparent enthusiasm for Ford's F-150 Lightning truck, which should now handily beat the Cybertruck to market. Rivian Automotive Inc.'s forthcoming R1T truck is also attracting early rave reviews.
It isn't just that a customer may plump for a BMW iX over a Model X. The point is that customers as a group are inevitably becoming familiar with electric vehicles that don't have a "T" stamped on them — and finding these vehicles are decent rides nonetheless. That is actually great — in fact, vital — for the broader project of electrification; less so for Tesla.
At a certain level, it should not be alarming for Musk's company. Competition is a fact of life in autos, and Tesla has already pulled off the herculean feat of bending that industry to its vision. The wrinkle is that Tesla is priced for not merely bending the industry to its vision but also devouring it entirely. That is not happening. The only question is when investors, like drivers, wake up to the notion that there are alternatives for their dollars.
This column does not necessarily reflect the opinion of the editorial board or Bloomberg LP and its owners.
Liam Denning is a Bloomberg Opinion columnist covering energy, mining and commodities. He previously was editor of the Wall Street Journal's Heard on the Street column and wrote for the Financial Times' Lex column. He was also an investment banker.