Tesla's GameStonk Valuation Needs More Than This
(Bloomberg Opinion) -- Tesla Inc.'s 2020 results are in. There are half a million more electric vehicles out there. There are profits. There is free cash flow. There is a $19 billion cash pile. These are all good things. And in anticipation of all this, the market has already bumped up the market cap a bit.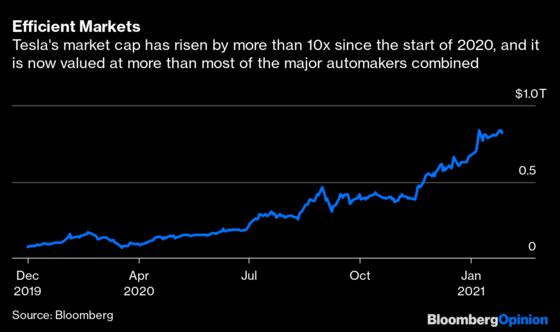 At $721 million, Tesla's GAAP profit is more than accounted for by $1.6 billion worth of regulatory credit sales, even if you adjust those for tax . Still, it's Tesla's first annual net profit ever, and that's not nothing. It's just that, next to that $819 billion market cap, it does look a bit small.
Markets are forward-looking, of course, so who cares about a trailing multiple of 1,100 times or thereabouts? That's a perfectly valid position to take, and it reminds me of one of my favorite statistics from the uber-rally in electric vehicle stocks: 11,579.3. This is actually Tesla rival Nio Inc.'s multiple of forecast earnings in 2022, rendered with non-judgmental precision on the Bloomberg Terminal. That's adjusted earnings, mind you; the GAAP stuff still has one of those nettlesome dashes in front of it. Still, it makes Tesla's 140.7 times look positively Detroitesque.
Calling such numbers ebullient is still necessary even if, in this new era of GameStop dominance, it is borderline futile. Yet the sheer scope of belief baked into them astounds even now.
Adding up the market cap of a quick-and-dirty list of the world's biggest electric car companies yields a value of $1.1 trillion, of which Tesla accounts for about three quarters. What does it take to justify that number? Imagine a typical year for the autos business with 85 million new passenger vehicles sold. Now imagine they are all electric (as opposed to the current level of less than 3%) and cost $35,000 apiece on average. Total revenue: $3 trillion. At a net margin of 5%, that's almost $150 billion of earnings.
So the sector trades at 7.6 times the earnings implied by … immediate electrification of all passenger vehicle sales at a reasonable price and margin, with none of the incumbent manufacturers snagging so much as one unit of market share. I suppose that counts as what is called a "scenario;" the word is such a forgiving one.
It's possible to wile away some time playing around with those assumptions. And yes, there are adjunct businesses like robotaxis and whatnot to factor in. So sure, bump the car price to $70,000, sell 100 million and slap on a 10% margin: Now the multiple is a mere 1.6 times. But that's still 1.6 times not-actually-happening.
Even my colleagues at BloombergNEF, who like me are bullish on the prospects for electric vehicles, don't see them taking even half of new car sales until 2037. Meanwhile, it's worth highlighting that Tesla on Wednesday evening boasted of hitting an operating margin of more than 5% in the fourth quarter; the net was 2.5%. As for its other businesses, while deployment of solar panels and batteries soared, the gross margin there was negative. 
Hang on, though, what's even with these numbers things? We're in "Gamestonk!!" territory now, where buying need not be an expression of confidence in cash flows or even just the greater-fool thing characterizing any bubble. For some, it may be just an insurrectionary act against the suits or shorts (depending on the sartorial shorthand) or some other emotional scritch, all documented on social media.
For the electrified automakers, especially Tesla, this peculiar brand of mania really pays. If folks have an insatiable appetite for a thing that you manufacture quite easily in house — common stonk — then you make and sell them that thing: Tesla issued over $12 billion of it last year. Even though free cash flow has recently turned positive, that isn't enough to fund the expansion necessary to get anywhere close to justifying Tesla's valuation.
There's a circularity: The stock's crazy high because reasons, so Tesla must generate more reasons if it is to stay there: new product concepts, new factories, new markets. How to afford such things? Sell more of the crazy high stock.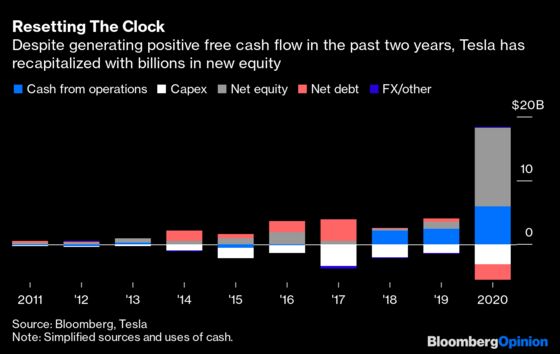 Tesla also needs to recapitalize because of the thing that is conspicuous by its absence in that back-of-envelope calculation above: competition. Average selling prices on Tesla's vehicles fell 11% year over year in the fourth quarter as cheaper Models 3 and Y come to dominate the product mix. There's a reason why deliveries jumped by 29%, quarter on quarter, but adjusted net income was up just 3% (and down on a GAAP basis).
Pricing pressure is a fact of life in trying to build a mass market. The thing is, if you are bullish on electric vehicles as a technology, then having competitors, especially the incumbent auto industry, throw resources into that technology is actually what you need.
This is how financial markets, especially crazy ones, are supposed to work: Something takes off and sucks capital toward it, including that of competitors (and maybe bigger gatecrashers). This speeds adoption even if some firms fail or money gets lost on high-priced bets along the way. In any case, the incumbent industry isn't just going to sit there forever, and the newcomers still have much to prove — even Tesla, by dint of what has been priced in already.
"One of two things has to happen: Electric vehicle companies that have no scale have to come back to earth or the global manufacturers that can leverage a century worth of global engineering, production, distribution and after-sales capabilities to catch up have to be valued similarly," says Kevin Tynan, who covers autos for Bloomberg Intelligence.
Looking at the current gap, one "scenario" would involve General Motors Co. rising toward a three (or five?) figure multiple, right?
Or maybe the other thing happens.

Revenue from regulatory credits essentially enjoys a 100% gross profit margin. Using Tesla's effective tax rate in 2020, that revenue adjusts to $1.29 billion, which is 1.8 times the company's GAAP net profit.
This is a list pulledfrom Bloomberg's equity-search function, so apologies if I have missed your personal favorite. Mine consists of Arcimoto, BYD, Canoo, Electrameccanica Vehicles, Fisker, Kandi Technologies, Li Auto, Lordstown Motors,Nio, Tesla, Workhorse and XPeng.
This column does not necessarily reflect the opinion of the editorial board or Bloomberg LP and its owners.
Liam Denning is a Bloomberg Opinion columnist covering energy, mining and commodities. He previously was editor of the Wall Street Journal's Heard on the Street column and wrote for the Financial Times' Lex column. He was also an investment banker.