Tencent's Earnings Engine May Withstand Beijing Scrutiny
(Bloomberg Opinion) -- The most important narrative for Tencent Holdings Ltd. now is the imminent regulatory wringer the company is about to be put through, and the likelihood it'll need to make some concessions to Beijing if it's to stay in business. 
Earlier this month the Shenzhen-based games and social-media giant was slapped with a fine for conducting acquisitions without getting prior approval. It's well understood that the penalty imposed by the anti-monopoly watchdog, a mere 500,000 yuan ($77,00), is just the opening salvo in the government's plans to rein in Tencent and peers including Alibaba Group Holding Ltd. and Baidu Inc.
And yet, Tencent is still a functioning company churning out digital products, bringing in revenue, and returning solid profits. Its full-year net income, reported late Wednesday, climbed 67% amid a 28% increase in sales. Investors willing to tread the line between regulatory risk and earnings growth would do well to look at just where that money came from. Doing so suggests the company's largest and most profitable business may be left largely untouched.
Tencent's value-added services division, which is driven by its online-games business, posted 32% revenue growth last year with profit up 35%. Even with new areas such as ads, fintech and cloud services coming on stream, this unit still provides 65% of its gross profit.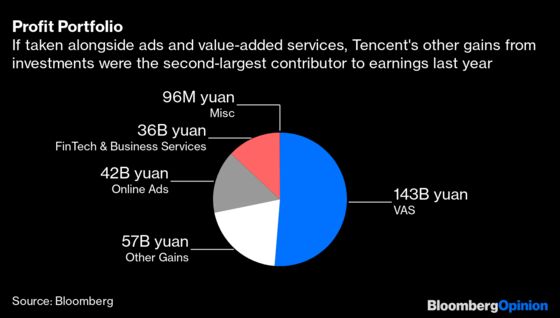 Although it's not impossible that Beijing will seek to clamp down on this business, it already passed through the heaviest of storms two years ago when regulators halted the release of new game titles. The point of weakness could be this division's social network offerings, which may still attract government attention.
Tencent's online ads business is the smallest and slowest-moving. Revenue here is largely generated from advertising connected to its Weixin instant-messaging platform. Any crackdown on how the company collates data or delivers commercials could hit growth, but tweaks to its algorithms and increased privacy protection would likely mitigate the risks.
Then there's fintech and business services. The shiny new toy in the box is also the one that regulators are most focused on. Rival Ant Group Co. already felt the brunt of Beijing's wrath with an aborted IPO and likely breakup of its business. Tencent is next, with a high chance that its lending, payments and wealth-management offerings will get hit hard. It's difficult to paint this in a positive light, but the brave investor may be cheered by the fact that this unit only contributes 16% of gross profit and actually grew at a slower pace than the corporate average last year.
Where Tencent might get hurt the most is in its investment arm. Shuli Ren and I wrote recently that the stock has remained remarkably resilient despite the heavy drumbeat of new rules and state-media commentary, and this may be because of its broad portfolio of shares in startups. This collection of holdings was a major contributor to 57 billion yuan in other gains that Tencent recorded last year. If considered as a division alongside value-added services and ads, it would be the second-largest and account for 30% of operating profit.
Beijing may leave the entire business alone and let it go its merry way. That's unlikely. The opposite is probably not in the cards either.  The most probable scenario is that Tencent will be allowed to continue its investment business, only with stricter rules and oversight.
Running the numbers and reading the tea leaves of regulatory reform might be the secret to assessing how much downside there is to Tencent's future earnings, and informing brave investors just how deep they should dive.
This column does not necessarily reflect the opinion of the editorial board or Bloomberg LP and its owners.
Tim Culpan is a Bloomberg Opinion columnist covering technology. He previously covered technology for Bloomberg News.