Who's Subsidizing This Bitcoin Miner IPO? You Are.
(Bloomberg Opinion) -- The best Bitcoins are the ones you bought early. The second best are the ones someone else helped pay for.
Stronghold Digital Mining Inc. is a cryptocurrency producer with a twist, one that features prominently in their recent IPO filing. Aware that Bitcoin has an ESG problem because of all the coal burned to produce it, Stronghold is buying its own power plants which … burn coal. Not just any coal; waste coal. Which is, in fact, worse than coal.
But not in Pennsylvania. There, giant piles of waste coal resulting from decades of mining leach nasties into the waterways and just look ugh. The state's preferred solution is burning the waste to produce electricity. Specialized plants to do so have fallen on hard times, undercut by cheaper natural gas and renewables. Now channeling their electrons into crypto computing offers the plants a lifeline and gives Stronghold a PR toehold in environmental terms, as smaller piles of waste coal mean less runoff. Just don't mention the carbon emissions.
Also: There are subsidies.
There's a reason Pennsylvania has an "alternative energy" portfolio standard rather than a "renewable" one. That reason is waste coal. Under legislation enacted in 2004, waste coal qualifies as a "Tier II" alternative energy source. Not up there with the more intuitive Tier I stuff like solar power. But equal with large-scale hydropower, according to Harrisburg's worldview, which might also charitably be described as alternative. Thus designated, alternative energy generators gain credits that can be sold to help electricity suppliers meet their obligations.
That all changed this year. Karbone Inc., a financial services firm specializing in renewable energy markets, says 2021 Tier II credits now trade at more like $15 or $16. Last month, 2022 credits actually traded at a premium to Tier I credits, which is very odd indeed. Karbone points to the state's fiscal bill HB 2536 passed late last year. A provision slipped into that requires Tier II energy sources to be based within Pennsylvania; previously, out-of-state sources also qualified, and they accounted for 40% of the program last year.
At the stroke of a pen, the supply of credits shrank significantly, but the regulatory obligation to buy them did not. We all know what that does to prices.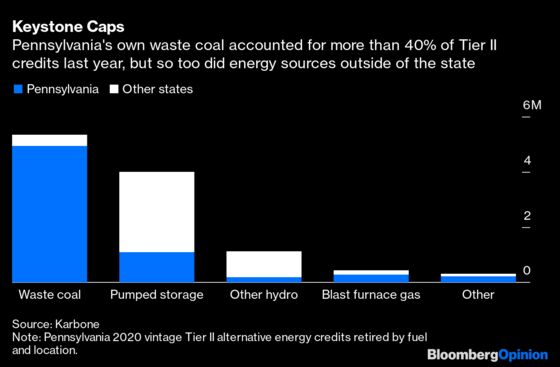 Given waste coal accounted for three quarters of in-state credits last year, anyone burning it for power is enjoying quite the subsidized windfall — which is fortuitous timing indeed for Stronghold.
Stronghold claims fuel, operations and maintenance at its first plant cost $43 per megawatt-hour. The plant earns a capacity payment that Stronghold puts at $6, bringing its effective cost down to $37.
The real juice comes courtesy of the state's ratepayers and taxpayers. On top of those suddenly golden Tier II credits, Pennsylvania provides a tax credit to waste-coal generators worth $4. Having pocketed $20 of subsidy, therefore, Stronghold puts its effective cost at just $18 per megawatt-hour, making these decades-old waste-coal furnaces competitive with the region's gas-fired plants, which is wild.
Stronghold calculates this pushes its cost per Bitcoin-equivalent down below $3,000; not a bad margin when Bitcoin has averaged $44,000 so far this year. Take out Pennsylvania's subsidies, and the implied cost would be more like $6,300. Add a carbon price of $50 a ton, and it would jump to more than $17,000.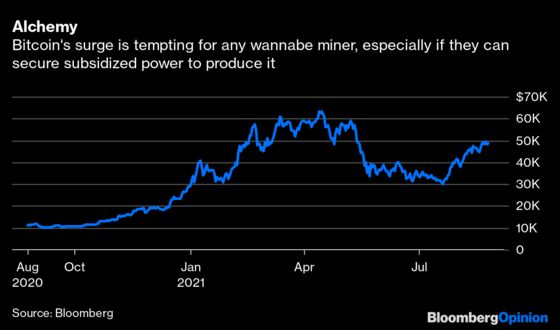 Even then, of course, that would be a gross margin of more than 60%. This is why the thesis espoused by the likes of Cathie Wood and Jack Dorsey that crypto-currency will spur a renewables revolution is so misguided. Quite the opposite: Crypto-mining frees the most stranded of fossil-fuel assets. Stronghold is even paying for its plants mostly with (as yet unlisted) shares in itself.
Yet Pennsylvania's peculiar pyromania offers further succor. Greg Beard, the ex-Apollo Global Management partner who is now Stronghold's CEO, said in a recent interview it's "not economic" to burn waste coal without the state's credits, noting the extra value provided by last November's legislative tweak. It isn't just the margin. With Stronghold's economics subject to the vagaries of cryptocurrency prices and ever more miners piling in, the solidity and greenish veneer of that subsidy makes it a real plus for the main event: pitching that IPO.
In return, Pennsylvanians get dubious benefits. That subsidy implies $16 per ton of waste coal burned, about half the estimated cost of just removing the refuse. So it looks like a bargain — but only if you ignore the emissions. At a notional $50 carbon fee, each ton of waste coal generates another $65 of cost to the environment.
Of course, there's an arbitrage of politics and perception to exploit here, whereby local, tangible pollution takes precedence over the universal, abstract — but nonetheless real — kind. The upshot is that while the windfalls will be privatized, it isn't just Pennsylvanians subsidizing them. Ultimately, we all are.
Source: Pennsylvania Public Utility Commission. Tier I permits averaged $8.78 over the same period, while solar credits averaged $121.56.
These calculations assume a starting point of $3,000 per bitcoin-equivalent and a net cost of power at $18 per megawatt-hour, in line with Stronghold's disclosures. These imply 167 megawatt-hours of power to produce one bitcoin. At an unsubsidized cost of $34 per megawatt-hour, that would imply$6,333 per bitcoin. Assuming carbon-dioxide emissions of 1.3 tons per megawatt-hour and a notional carbon price of $50 per ton, the all-in cost would rise to $17,167 per bitcoin.
This assumes 1.25 tons of waste coal burned per megawatt-hour, the average rate for Stronghold's Scrubgrass plant for the period 2015-19, according to Energy Information Administration data. The estimated cost of just removing waste coal of $33 per ton comes from "The Coal Refuse Reclamation to Energy Industry - A Public Benefit in Jeopardy", published in June 2019 on behalf of the Anthracite Region Independent Power Producers Association. It should be noted that ARIPPA lobbies for the waste-coal power sector. The carbon-price impact assumes 1.3 tons of emissions per megawatt-hour.
This column does not necessarily reflect the opinion of the editorial board or Bloomberg LP and its owners.
Liam Denning is a Bloomberg Opinion columnist covering energy, mining and commodities. He previously was editor of the Wall Street Journal's Heard on the Street column and wrote for the Financial Times' Lex column. He was also an investment banker.