New York Is Back, or at Least Taco Bell Thinks So
(Bloomberg Opinion) -- Midtown Manhattan may still be empty, but one major restaurant chain is apparently not spooked by ghost towns. Taco Bell on Wednesday opened a location in the heart of Times Square, part of a wider effort by its corporate parent, Yum Brands Inc., to expand the fast-food chain's presence in the New York area. 
The eatery is in the brand's Cantina format, meaning it serves alcohol and has a more upscale design than typical Taco Bell outposts. Its arrival provides insightful clues about what one of the nation's biggest dining powerhouses expects consumer behavior will look like after the pandemic abates.  
First, the Times Square location is effectively a bet on a swift recovery for tourism. That's reasonable, given growing evidence that Americans are abandoning stay-at-home living. Hotel occupancy is improving, and U.S. Transportation Security Administration data indicate more passengers are trickling into airports as the vaccine rollout widens.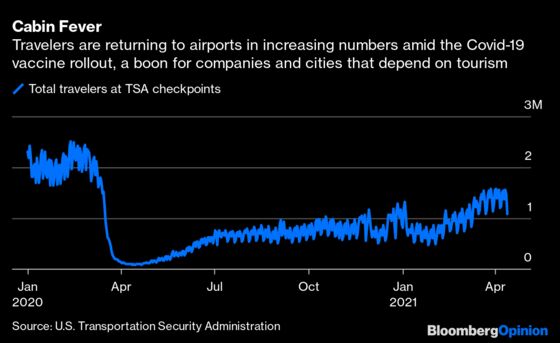 There's something different, though, in this restaurant's features and design that suggests Taco Bell doesn't foresee a return to pre-pandemic normal. The Times Square spot will be centered on digital-only purchasing, including a wall of cubbies for retrieving online orders and 10 self-serve kiosks for ordering in person. Chief Operating Officer Mike Grams told the trade publication Restaurant Business Online that the store is opening with twice as many kiosks as it would have had pre-pandemic. 
The public health crisis made many people averse to close-contact customer service and nudged them to try or step up their use of online ordering. So while kiosks and mobile ordering have been used at Taco Bell for years, the way they serve as the backbone of this marquee store suggests executives don't expect diners to go back to their analog ways.    
I agree with that assessment. Even before the pandemic, digital ordering was rattling the dining industry much the same way e-commerce upended traditional retail in the early 2000s.  A year of social distancing only accelerated adoption of these innovative formats.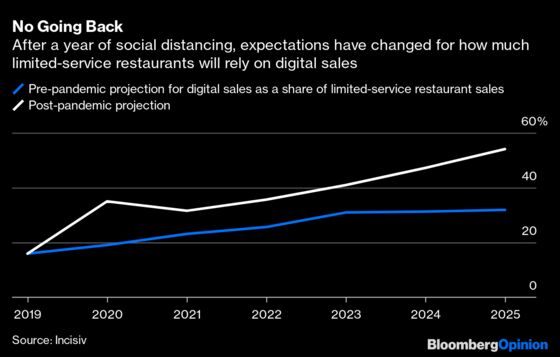 Restaurant chains have good reason to encourage diners' embrace of futuristic ordering. At McDonald's Corp., kiosk ordering has helped boost average checks. Taco Bell said in the early days of its mobile app that digital orders had higher average tabs than traditional ones, often thanks to add-ons such as onions or sour cream that people didn't spring for at the counter. Research suggests these patterns reflect a host of consumer psychology quirks, including that people don't feel judged when they opt for a calorie bomb of a meal if the only witness is a computer.  
The restaurant industry's digital transformation has other advantages, too, including that mobile pickup orders can be a helpful source of customer data that can be used to dangle personalized marketing pitches or for bigger decisions about a store's menu or hours.  
Taco Bell is taking some risk by flinging open the doors on this restaurant now, given how cruel the pandemic has been to some of its chain-restaurant peers. Shake Shack Inc. reported that comparable sales at its Manhattan restaurants tumbled 49% in the fourth quarter compared with those a year earlier, far worse than its performance in the suburbs, where sales were basically flat. Olive Garden's corporate parent has noted punishing impact from pandemic-related restrictions at its tourist-trap Times Square pasta emporium. This means Taco Bell might have to scrap for an audience at first — especially because it is a relative newcomer to dense urban markets and thus isn't necessarily a go-to for locals.
But it is right to take bolder steps to rethink its restaurant formats because its peers are doing the same. Chipotle Mexican Grill Inc. and Starbucks Corp. are also experimenting with outposts that only fill digital orders. Pizza Hut, Taco Bell's corporate sibling in the Yum Brands portfolio, recently announced it was launching drive-through lanes, a format that has not been a mainstay of the pizza category but has thrived during the pandemic. All of them realize a changing dining landscape calls for a new business recipe — and perhaps especially so in a place like New York.
This column does not necessarily reflect the opinion of the editorial board or Bloomberg LP and its owners.
Sarah Halzack is a Bloomberg Opinion columnist covering the consumer and retail industries. She was previously a national retail reporter for the Washington Post.