T. Rowe Price Makes Smart Bet With Alternatives Push
(Bloomberg Opinion) -- To understand why T. Rowe Price Group Inc. agreed on Thursday to buy alternative-credit manager Oak Hill Advisors for about $4.2 billion in cash and stock, this single chart just about says it all (T. Rowe is the reddish line):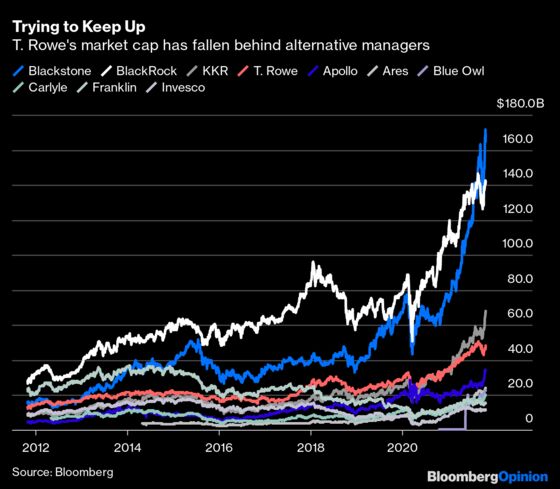 For a period in 2012, T. Rowe's market capitalization was higher than that of Blackstone Inc. That seems inconceivable now, with the value of Stephen Schwarzman's alternative asset manager now pushing toward $170 billion. T. Rowe had remained firmly ahead of KKR & Co. for much of the past decade but hasn't been able to keep up this year as KKR smashed its fundraising records. T. Rowe hadn't done anything wrong, per se, but in the rapidly evolving world of asset management, with fee compression at every turn and exchange-traded funds shaking up the active mutual-fund complex, failing to adapt isn't an option.
So T. Rowe is doing what's necessary to survive. Forced to slash fees on traditional products? Offer up private credit options, which still come at comparatively hefty costs to investors because the loans are bespoke, illiquid and have higher yields when corporate-bond spreads are near record lows. Mutual funds no longer attracting cash? Launch new ETFs, as T. Rowe did last month, bringing its total slate to eight.
The calculus isn't much more complicated than that. Fortunately for T. Rowe, with more than $1.6 trillion in assets, it has the heft to stay competitive in the investment management industry. Blackstone and Carlyle Group Inc. have only recently begun to make a concerted effort to get individuals to buy into private-credit funds. It's not too late for T. Rowe to use its inroads into retail investors to offer similar products.
By contrast, consider the position of Franklin Resources Inc. on the above chart. A decade ago, its market cap of $23.5 billion trailed only BlackRock Inc. Now at $15.4 billion, its valued at less than Blue Owl Capital Inc., the recently formed private-credit behemoth, to say nothing of the likes of Apollo Global Management Inc., Ares Management Corp. and Carlyle. Meanwhile, Invesco Ltd., which last month was reportedly in talks with State Street Corp.'s asset management arm about a possible combination, trails Franklin and has also lost ground to public alternative asset managers over the past 10 years.
I wrote earlier this month that the private equity industry has evolved from leveraged-buyout specialists into giant asset managers that are one-stop shops for institutions and wealthy individuals. As that happens, traditional money managers like T. Rowe are coming to realize that Blackstone is as much the competition as BlackRock; Apollo just as much a threat as AllianceBernstein. 
Naturally, T. Rowe has a ways to go. Oak Hill, which had $53 billion of capital under management as of July 31, will become T. Rowe's private markets platform and has raised $19.4 billion since January 2020, according to a statement. On Thursday, Carlyle said it had raised $22 billion in the third quarter alone. KKR gathered $59 billion in just the three months ended June 30. 
It won't be easy for T. Rowe to keep up in the private markets. But the money manager made its first — and most crucial — step toward staying in the game with its Oak Hill purchase. 
This column does not necessarily reflect the opinion of the editorial board or Bloomberg LP and its owners.
Brian Chappatta is a Bloomberg Opinion columnist covering debt markets. He previously covered bonds for Bloomberg News. He is also a CFA charterholder.