T-Mobile's Broken Promises, Cyber Breach Are a Bad Look
(Bloomberg Opinion) -- T-Mobile US Inc., the nation's fastest-growing wireless carrier, has been working for years to shed its image as a discount you-get-what-you-pay-for service. But Thursday's revelation that lax security allowed a hacker to infiltrate and potentially sell personal data on some 50 million T-Mobile customers is just the latest incident in recent weeks that may damage a hard-fought reputation as the industry's customer-friendly provider and stockholding of choice.
John Binns, a 21-year-old American who moved to Turkey a few years ago, is claiming to be the attacker behind the T-Mobile data breach, the Wall Street Journal reported. Calling T-Mobile's security "awful," he told the newspaper that by using a readily available tool to locate security weak spots, he discovered an unprotected router exposed on the internet. That gave him entry into a T-Mobile data center in the state of Washington, "where stored credentials allowed him to access more than 100 servers," the Journal reported. T-Mobile has said the hack included compromised information on prospective and former customers. The company's share price has fallen 4% since Aug. 16, when it first confirmed the unauthorized access to its systems.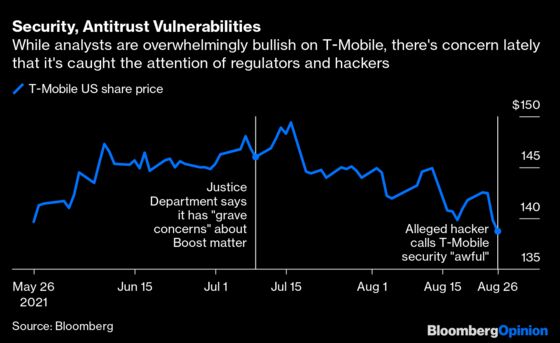 Cyberattacks can happen to any company. This isn't just any company, though — it's the data network that is leading the U.S. in 5G. The next generation of wireless service is considered to be of national security interest and an issue of global technological competitiveness. So it matters who is leading and how that power over user data is safeguarded. 
If the red flags raised by the hack were the only issue, that would be concerning enough for customers and investors. But they come as T-Mobile faces scrutiny for recent potentially anticompetitive moves that stem from its controversial takeover of Sprint Corp. last year.
T-Mobile's edge in 5G didn't just come as a result of competitive pricing and clever marketing, although those efforts were successful in shaking up a market previously dominated by Verizon Communications Inc. and AT&T Inc. A decade ago, T-Mobile was valued at less than $5 billion, compared with $173 billion today. The Sprint deal was the key development that allowed T-Mobile to pull ahead in 5G spectrum. That transaction wouldn't have been possible without the surprise support of the Trump administration and promises seemingly made while executives' fingers were crossed behind their backs. 
The merger entailed T-Mobile taking over its only remaining smaller national rival, a tie-up that was previously determined to be off limits by regulators given how clearly it would violate antitrust laws. That was until President Donald Trump put Ajit Pai in charge of the Federal Communications Commission and installed Makan Delrahim to lead the Justice Department's antitrust division. They allowed the deal with a flimsy concession requiring T-Mobile to divest Boost, Sprint's prepaid service for lower-income Americans. Boost was thus sold to aspiring wireless provider Dish Network Corp., which became the linchpin of the T-Mobile-Sprint merger.
The way it was meant to work was that Boost could keep running on T-Mobile's network for the next few years while Dish worked to build its own network. That way (ideally), competition would be at least partially preserved. But T-Mobile has begun to undermine the spirit of that arrangement by deciding to retire the 3G CDMA network that Boost runs on, giving those customers no choice but to upgrade their phones or switch carriers. T-Mobile is hoping for the latter: It recently began offering a $25-a-month unlimited data plan that targets Boost and AT&T's Cricket prepaid users. "If Cricket or Boost won't upgrade their customers with free 5G devices, Metro by T-Mobile sure will," the announcement read. Lower prices are a good thing, but Boost was barely out the door before T-Mobile started firing arrows at it.
All of this taken together is not a good look for a company that wants to unseat Verizon as the perceived best network, and the one best-suited to lead the charge in 5G. Customers may pay no mind to the minutiae of a regulatory truce-gone-wrong, but if they were ever on the fence about switching to T-Mobile for its lower prices, word of the cyberattack — and the hacker bragging about how he did it — might sway their opinion. After years of mean-spirited jabs on social media by T-Mobile and its former Chief Executive Officer John Legere, Verizon and AT&T have a clear opening now to bite back.
Richard Powers, the Justice Department's now acting head of antitrust, said "the division is left with grave concerns" about the CDMA shutdown in a letter to Dish and T-Mobile last month. President Joe Biden's regulators are working to restore aggressive antitrust enforcement, albeitwith limited resources.
This column does not necessarily reflect the opinion of the editorial board or Bloomberg LP and its owners.
Tara Lachapelle is a Bloomberg Opinion columnist covering the business of entertainment and telecommunications, as well as broader deals. She previously wrote an M&A column for Bloomberg News.