China's Protein Hunger Breeds an Appetite for Syngenta's IPO
(Bloomberg Opinion) -- China's biggest initial public offering this year may well be a bet on the country's single-minded drive toward self-sufficiency in food. 
Syngenta Group, the Swiss seed and fertilizer business bought by China National Chemical Corp. or ChemChina in 2016, has tapped a group of mainland banks for a Shanghai listing at a valuation of $60 billion, people familiar with the matter told Bloomberg this month. 
The logic behind China's largest outbound takeover was evident from the start. A country with 18% of the world's population has less than 7% of its arable land. Agricultural yields have stagnated for decades, leaving it dependent on major food exporters whose loyalty can't be relied upon: the U.S., the European Union, Canada, Brazil, Russia, Australia.
Officially, China is more than 95% self-sufficient in grain, but overseas analysts estimate the real figure may be closer to 80%. The supply-chain disruptions of Covid-19 have illustrated what a liability that could be. If Beijing's simmering conflicts with other nations ever broke out into war, it could become an outright vulnerability.
Fixing this has been a major focus for the government over the past year. The latest Five-year plan calls for grain production of at least 650 million metric tons a year through 2025, and a law was passed in late 2020 to prevent food waste in the restaurant industry. The death in May of Yuan Longping, the agronomist whose hybrid rice strains have helped feed the country for decades, was marked by widespread national mourning. Earlier this month, the State Council announced a 20 billion yuan ($3.1 billion) subsidy for the farm sector to support supplies amid rising input costs.
Modernizing and industrializing agriculture has been a major focus of stimulus spending. The best-performing of 103 major industrial products so far this year in terms of output growth — after smart watches, robots, packaging equipment and metal containers — is "large tractors," with a 60.5% increase on the first five months of 2020. (That's not just a side-effect of pandemic weakness: The category also increased 27% in the same period of 2020.) In April alone, China made more medium and large tractors than were sold in the U.S. in the first five months of the year put together.
In the midst of a pandemic, fixed asset investment in food processing has grown as fast as in healthcare, at 34.7% in the five months through May. No other major sector has seen a more rapid increase than the 26.7% jump posted by agriculture in the period. Out of 74 separate sub-sectors of the economy, investments in animal husbandry increased faster than any other, nearly doubling so far this year.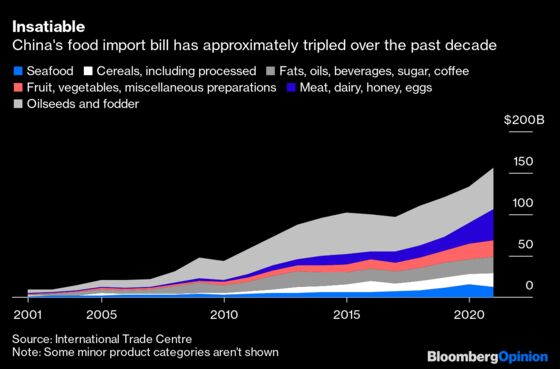 It's not hard to see what's been driving this: protein. The value of China's major food imports tripled between 2009 and 2020, from $44 billion to $156 billion. Roughly $35 billion of that increase came from meat, dairy and other farm products; another $8.7 billion was seafood, while a further $27 billion was animal fodder and oilseeds such as soy, crucial for bulking up livestock feed. Put together, nearly two-thirds of the increase in food imports over the period resulted from the challenges of satisfying China's hunger for protein.
Those problems have worsened in the wake of African swine fever, which has been sweeping through the herd since 2018. The after-effects of a cull caused pork prices to more than double early last year on a shortage of hogs, while a rush to slaughter amid signs of a fresh outbreak are now pushing prices down nearly 24% from a year earlier.
It's there that Syngenta's technology has its most important advantage. China's animal feed industry, which produced 253 million metric tons in 2020, uses up about a quarter of the grain harvest . Genetic modification, Syngenta's core area of expertise, has struggled with public acceptance in China, but feed grains aren't sold directly to consumers. GM strains of corn and soy for animal feed have already been approved by officials this year.
That offers an opportunity to lift yields in areas of central and southern China where farm output is notoriously poor. Though Syngenta's China unit still only accounted for 20% of earnings before interest, taxes, depreciation and amortization in the March quarter, it's growing faster than any other part of the business, driven by farm modernization tools such as the agricultural productivity centers inherited from Sinochem Group Co.
ChemChina's Syngenta acquisition still looks to have been a costly, top-of-the-market deal. In large part thanks to the acquisition, ChemChina's net debt was running at nearly 11 times Ebitda at the end of last year, with interest payments exceeding operating income. It badly needs the money from a market listing to pay that down, and the $60 billion price that's been discussed isn't a huge improvement on the $46 billion that was spent five years ago — especially when you consider that revenues have approximately doubled.
Still, if there's one sort of national champion China needs now, it's one that can give it self-sufficiency in food at a time when the outside world looks more uncertain than ever. Syngenta may be perfectly positioned to take advantage of China's next round of industrial stimulus.
About 100 million tons of the total comes from mostly-imported soybean meal.
This column does not necessarily reflect the opinion of the editorial board or Bloomberg LP and its owners.
David Fickling is a Bloomberg Opinion columnist covering commodities, as well as industrial and consumer companies. He has been a reporter for Bloomberg News, Dow Jones, the Wall Street Journal, the Financial Times and the Guardian.