An Airport More Richly Valued Than Amazon Shouldn't Fly
(Bloomberg Opinion) -- Even by the standards of Australia's booming infrastructure sector — where toll road operators are routinely priced more richly than Tencent Holdings Ltd., and a couple of land-titles registries can be privatized for not much less than Britain's postal service — the takeover fight around Sydney Airport stands out.
On Monday, the operator of the airport on the shores of Botany Bay rejected a sweetened offer from a consortium led by IFM Investors, which valued it at nearly A$31 billion ($22.8 billion) including debt. The company said the offer price of A$8.45 per security is "opportunistic in light of the Covid-19 pandemic."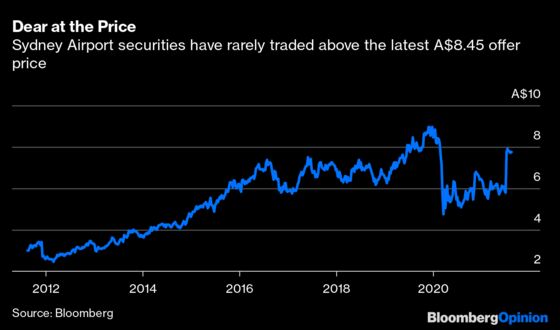 That's pretty rich. Until just months before the coronavirus sent aviation stocks plummeting, Sydney Airport had never attained such a price. International aviation, which accounts for more than a third of passengers and has historically grown far faster than the stable domestic business, isn't likely to return to normal until at least 2024. A separate airport is under construction on the western fringes of the city, and will start competing for passengers not much later, in 2026. Any buyer offering cash at this point is taking a great deal of uncertainty away from investors exposed to the vagaries of the 2020s aviation market.
The consortium is hardly asking for a discount in return. Any earnings-based valuation at the moment is challenging thanks to the general state of aviation. Still, looking at Sydney Airport based on its enterprise value to blended forward two-year earnings before interest, tax, depreciation and amortization — which should blunt the worst effects of the pandemic — gives a multiple of nearly 25.8 times.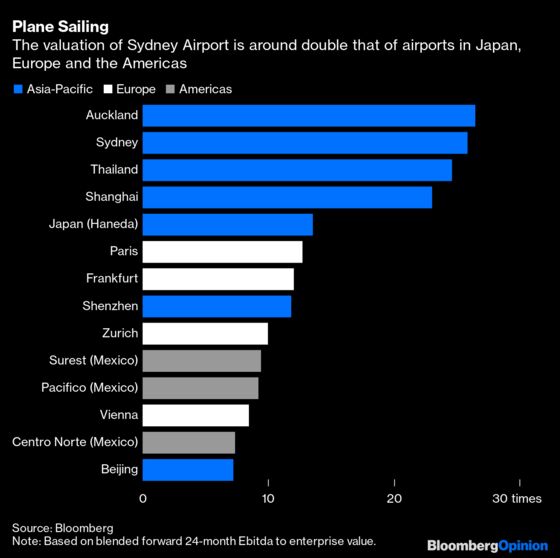 That's twice the multiples for airport operators in Japan, Europe and Mexico, where Aeroports de Paris is on 12.7 times Ebitda and Japan Airport Terminal Co., operator of Tokyo's Haneda gets 13.6. Even the airports in Bangkok, Shanghai, Shenzhen and Beijing — which might be expected to benefit far more from a recovery of aviation from emerging markets as the pandemic subsides — can't match up to what Sydney Airport is being offered.
Why should an Australian airport be worth so much more than its peers? One factor, of course, is that the country's infrastructure often changes hands on multiples that seem excessive by international standards. That, however, is normally not the result of any innate superiority of the assets so much as the fact that many of the transactions have been privatizations in which the government has offered excessively generous terms to the buyers. That's not the case here: Sydney Airport has been a public company for decades, and the terms of its contracts with the government won't change in any way as a result of the planned takeover.
What, then, can justify such a rich valuation? At the offer price, Sydney Airport ought to be a better investment than Amazon.com Inc., or Netflix Inc., or any of Silicon Valley's FAANG stocks that have done so well during the Covid-19 pandemic but still trade on tighter multiples. Yet the ability of its enterprise value to generate free cash flow is unspectacular — mostly underperforming the generic 30-year Australian government bond, for instance.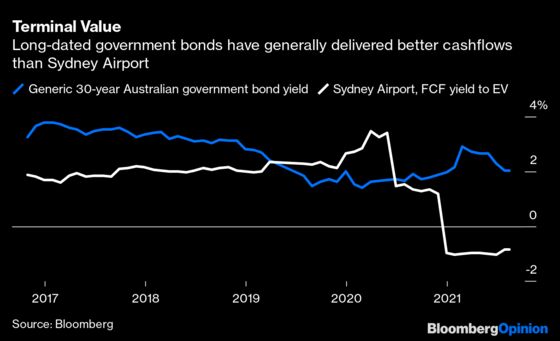 One reason to prefer bond-like infrastructure assets to actual bonds, of course, is that their earnings typically grow faster than inflation. That helps avoid one of the main risks of long-dated bonds — and consumer prices in Australia rose at the fastest pace since 2008 in the June quarter. Still, Sydney Airport is getting a generous offer in return for that advantage, and its current owners have years of sluggish demand, rising competition and political risk ahead of them if they turn it down.
Any company board will ask a suitor to offer a little more in a takeover battle, but they should take care not to overplay their hand. Offers this generous don't come around all the time. 
This column does not necessarily reflect the opinion of the editorial board or Bloomberg LP and its owners.
David Fickling is a Bloomberg Opinion columnist covering commodities, as well as industrial and consumer companies. He has been a reporter for Bloomberg News, Dow Jones, the Wall Street Journal, the Financial Times and the Guardian.