Sweetgreen's IPO Recipe: A Lot of Salad, Some Tech
(Bloomberg Opinion) -- At Sweetgreen Inc., salad is tech.
The trendy eatery, well known to New York's lunch crowd, filed this week for an initial public offering as it seeks to test how many more cities will embrace the vaunted $13 salad. At the root of Sweetgreen's expansion plan is an emphasis on digital orders and digital-enabled delivery and pickup convenience, essentials for any to-go lunch spot in the post-pandemic era. 
In that way, its IPO prospectus filing reads part health-food brand, part technology startup. And it has the numbers to back it up: An astonishing 68% of Sweetgreen's revenue this year has come from online orders made on the Sweetgreen app or third-party services such as DoorDash, Grubhub and Uber Eats. For comparison, at Chipotle Mexican Grill Inc. and Shake Shack Inc. — two large and growing chains considered to be on the forefront of consumer trends — just less than half of sales came through digital channels in the second quarter. Restaurants generally like having a higher proportion of digital revenue because it tends to lead to larger orders and repeat customers; Sweetgreen says that the average value of orders placed through its app is 21% higher than those made at the store counter.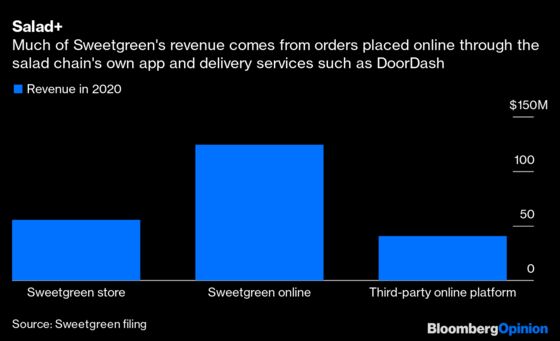 Sweetgreen also features the other sort of numbers expected from a tech startup: The business has lost almost $50 million on an adjusted Ebitda basis so far in 2021 and wasn't profitable before the Covid-19 crisis either. Its filing focuses on "restaurant-level profit," another metric that doesn't conform to Generally Accepted Accounting Principles because it excludes general and administrative expenses and other costs required to open a restaurant. On that basis, Sweetgreen earned $44 million in 2019, you could say. The pitch it's making to investors is that it's still very much in growth mode but aims to become profitable eventually.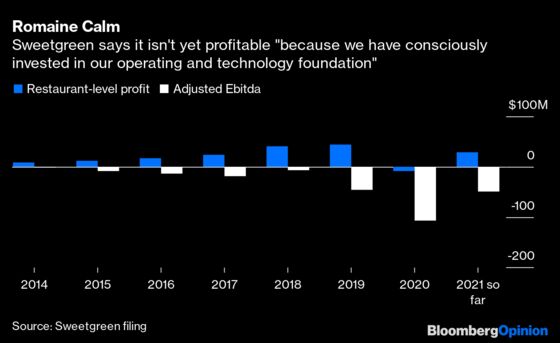 The company was started by three Georgetown University students who were tired of unhealthy fast food and opened their first restaurant in Washington in 2007. There are now 140 locations, primarily in the dense urban areas of New York, Los Angeles, Boston and Washington. The plan is to double that total over the next three to five years. In the wake of Covid and worker shortages, restaurant chains have scrambled to quickly reconfigure their businesses for the people-avoidance sales model. But Sweetgreen has the advantage of being so new that it can incorporate this right into its design plans for new locations. It has already added outdoor pickup windows at some stores and is studying drive-thru concepts for future suburban real estate. 
That said, New York City alone still drives one-third of revenue, making Sweetgreen still heavily dependent on commuters returning to office life. Bureau of Labor Statistics data and other surveys continue to show that significant numbers of Americans, especially in computer-facing roles, are working remotely at least part of the time. 
In its latest funding round, in January, Sweetgreen was valued at $1.78 billion. Pinpointing a public-market valuation is difficult using comparable restaurant stocks because their multiples are all over the place. Shake Shack, one of the priciest quick-service restaurant stocks in America, trades at 4 times this year's sales, which only gets Sweetgreen to about $1 billion. Then there's Wingstop Inc. with a multiple of 17 times sales, implying a more than $4.5 billion valuation for Sweetgreen. Is a pricey, city-centric salad spot really worth that? 
Wherever shares of Sweetgreen — ticker SG — eventually price, remember it's always extra for the avocado. 
This column does not necessarily reflect the opinion of the editorial board or Bloomberg LP and its owners.
Tara Lachapelle is a Bloomberg Opinion columnist covering the business of entertainment and telecommunications, as well as broader deals. She previously wrote an M&A column for Bloomberg News.