The Scars Run Deep in France's Giant Waste Deal
(Bloomberg Opinion) -- Shareholders and France's political class are clearly relieved. Waste-and-water utilities Veolia Environnement SA and Suez SA have reached a friendly $15 billion conclusion to their protracted takeover war. Yet the hostility previously on display is likely to leave deep scars, not least given the difficulties of bringing arch-rivals under the same operational roof.
Veolia's sweetened bid of 20.50 euros ($24.43) per share for the 70% of Suez it doesn't own proposes to create a French champion with 37 billion euros in annual revenue. It's an acknowledgment that the increasingly bitter grudge match wasn't helping anyone.
After snapping up an initial 30% stake for 18 euros per share last year, Veolia boss Antoine Frerot saw his time and price advantages slip away in the face of Suez's aggressive delaying tactics. Suez, meanwhile, was under pressure from its own shareholders to engage with Veolia and back down from high-risk moves like transferring some ownership of assets into a separate Dutch entity.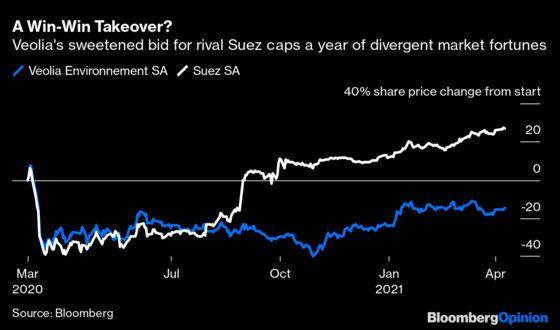 Everyone involved will want to look to the future, not least the administration of Emmanuel Macron. The mess was starting to reflect poorly on the French establishment with a year to go before the next presidential elections. Politicians blew hot and cold on Veolia's proposed tie-up, initially praising its logic before switching gears and demanding a friendly solution to protect French jobs and industrial policy.
Meanwhile, Suez's defense strategy, from its Dutch transfer plans to drumming up competitive interest from private equity firms, earned a reprimand from France's markets watchdog for breaching takeover rules.
The resulting compromise is understandably seen as a "win-win." The improved price represents a 33% premium to Suez's pre-pandemic level, removes the uncertainty from Veolia's own shares. The deal does not include principally French assets with about 7 billion euros of revenue that will be hived off into a "new Suez" to preempt antitrust concerns. The truce also spares any embarrassment to Macron's finance minister, Bruno Le Maire, who pleaded for an amicable solution: Veolia is offering four-year job guarantees at Suez, which employs 90,000 people.
But behind the back-slapping, questions linger. There's a sense a lot of these problems have been of Frerot's own making, after he got the ball rolling with an opportunistic swoop on an initial 30% Suez stake held by Engie. His first low-ball offer of 15.50 euros a share, no doubt driven by the financial-market scars of Covid-19 and the sense that political winds were blowing in his favor, was aggressive. It set the stage for the months-long battle that ensued.
Had he sweetened the bid earlier, he might have gotten to this point sooner and with less bad blood. And he might have clinched a lower price than 20.50, which values Suez at 23 times next year's earnings, above the sector median of 15.1.
Frerot's legacy as the deal's strategic architect will come under more scrutiny as the details are pinned down, with the potential for old wounds to be reopened. Antitrust risk has been reduced by the sale of French assets to private equity firms, but it hasn't been removed completely. Bloomberg Intelligence analyst Aitor Ortiz says that the size of the combined entity and geographic spread creates overlaps in many European countries. Yet more concessions would reflect badly on the value of the transaction.
Even if regulators bless the deal, the challenge will be to prove that these companies are better off together than apart. Targeted operational and cost savings of 500 million euros seem pretty straightforward to achieve, but the business of winning tenders for water and waste management around the world won't suddenly become a walk in the park. And it's still not clear how smoothly the companies' cultures will meld.
Right now, all sides are talking up the positive impact of creating a new French industrial champion. But this moment won't look so good in hindsight if things don't go to plan.
This column does not necessarily reflect the opinion of the editorial board or Bloomberg LP and its owners.
Lionel Laurent is a Bloomberg Opinion columnist covering the European Union and France. He worked previously at Reuters and Forbes.