Stop Trying to Pit the Fed Against the Bond Market
(Bloomberg Opinion) -- After years of hearing the mantra "don't fight the Fed," it can be tempting to frame every move in the bond market as another bout between traders and the central bank. Try to resist that urge.
Heading into Federal Reserve Chair Jerome Powell's much-anticipated remarks on Thursday, the basic line of thinking went like this: How will he push back against traders who now doubt whether the central bank will truly keep monetary policy accommodative once the U.S. economy has moved past the Covid-19 pandemic? 
To me, this is not the proper framing. The Fed, at least in theory, bases its monetary policy decisions squarely on the state of the economy and its best estimate at what inflation and job growth will look like in the months and years ahead. So with some parts of markets pricing in the first full interest-rate increase in early 2023, it's worth asking: Are we all underestimating the potential rebound in the U.S. economy over the coming years from a once-in-a-century shock? Especially with persistently upbeat news on the vaccine rollout?
The Fed has been unwavering in its messaging about the path of monetary policy ever since it changed its framework and revealed enhanced forward guidance. Powell laid it all out yet again on Thursday. To recap:
The central bank will keep the fed funds rate in a range of 0% to 0.25% "until labor market conditions have reached levels consistent with the Committee's assessments of maximum employment and inflation has risen to 2% and is on track to moderately exceed 2% for some time."
Its monthly purchases of $80 billion of Treasuries and $40 billion of agency mortgage-backed securities will continue "until substantial further progress has been made toward the Committee's maximum employment and price stability goals."
In the longer-run it seeks inflation that "averages" 2% over time, which would allow for overshoots after periods in which it falls short of the target and to focus on "shortfalls of employment from its maximum level" rather than "deviations," which implied a point at which so many Americans had jobs that the Fed needed to raise interest rates. 
When it comes to raising interest rates, "the timing will depend entirely on the fulfillment of those conditions," Powell said in an interview with Nick Timiraos of The Wall Street Journal. "The rate liftoff guidance is pretty specific. It will take some time to get there. It's a picture of an economy that's all but fully recovered. The sooner that happens the better, but realistically it will take some time."
With all of that in mind, have a look at the U.S. yield curve. I struggle to see how it can be interpreted as questioning the Fed's resolve.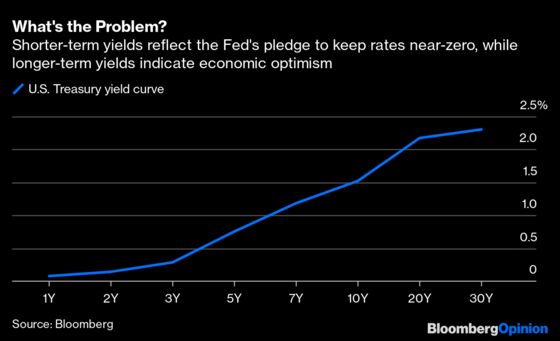 The key is not to focus on the benchmark 10-year yield or the 30-year yield, which tend to attract the most attention but are the least connected to Fed policy. Powell mostly dismissed the move higher in these two rates, commenting only that the speed of the move was "notable and caught my attention" and that "I'd be concerned by disorderly conditions in financial markets that threaten our goals." 
Meanwhile, two-year Treasuries yield 0.14%, indicating no pressure on the Fed to raise rates in the next 24 months. Three-year Treasuries yield 0.29%, signaling that maybe the Fed will think about thinking about increasing rates in 2023 or 2024. Five-year Treasuries are the inflection point: They yield 0.73%, up from just 0.46% a month ago, and touched 0.86% during last week's market rout.
Given the Fed's consistent messaging, the lurch higher in five-year yields suggests traders are growing more confident that sometime between now and 2026:
The U.S. labor market will reach a nebulous level of "maximum employment," and
Inflation will hit 2% and appear on track to moderately exceed 2% for some unspecified period.
That's it, really. If both conditions aren't satisfied, Powell and his colleagues have made clear that they're not moving from near-zero. There are no doubts over Fed policy — the bond market just believes the U.S. economy will reach a place at which the central bank can credibly claim victory on both parts of its dual mandate. This is exactly why Powell described rising yields as a "statement of confidence" in the outlook during congressional testimony last week.
One other critical point to remember: The entire point of the Fed's new policy is to prevent inflation expectations from sliding so low that the central bank is always fearful of deflation and can never escape the zero lower bound. Yes, as long as the U.S. economy is still reeling from the pandemic, the Fed will keep short-term rates pinned near zero. But in theory, this stretch of lower-for-longer is a means to an end — forcing a rethink on what maximum employment means and how it influences price pressures.
Now, there will almost certainly be a point at which the bond market and the Fed are actually in a tussle, given that the new guidance is still full of loopholes. If the U.S. unemployment rate falls back to around 4%, like where it was during the last tightening cycle, is that consistent with current views on maximum employment? If inflation reaches 2% but is only expected to hover right above that level, does that count as moderately exceeding 2%? When this time comes, Powell (or whoever succeeds him) will jawbone traders to get them in line.
That is not today, it's not tomorrow and it's probably not in 2021. At best, Fed officials may contemplate whether they've seen "substantial further progress" toward their goals, a view that will be well-telegraphed before any reduction in bond purchases. 
Until then, the yield curve will likely steepen until reaching a point at which higher long-term interest rates constrain economic growth — a self-correcting mechanism independent from Fed action. This shouldn't be misconstrued as the bond market fighting the central bank. Like the rest of us, 10-year Treasuries are just starting to see the light at the end of the pandemic tunnel.
This column does not necessarily reflect the opinion of the editorial board or Bloomberg LP and its owners.
Brian Chappatta is a Bloomberg Opinion columnist covering debt markets. He previously covered bonds for Bloomberg News. He is also a CFA charterholder.