Have Stimulus, Will Spend
(Bloomberg Opinion) -- The $600 stimulus checks that arrived in Americans' bank accounts at the start of the year made for a resounding boom in shopping in January — and offered reasons for optimism about how the rest of 2021 will shape up for the retail industry. 
The Commerce Department reported Wednesday that retail sales advanced 5.3% in January from December, a surge that far exceeded analysts' expectations. Sales rose from a month earlier in virtually every category, including a 12% increase at home and furniture stores and a 2.4% rise at food and beverage sellers. Even beleaguered clothing chains recorded a 5% sales increase from December.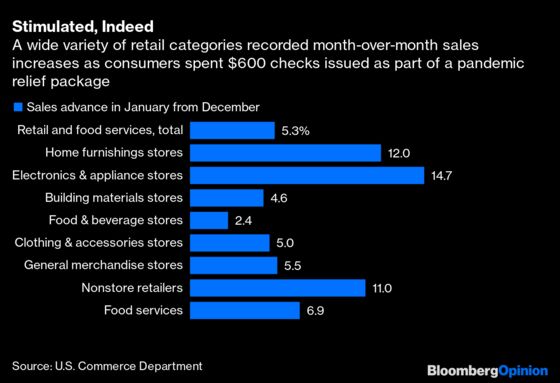 There were earlier hints that consumers were out in force with the checks they received as part of a federal coronavirus relief package. In a late January earnings call, McDonald's Corp. executives noted their strong U.S. comparable sales growth so far that month appeared to be boosted by the receipt of checks. The CEO of TGI Fridays told Bloomberg News's Leslie Patton in January that the restaurant chain was doing "much, much better" since the stimulus payments started being distributed.
This widespread surge in sales is likely to raise expectations for retail earnings season, which effectively kicks off Thursday when industry titan Walmart Inc. reports its fourth-quarter results. Retailers tend to structure their fiscal calendars so that the quarter covers the period from November through January, so last month's spending bonanza could result in some pleasant surprises for investors. At the same time, if any big chain reports a muted January, these Commerce Department figures make it very hard to chalk it up to the macro environment. 
The way consumers behaved when armed with the $600 checks is instructive for thinking about how the rest of retailers' 2021 should unspool. It appears likely that Congress will pass a fresh pandemic aid package soon that includes a new round of even larger stimulus payments. The report offers encouragement that shoppers will not simply use the next batch of checks to pad their savings or pay down debt — they will again use them to buy things that make pandemic living more bearable. 
Of course, retailers will have a harder time claiming a piece of those stimulus dollars as the year progresses. Vaccines are being distributed more widely and U.S. Covid-19 cases have declined significantly from their peak, factors that are likely to make some consumers comfortable again about travel, movie theaters and other experiential spending. As spring weather arrives, outdoor restaurant meals will gain more appeal. But that doesn't meant stay-at-home spending is going to dry up anytime soon. Major League Baseball, for example, said allowing fans at games in 2021 is going to be an "evolving process," an example of how the resumption of this kind of event-based spending is going to be gradual. School re-openings have been fitful and patchy, and Covid-19 vaccines are not yet approved for children and likely won't be for a while. Those unknowns may make it difficult for many households to return to pre-pandemic mobility and shopping patterns anytime soon. 
All of that indicates the shift back toward experience-related spending is not going to be like flipping a switch; it's going to happen slowly. And as long as consumers are receiving government aid and stuck with some degree of at-home living, retailers across a wide range of product categories can find a way to benefit.
This column does not necessarily reflect the opinion of the editorial board or Bloomberg LP and its owners.
Sarah Halzack is a Bloomberg Opinion columnist covering the consumer and retail industries. She was previously a national retail reporter for the Washington Post.