China Can't Slam the Brakes on Its Steel Runaway Train Yet
(Bloomberg Opinion) -- How's China's plan to rein in steel production going? Don't ask.
Beijing has been trying to bring the industry that produces half the world's ferrous metal to heel since the middle of the last decade. Production had grown well beyond demand and might fall 20%, the chairman of the biggest steelmaker Baoshan Iron & Steel Co., Xu Lejiang, said back in 2015.
Things haven't turned out that way. In spite of a high-profile campaign to eliminate excess capacity, a rolling, credit-fueled orgy of construction has propelled output into an almost uninterrupted boom ever since. In the 12 months through April, China made 1.06 billion metric tons of crude steel — 37% more than the trailing 12-month figure when Xu spoke, and roughly equivalent to what the U.S. has produced since the George W. Bush administration.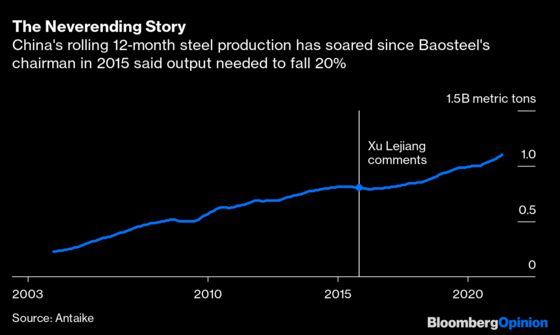 That doesn't sit well with a country whose leader has pledged it will reach peak emissions by 2030. Carbon pollution from steel production will peak along with output of 1.16 billion tons in 2025, according to one government consultancy. Tonnage in 2021 will be below the levels of 2020, the industry minister, Xiao Yaqing, said in December.
That forecast already looks as ill-fated as Xu's 2015 prediction. After earlier attempts to rein in pollution controls, authorities in the steel capital of Tangshan near Beijing this month eased limits again. This runaway train looks likely to keep on careening down the track for a while yet.
There's a simple reason why no amount of work meetings and control orders are likely to prevent 2021 being another record-breaker for steel: Much of this year's demand is already locked in. 
Consider the shape of the annual construction cycle. Every year, China builds around 9 billion square meters of property — roughly enough to cover the whole of Lebanon or Puerto Rico in an unbroken layer of real estate. Activity on a building site is time-consuming, and starts early in the year. By the end of April, work on about 80% of the total annual floor space was already under way: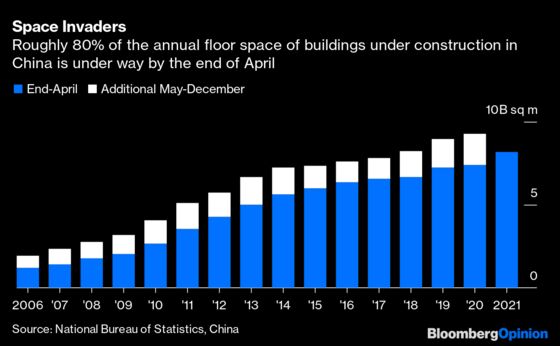 That means we can already have a pretty good idea of the size of China's new estate in 2021. Barring unprecedented restrictions and reversals, the year-end total is likely to be somewhere near to 25% above the 8.2 billion square meters under way at the end of April — about 10.2 billion square meters.
That's not the only relationship that holds fairly constant. The amount of steel required in construction is reasonably stable, determined by structural requirements, building codes, and engineers' attempts to use materials thriftily. Typically, China consumes about 28 kilograms of steel reinforcement bar for every square meter of property it puts up each year. On that basis, the country will need about 286 million metric tons of rebar this year, of which 87 million tons has already been produced.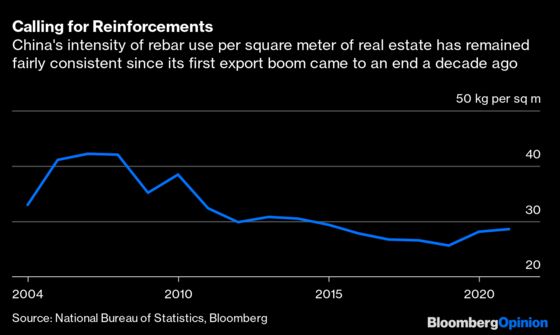 That suggests there will be little let-up in steel production across the balance of the year. On those numbers, the average monthly requirement over the rest of 2021 will be about 25 million tons of rebar — record levels for China's steel industry.
Bars aren't the only product turned out by the country's mills. But real estate comprises about 42% of end-use demand and infrastructure makes up another 25%, according to Bloomberg Intelligence, so they're a decent proxy for about three-quarters of demand. Fixed-asset investment in infrastructure nearly tripled in the three months through May from a year earlier, the fastest pace of growth on record and more than enough to overwhelm the relatively modest 10% decline in the same period of 2020. Passenger car sales, one of the other large end-use sectors, were up 11% on the year in April.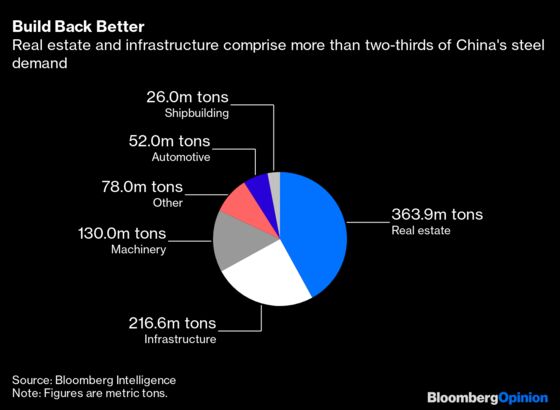 Put it all together and it's extremely hard to argue that steel output this year won't be at least 10% above where it was last year, when — far from being hit by the coronavirus pandemic — output grew 6.2%.
There's no reason to doubt that China is sincere in its efforts to finally bring the headlong expansion of its steel sector to a halt. Doing that, however, will require a more holistic solution than imposing curbs on blast furnaces and setting high-level targets for the industry. Efforts to slow activity are likely to be little more effective than attempts being mooted to curb prices of non-ferrous metals such as copper, aluminum and zinc. 
China over the past decade has turned itself into a vast machine that eats credit and spits out real estate, roads and railways. Steel and cement are the bolts holding that juggernaut together. If Beijing wants to slow down its ferrous metals industry, it's going to have to rethink how its economy works first.
This column does not necessarily reflect the opinion of the editorial board or Bloomberg LP and its owners.
David Fickling is a Bloomberg Opinion columnist covering commodities, as well as industrial and consumer companies. He has been a reporter for Bloomberg News, Dow Jones, the Wall Street Journal, the Financial Times and the Guardian.