Square Is Paying $29 Billion for This?
(Bloomberg Opinion) -- Square Inc. Chief Executive Officer Jack Dorsey is making his biggest bet: an acquisition worth tens of billions of dollars to expand the company's fintech platform into the buy-now, pay-later market. But given Square's strong track record of developing its own innovative products, the price tag — for what is essentially a feature — seems exorbitant.
Square agreed to acquire Australia-based Afterpay Ltd. for $29 billion in an all-stock deal it announced on Sunday afternoon. In the news release, the company's management said it plans to integrate Afterpay's service, which enables consumers to buy products in four interest-free installments, into its payments app and its checkout solution for physical stores. Investors applauded the combination, sending Square shares up by more than 7% on Monday morning.
I agree that adding a buy-now, pay-later option is a good idea that will add value to Square's core businesses. Merchants will receive incremental sales, while the feature may drive more use of its Cash App as consumers manage their installment payments on it. But I'm skeptical there is any real proprietary technology behind Afterpay worth such a large sum. Square has been able to create its user-to-user payments app, an easy-to-use merchant point-of-sale checkout system, stock brokerage and Bitcoin trading features all by itself. Why couldn't it make a similar buy-now, pay-later service under its own Square Cash brand?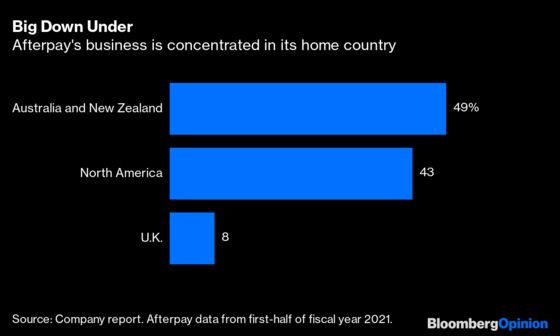 Given that the idea isn't that complicated, it looks as if Square is primarily purchasing a brand. But even that rationale has issues. A large portion of Afterpay's business is concentrated in a couple of countries. The company, while serving 16 million consumers and about 100,000 merchants around the world, conducts roughly half of its business in Australia and New Zealand. I don't think the Afterpay brand is worth much elsewhere — especially against the likes of Apple Inc. and PayPal Holdings Inc. 
The buy-now, pay-later competition is intensifying in Western markets. Last month, Bloomberg News reported Apple is working on a similar service dubbed Apple Pay Later, which will be incorporated into Apple Pay and made available to both online and retail stores. The technology giant will offer two choices: a four-payments plan and a longer-term monthly installment plan, according to the report. It's quite similar to Afterpay's feature set. PayPal,  meanwhile, may be best positioned to take advantage of the opportunity because of its dominant presence at e-commerce retailers. According to MoffettNathanson, PayPal's digital-wallet payment service holds a roughly 80% share of online stores' checkout systems, more than five times its closest competitor, Amazon Pay. And PayPal's "Pay in 4" service is already available at millions of stores, according to the company's website.
Ultimately, giving up a large portion of Square's stock ownership and paying more than 40 times trailing sales for a brand doesn't seem prudent. Affirm Holdings Inc., for example, another buy-now, pay-later pure play, currently trades at 18 times sales.
Ideally, Square should pursue its own buy-now, pay-later feature under its own Cash App umbrella and then invest billions to aggressively market the service — something it will need to do in any case to compete effectively against the big technology giants. Perhaps Dorsey and Square management were hesitant after the company's prior in-house attempt, the blandly named "Square Installments," failed to take off. But it's a different environment today, with Cash App's more than 70 million users and growing prominence. It would be far cheaper than the Afterpay deal and have a better likelihood of success.
The Afterpay purchase is set to close early next year; if Square backs out, it's required to pay Afterpay a not-onerous termination fee of A$385 million ($284 million). There's still time to reconsider.
This column does not necessarily reflect the opinion of the editorial board or Bloomberg LP and its owners.
Tae Kim is a Bloomberg Opinion columnist covering technology. He previously covered technology for Barron's, following an earlier career as an equity analyst.