Bankers Win the SPAC-Fee Grand Slam
(Bloomberg Opinion) -- Gary Gensler,  the U.S. Securities and Exchange Commission's new chair, meant what he said. After months of warning investors not to dive into special purpose acquisition companies just because they're backed by a celebrity and promising more scrutiny, the regulator on Tuesday took the rare step of sanctioning a SPAC and its merger target — a space-cargo firm — for misleading investors.
The SEC sued over allegations that the target, Momentus Inc., had lied about its technology and the fact it had been "successfully tested" in space, statements its SPAC sponsor, Stable Road Acquisition Corp., then repeated in public filings without the necessary due diligence. The companies and Stable's chief executive officer settled without admitting or denying the agency's claims, while Momentus's former CEO is fighting the allegations.
The move is a warning to the whole ecosystem that's facilitated the frenzy for SPACs, shell companies that raise money in an initial public offering and then find a promising company with which to merge. Heralded as a quicker way to go public great for companies that don't have a track record, the process allows them to pitch their future potential with rosy projections that in some cases have quickly proven overly ambitious. SPAC sponsors are under time pressure to find a deal and they can make money even if the shares fall in value.
What about all of the advisers, though? Where does their responsibility lie, and who's actually watching out for the investors?
In a traditional IPO, the answer would be the underwriter. But with SPACs that role doesn't exist at the merger stage and advisers are often working for both the blank-check company and the target. It's a set up brimming with potential conflicts and misaligned financial interests that's been incredibly lucrative for Wall Street.
The SEC is now homing in on these potential conflicts, with banks that have several roles on the same deal a focus of its inquiries, Reuters reported on Tuesday. It said a handful of top banks had received requests for information, but they wouldn't comment. (This is separate to the Momentus suit, which didn't criticize the financial advisers on that deal.)
Various kinds of banker fee permutations are possible in the SPAC world. There are SPACs that have the same bank acting as underwriter and deal adviser; blank-check firms that hire a financial adviser that's linked to the sponsor; and advisers to the merger target with a dual role helping the SPAC sell shares in what's known as a PIPE, a separate pot of institutional money that's raised once a merger is agreed.
In one deal I came across, things got even more complicated: An investment bank that co-sponsored a SPAC and underwrote its IPO was also co-advising the target on merging with its own SPAC, helping sell the PIPE and collecting debt-refinancing fees on completion of the merger. That's a veritable grand slam of fees. 
Crucially, the banks' fees are dependent on it completing a merger — a typical SPAC underwriter fee split is 2% up front and 3.5% on deal completion. Multiple fees might tip the scales to getting a particular SPAC transaction agreed. It's an odd look when in theory the target should want a higher valuation and the blank-check company a lower one.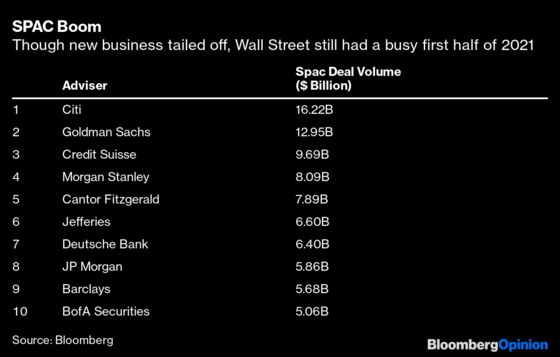 One explanation for why this happens stems from the blurring around who the issuer is. While the SPAC raises money at the outset, it's the target that sells shares during the merger so it can join the stock market. The shareholder base also changes midway through the process: Hedge funds buy in at the SPAC IPO but they don't stick around. So the blank-check company has to market the deal to a new set of long-term investors.
In their defense, investment banks are accustomed to managing such complications, which aren't unique to SPACs. The tech industry has long complained their businesses are consistently undervalued by IPO underwriters to the benefit of the banks' institutional investor clients who enjoy a first-day "pop." 
SPACs investors also have a couple of important safety nets. The PIPE investors help verify the transaction price and sometimes demand concessions. Shareholders have a redemption right that lets them get their money back if they don't like the deal that's proposed to them.
At the behest of the SEC, disclosures around the fees banks are paid are becoming much more detailed. Prospectuses often note the parties agreed to waive any conflicts. Where those conflicts can't easily be resolved, independent advisers are sometimes hired and a fairness opinion requested on the deal value.
I still worry about whether these guardrails are sufficient.

A senior SEC official warned in April that "if we do not treat the de-SPAC [merger] transaction as the 'real IPO,' our attention may be focused on the wrong place." Commenting on Momentus, Gensler put it even more forcefully: "This case illustrates risks inherent to SPAC transactions. Those who stand to earn significant profits from a SPAC merger may conduct inadequate due diligence and mislead investors."
Investment banks would do well to limit the number of roles they have in any blank-check deal, even if that means giving up some of those juicy fees. It's safer to avoid even the appearance of a conflict.
This column does not necessarily reflect the opinion of the editorial board or Bloomberg LP and its owners.
Chris Bryant is a Bloomberg Opinion columnist covering industrial companies. He previously worked for the Financial Times.