Southwest CEO Shake-Up Signals Covid Recovery Is Here
(Bloomberg Opinion) -- Southwest Airlines Co.'s leadership shake-up is a sign of the times. 
The airline, now the largest in the U.S. by both market value and domestic passengers, announced on Wednesday that Gary Kelly would be stepping down as chief executive officer next February after more than 17 years at the helm. Kelly will be succeeded by Robert Jordan, a longtime Southwest executive who most recently served as head of corporate services. The news comes as a surprise. Kelly is only the third CEO in Southwest's history and played a pivotal role in transforming the upstart discounter into a U.S. power player with a burgeoning international service. He also steered the airline through multiple crises, including the global financial crisis and the coronavirus pandemic.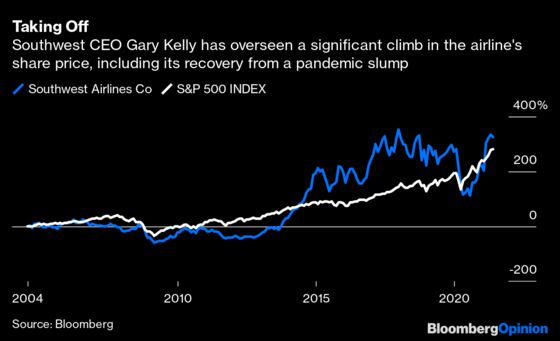 Shares of Southwest fell modestly on the news, but the CEO transition would have been much more jarring if it was announced this time last year, when air travel was de minimis as the coronavirus ravaged the world. Since then, demand in Southwest's key domestic markets has come roaring back, thanks to the success of the vaccine rollout in the U.S. The airline expects to operate 97% of its pre-pandemic capacity in July and has said fares this summer should be comparable to 2019 rates. By the time Kelly officially hands over the CEO reins next year, the recovery should be well on its way, with even business trips and international journeys starting to come back. It's the right time to set an orderly transition in motion. Kelly is also set to continue to serve as executive chairman through at least 2026.
Jordan is well known to Wall Street after previously serving as chief commercial officer and overseeing the integration of Southwest's 2011 acquisition of AirTran. But he's also 60 years old, suggesting his tenure will be more abbreviated than Kelly's was. That's not such a bad thing. Kelly is the second-longest serving CEO among companies on the S&P 500 Industrial Index, trailing only FedEx Corp. founder Fred Smith, according to data compiled by Bloomberg. Other industrial leaders with decade-plus tenures, including Emerson Electric Co.'s Dave Farr and Trane Technologies Plc's Michael Lamach, have announced plans to step aside in recent months. It's no small feat to last that long in a CEO role in this age of activist investors, but drawn-out postings are falling out of fashion. There's something to be said for fresh eyes in any organization. Airlines in particular will have to juggle growing pressure to reduce their carbon footprint and reinvent their operating model with more environmentally friendly technologies. 
At Southwest, Jordan bested other potential CEO candidates including President Tom Nealon, Chief Operating Officer Mike Van de Ven and Chief Financial Officer Tammy Romo. If Romo had been chosen to succeed Kelly, she would have become the first and only female CEO at a major U.S. carrier. The dearth of female leadership at airlines is noticeable when other classically male-dominated industries such as banks have made an effort to promote more women. JetBlue Airways Corp. currently has the highest-ranking female leader among major U.S. carriers in President and Chief Operating Officer Joanna Geraghty. Alaska Air Group Inc. appointed Constance Von Muehlen as COO in April. Several European carriers have had female CEOs. But the major U.S. airlines have continued to promote mostly men. Something to think about for the next airline leadership transition.
United Airlines Holdings Inc. CEO Scott Kirby officially took on the top job at that airline in May 2020 amid the depths of declines in air travel, but that move was already in process before the pandemic took hold.
This column does not necessarily reflect the opinion of the editorial board or Bloomberg LP and its owners.
Brooke Sutherland is a Bloomberg Opinion columnist covering deals and industrial companies. She previously wrote an M&A column for Bloomberg News.