The French Unicorn Dream Built on Trading Cards
(Bloomberg Opinion) -- Emmanuel Macron has long dreamed of unicorns. Before the pandemic struck, he called on investors and bankers to help fund 25 French billion-dollar startups by 2025 to "irrigate" the economy with jobs and boost Europe's tech defenses against the U.S. and China. Record fundraising and startup exits have brought him closer to his goal, with France boasting 23 unicorns according to Dealroom.co data.
But if current trends are anything to go by, talk of tech sovereignty is set to brush up against the type of startup garnering huge valuations after the pandemic — including addictive cryptocurrency-fueled crazes. It's a potentially volatile mix.
The most valuable unicorn in France according to CBInsights could soon be Sorare, a fantasy football game played with virtual cards on the Ethereum blockchain, based on a funding round that, at over $500 million, could be the biggest ever in France. Celebrity football players like Antoine Griezmann have put up money. Reports claiming SoftBank Group Corp. is interested have further whipped up enthusiasm. At $3.8 billion, Sorare's reported valuation would be 20 times estimated revenue, not far off Facebook Inc's revenue multiple when it went public.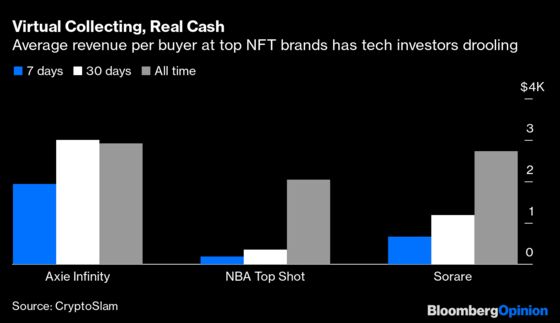 What's boosting Sorare's valuation is the hype-fueled Fear of Missing Out seen around the world in digital collectibles, from Axie Infinity in Asia to NBA Top Shot in the U.S. It's all part of the post-pandemic rush to splash disposable cash on virtual goods, combined with the psychological hooks of gamified trading and the promise of life-changing riches via cryptocurrencies. For Sorare's players, the attraction is buying limited-edition 'rare' cards to either resell or use in the game — which incentivizes serious spending, such as the six-figure sum spent on a Cristiano Ronaldo card. There are 111 cards of value per player, with the rarest offering the biggest bonuses.
The second layer of FOMO is on the investor side. Venture capitalists are desperate to clamber aboard a crypto train that seems to be leaving the station. The investors backing these NFT games praise their clean and lucrative business model, powered by the outsize gains of crypto trading. A game like Sorare has an instantly understandable consumer 'wrapper' around its crypto core; it's a mix of fantasy football and the Panini stickers that kids in the 1990s traded in the playground.
The expectation is simply that the already high average revenues per user, at around the monthly $1,000-plus mark, will grow as more celebrities join and ancillary services are invented. Alexis Ohanian, a backer of Sorare, predicts that a tradable token for a women's soccer star like Megan Rapinoe may go "to the moon" as investors chase "mimetic" real-world success.
There are two potential hiccups ahead. The first is collectibles' worth. Upholding the scarcity value of digital cards, even ones that boast 'non-fungible' status on a blockchain, is going to be a challenge as every new soccer season brings new athlete cards and as new categories of rarity are created to lower the barriers of entry for fresh Sorare participants. The potential for crypto price volatility to play havoc with NFTs is also there. This is uncharted territory in terms of financial risk and potential consumer backlash when compared to Panini trading. There aren't many sticker albums out there with terms and conditions that warn: "Beware of taxes on earnings from the sale of your collectibles."
The second is that the optimism baked into the market potential of the gaming part might simply be too high. Joost van Dreunen of New York University Stern School of Business warns that creating a hit game that becomes a sensation pulling millions of gamers into its ecosystem is, well, so rare. He notes that mobile sensation Angry Birds' parent firm, once touted as the new Walt Disney Co., is today worth $615 million — 511 times smaller than Disney's value. Moreover, success breeds competition; the more users are pulled into a game like Sorare or Axie, the harder it will be to keep copycats away.
These are obviously early days, and maybe the current speculative FOMO will give way to a more sustainable mix of gaming and collecting. Perhaps the real-world value of a Sorare card will one day be not so much the amount of Ether it can attract from selling it to the next punter along the chain, but more the 'superfan' privileges of being able to speak to or meet with the player it represents.
But for now, Macron's dream of tech sovereignty is dependent on fantasy football FOMO. Breeding unicorns can lead to some odd results.
This column does not necessarily reflect the opinion of the editorial board or Bloomberg LP and its owners.
Lionel Laurent is a Bloomberg Opinion columnist covering the European Union and France. He worked previously at Reuters and Forbes.