SoftBank Stake Sale Could Change T-Mobile's Prospects
(Bloomberg Opinion) -- SoftBank Group Corp. may be about to land another windfall, and in the process change the prospects for T-Mobile US Inc., the best-performing major U.S. telecoms stock of the past five years.
The wireless carrier's biggest investor, Deutsche Telekom AG, intends to expand its holding to become the majority shareholder, the German newspaper Handelsblatt and Bloomberg News reported on Tuesday. That likely means exercising the option it has to acquire 8% of T-Mobile from Softbank — almost all of the Japanese company's remaining stake. A deal could land SoftBank $12 billion, based on the current share price .
Such a transaction may also change what makes T-Mobile appealing to investors.
Right now, it's very much a growth stock: The 215% appreciation over the past five years values it at just short of $170 billion. For comparison, competitor Verizon Communications Inc. shares have climbed just 15% and AT&T Inc. stock has lost 24% over the same time frame.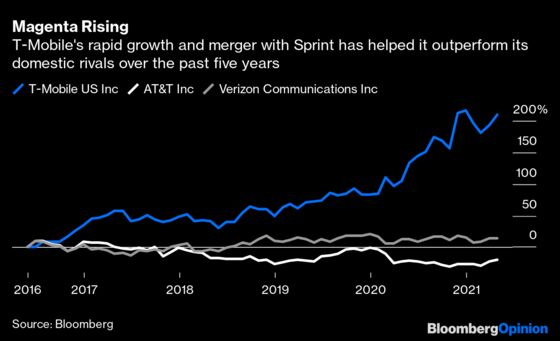 T-Mobile Chief Executive Officer Mike Sievert appears to be boosting that narrative. In March he announced plans to return as much as $60 billion in cash to investors through share buybacks from 2023, much of it funded by additional cashflows stemming from the cost savings of its merger last year with Sprint Corp., the rival carrier that was controlled by SoftBank. The move aimed to reward investors with a higher stock price instead of dividends, which the company has so far never paid.
That may have to change because Deutsche Telekom needs the cash. The former German national carrier already has one of the biggest debt piles in European telecoms. Paying for this deal would only increase leverage at a time when it's also spending heavily on new 5G and fiber-optic networks. But if CEO Tim Hoettges thinks the T-Mobile share price will increase further — and the planned buyback certainly gives it room to do so — then better to buy now while the stock is cheaper.
Although the nature of the call option means the German company can acquire some of the shares at a discount, it still has to pay the current market rate for just over half of SoftBank's stock. If the option were exercised today, the German company would pay about $120 per share. That's a decent discount to the $135 at which T-Mobile closed on Tuesday and makes the deal worth doing, even though T-Mobile's planned buyback would also result in Deutsche Telekom getting a majority stake.
The problem is that the kind of pension and insurance funds that own Deutsche Telekom shares tend to rely on regular dividends for their returns. With the company's finances stretched in even more directions, they won't want the pace of dividend growth to slow. The upshot is that T-Mobile's Sievert may have to direct more cash to dividends, so that the parent company can afford to invest in new networks, service its debt obligations and still reward its own shareholders.
Sure, the stock's increase helps Deutsche Telekom's share price. But at a certain point, Hoettges will need the profits at T-Mobile to benefit his own balance sheet. That will mean either T-Mobile paying down some of its own debt (its finances are consolidated into Deutsche Telekom's, so that would also reduce leverage at the parent ), or paying a dividend.
For Sievert, changing the emphasis of the $60 billion from buybacks to dividends makes T-Mobile a different kind of investment — one that generates predictable cash returns for its investors rather than flashy stock increases. The "Un-Carrier," as T-Mobile likes to call itself, may have to become just another boring old telecoms firm.
Deutsche Telekom currently owns 43% of T-Mobile U.S.
Even though Deutsche Telekom currently only owns 43% of T-Mobile, Softbank has committed always to vote its stake with the German company on T-Mobile corporate issues. That means Deutsche Telekom has de facto control and lets it consolidate earnings.
This column does not necessarily reflect the opinion of the editorial board or Bloomberg LP and its owners.
Alex Webb is a Bloomberg Opinion columnist covering Europe's technology, media and communications industries. He previously covered Apple and other technology companies for Bloomberg News in San Francisco.