SoftBank Finds a Clever $2 Billion Puzzle Piece
(Bloomberg Opinion) -- Where Masayoshi Son goes, some canny financial engineering is often not far behind.
The SoftBank Group Corp. boss's latest big idea is to turn his company's legacy internet brands such as Yahoo! Japan into a Japanese social media, online payments and e-commerce giant — one that can counter the weight of Facebook Inc. and Rakuten Group Inc.
The newest piece of Son's puzzle is THG Holdings Ltd. The British online retailer, known as The Hut Group, has two main pillars to its business: It sells its own branded beauty and fitness products online, and its Ingenuity division builds e-commerce websites and apps for other brands. That technology appeals to SoftBank, which is investing $2.3 billion in the Manchester, England-based firm.
The structure of the deal is clever. Son is spending most of the cash — $1.6 billion — on a 20% stake in Ingenuity, with the rest being used to acquire shares in THG. This values Ingenuity, which generated just 8.5% of THG's revenue last year, at $4.7 billion excluding cash. That's equivalent to more than half of the parent company's 6.5 billion-pound ($9.1 billion) market capitalization.
The clever part is how accounting changes will boost Ingenuity's revenue. Because of the new structure created by SoftBank's ownership stake, the division will have to start charging other The Hut Group brands, which include sports nutritionist Myprotein, for services it currently provides at no additional cost. That could help Ingenuity boost annual sales from about 137 million pounds to almost 350 million pounds, without securing any actual new business.
In other words, THG's chief executive officer Matthew Moulding is translating operating costs at his less profitable e-commerce businesses into high-margin revenue at the technology unit. In doing so, he raises the prospect of a lucrative initial public offering for that division.
But it's not just financial engineering. The SoftBank relationship should also generate new business. The Japanese company last month spent $2.8 billion acquiring 40% of Autostore, a Norwegian maker of robotics for warehouses. SoftBank could pair that with THG Ingenuity's technology to build an entire e-commerce supply chain offering for brands, from the warehousing and logistics to the website and app. Those brands might then advertise their wares on Yahoo! Japan or the Line messaging service that SoftBank controls.
That's the theory, at least. The practice will be harder.
The upshot for THG is there's now more emphasis on Ingenuity as a future driver of both sales and profit, giving investors better visibility into the scale of the business in the process.
While the boom in online shopping during the pandemic has driven three upgrades to the company's sales forecasts since its September IPO, there is a question mark over how resilient these businesses will be as physical stores reopen and people return to offices. Until the announcement of the SoftBank deal, shares in THG had fallen 24% since the start of this year.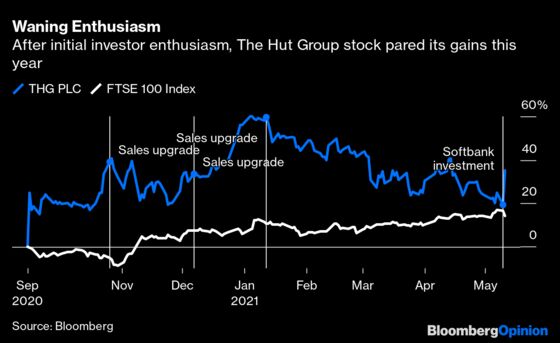 Getting more attention for Ingenuity, which benefits from companies investing in their broader online strategies rather than in short-term movements in online sales, is useful.
SoftBank's investment, however, does nothing to address some of the unusual features of THG, such as Moulding's golden share, which gives him the power to veto any hostile takeover attempt for three years after the IPO. THG also transferred ownership of some warehouses, two boutique hotels and a country club and spa to the entrepreneur before the listing.
Meanwhile, the company's new $2.6 billion war chest for acquisitions means lots more potential deals, but also more risk around integrating these businesses and management becoming too stretched.
So far Son and Moulding have managed to engineer renewed investor enthusiasm: Shares in THG rose as much as 19% on Monday. Now they'll need to deliver on that hope.
This column does not necessarily reflect the opinion of the editorial board or Bloomberg LP and its owners.
Alex Webb is a Bloomberg Opinion columnist covering Europe's technology, media and communications industries. He previously covered Apple and other technology companies for Bloomberg News in San Francisco.
Andrea Felsted is a Bloomberg Opinion columnist covering the consumer and retail industries. She previously worked at the Financial Times.