Singapore Will Still Spend to See Covid End But Not as Much
(Bloomberg Opinion) -- The surprising thing about Singapore's pandemic response wasn't how liberally it spent to save jobs and incomes. If the city's small, open economy left it exposed to the rout in global travel and hospitality, past fiscal savings gave it ample room to face the worst recession in its 56-year history as an independent nation.
What's more remarkable is the explosion of private enterprise after nearly two months of stay-at-home circuit breakers began to be relaxed in June. Rather than scaring the island-state's aging society into seeking more protection from the wealthy state, Covid-19 seems to have had the opposite effect on citizens' psyche. Yes, a large number of businesses did close down, but as DBS Group Holdings Ltd. economist Irvin Seah has noted, many more new ones have opened.
Nurturing this risk-taking spirit in the post-pandemic economy is both Singapore's best bet for revival and a cornerstone of Finance Minister Heng Swee Keat's annual budget Tuesday.
With new infections dwindling and inoculation plans in motion, Covid-19-related spending will fall to S$11 billion ($8.3 billion) in the year starting April 1, a sharp reduction from close to S$100 billion in the current fiscal year. The budget deficit is estimated at 2.2% of gross domestic product, down from 13.9% of GDP currently.
More crucial than the short-term palliative is the long-term investment: S$24 billion over three years to make local firms and workers future-ready; a S$60 billion plan to boost suburban rail connectivity over the current decade; and a commitment to mitigate the impact of climate change, a 100-year project that could cost the low-lying island S$100 billion or more. While the infrastructure push will be financed by issuing new bonds, everyday spending is growing because of aging-related healthcare expenses. To meet them, the 7% goods and services tax will be increased sometime between next year and 2025, "sooner rather than later," Heng said.
Not many finance ministers want to talk about raising taxes in the current fragile state of their economies. But it's hard to fault Heng for reasserting the fiscal conservatism that has served Singapore well. As much as S$53.7 billion, or 70% of the deficit this year and next, is being financed out of past reserves. In better times, those will need to be replenished.
Besides, unless more virulent strains of the virus show up, the worst is probably over. High-end electronics should do well as the world moves to 5G telecom networks and the internet of things. Construction may enjoy a boom because of pent-up demand and projects getting stalled last year.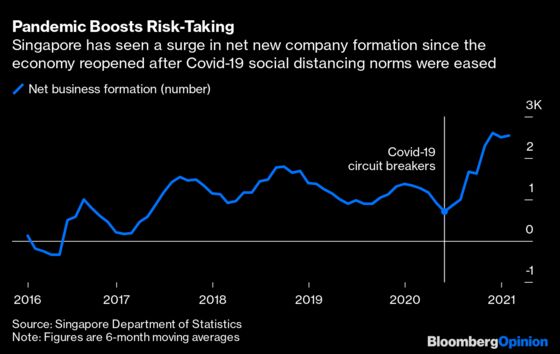 No doubt, the glass is only half full. Singapore's population of 5.7 million may not take long to reach full vaccination, but international aviation is unlikely to normalize before other countries are confident of a decisive victory over the coronavirus. Low-end manufacturing will struggle to stay competitive as Singapore tries to wean itself off foreign labor — a political imperative given that more than 104,000 residents, out of a workforce of 2.3 million, were still unemployed in December.
The best thing going for Singapore is its vibrant startup scene. The Asian financial center has managed to extend its traditional strengths to fintech and blockchain. As rival Hong Kong's autonomy wanes and it gets sucked deeper into U.S.-China trade, technology and financial conflicts, Singapore ought to be able to capitalize on rapid digitization in Indonesia, whose 269 million-strong population provides the city-state with a sizable economic hinterland in Southeast Asia. Indeed, the budget speech made as many as 24 references to "Indonesia," "Southeast Asia," and "ASEAN," the Association of Southeast Asian nations.
The neighborhood's potential is prompting Heng to taper broad-based assistance by directing resources to vulnerable sections of the society. The strategy keeps fiscal powder dry in case it's needed later. It also helps battle inequality, which has gotten worse globally because of the skewed impact of the pandemic on livelihoods. Singapore is raising salaries for nurses, and will tighten limits on lower-paid foreign workers in manufacturing. This could boost wages for locals. The budgetary purse strings will stay open for now. But with lots of enterprise and a little luck, not many Singaporeans need to be tied to the government's apron strings next year. 
This column does not necessarily reflect the opinion of the editorial board or Bloomberg LP and its owners.
Andy Mukherjee is a Bloomberg Opinion columnist covering industrial companies and financial services. He previously was a columnist for Reuters Breakingviews. He has also worked for the Straits Times, ET NOW and Bloomberg News.