Britain's Hot IPO Market Has Made Amends for Deliveroo
(Bloomberg Opinion) -- The U.K. IPO market in 2021 doesn't naturally conjure positive thoughts. In March, a government-sponsored review said sweeping reforms were required if London was to stay relevant to high-growth companies considering initial public offerings. Weeks later, food delivery firm Deliveroo Plc, the listing that was meant to herald a new dawn for a modernized market, crashed on its debut.
Yet despite all this, plenty of U.K. listings have debuted well. Not only that, they're generally doing better than London's FTSE-250 index of mid-sized stocks — one of the best-performing benchmarks in the world this year.
Investing in IPOs is always a punt. If you look at the universe of U.K. new issues that arrived during 2021, roughly half are currently beating the index and half are lagging since their debut. That's to be expected for firms that lack a trading history. Hence investors demand that new stock offerings are priced at a discount to existing listed peers: It's not clear whether the deal will fly or flop.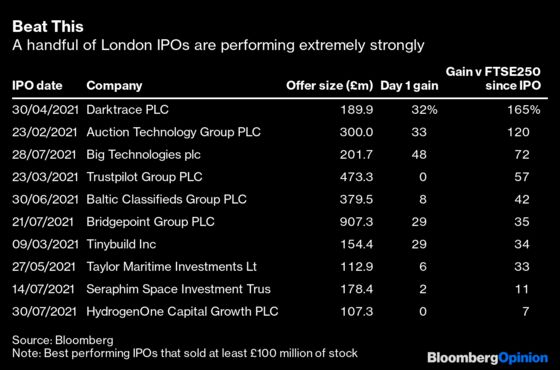 But the winners have flown more than the losers have flopped, so the overall performance of U.K. IPOs is positive. As of Sept. 3, cyber-security firm Darktrace Plc, was up some 173% since launching. An investor who bought a same-sized slice of every IPO raising more than 100 million pounds ($138 million) would be enjoying more than 20% in added returns compared with if they had just bought the FTSE-250 index on the same day, according to Bloomberg data (based on Sept. 3 closing prices).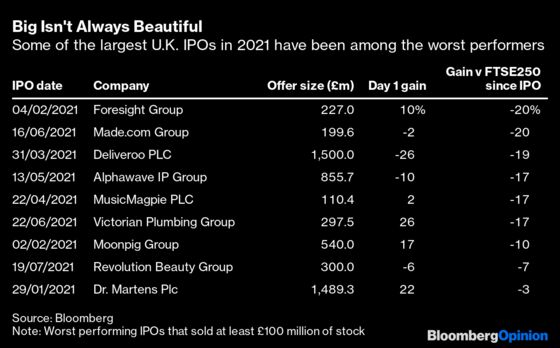 Some of the largest deals — most famously Deliveroo, but also wireless infrastructure specialist AlphaWave IP Group Plc — were the worst performers. So weighting gains and losses by the size of each offering dampens the overall performance. But even then, buying IPOs would still have beaten buying the FTSE-250, such are the returns from the deals that have gone well.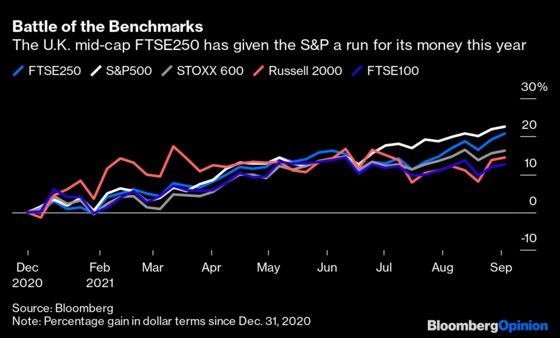 Of course, that's how it should be. If investors didn't make money from new issues in aggregate, the capital markets would have a big problem; investors need to be compensated for the risk of buying a stock with no track record. But the U.K. context is particularly relevant here. The FTSE-250 has proved a tough yardstick in 2021. In dollar terms, the index is already up around 20% and has done almost as well as the soaraway S&P 500. The Russell 2000 index of mid- and smaller-sized U.S. companies, the STOXX Europe 600 and FTSE-100 all trail behind.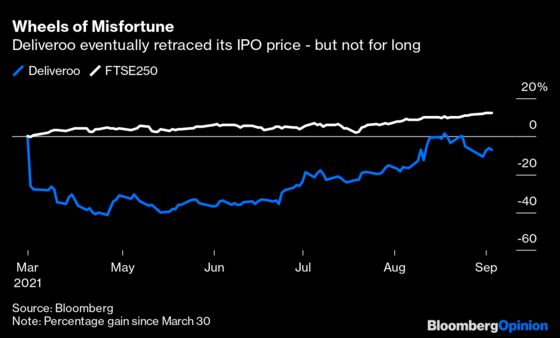 Demand for IPOs may soon be tested. Around now, a window opens up for companies to go public before investors switch off toward the year-end — a private-equity focused investment vehicle linked to Goldman Sachs Group Inc. announced plans to go public on Monday.
The specter of Deliveroo, still below its issue price, looms large in London. Investors can use that debacle to push for a big discount when an IPO pitch turns up, but their overall bargaining power isn't so great. After all, they are hungry to beat the index, and buying IPOs, for all their risk, this year would have helped.
This column does not necessarily reflect the opinion of the editorial board or Bloomberg LP and its owners.
Chris Hughes is a Bloomberg Opinion columnist covering deals. He previously worked for Reuters Breakingviews, as well as the Financial Times and the Independent newspaper.