Simone Biles Nike Snub Is a Big Win for Athleta
(Bloomberg Opinion) -- As Gap Inc. looks to vault its Athleta brand to new heights, it has struck a powerful deal that simultaneously dents a rival. The women's athletic apparel chain said Friday that it has forged a partnership with gymnastics superstar Simone Biles, who has defected from Nike Inc. for the new arrangement that will give the Olympian her own clothing collection. Biles said in an interview with the Wall Street Journal that she was enticed by the idea of teaming with a company that was "truly for women by women."
Luring Biles as a face of its brand is a huge victory for Athleta, a small but fast-growing player in the industry that Gap has said is on track to rake in $2 billion in annual sales by 2023. It will give the chain outsize visibility at the coming Tokyo Olympics, where Biles, a dominant presence in her sport, will be among the U.S.'s most high-profile competitors. Athleta had earlier signed track star Allyson Felix, another onetime Nike athlete, who will also give it prominence at the event.
As Gap's namesake brand and Banana Republic chain struggle to remain relevant, the company is counting on Old Navy and Athleta as the pillars of its growth. For Athleta to continue growing quickly, it is important for it to find ways to become more differentiated from Lululemon Athletica Inc., the retailing rock star whose $44 billion market value is nearly four times that of Gap.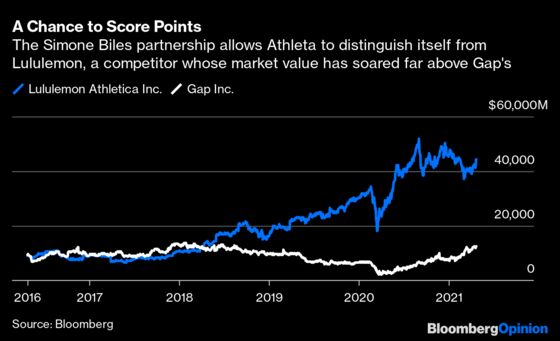 The Biles partnership is an important step in that direction. Lululemon has never focused on sponsoring big-name athletes as a marketing tactic, instead going for a more bottom-up approach that centers on yoga instructors and other figures in local fitness communities. In signing a celebrity athlete and giving her a dedicated apparel line, Athleta is giving shoppers a clear reason to choose it over its rival.
It also helps that Biles is a star with strong appeal to young girls, a key target audience for Athleta. The chain has a kids' collection, an offering Lululemon walked away from when it shuttered its Ivivva brand. While Lululemon has aimed to grow its men's category, Athleta has strategically remained focused on women and girls, marketing itself with themes of female empowerment. (In fact, when Gap briefly dabbled in men's athletic wear, it did so under a separate brand name, Hill City). Biles is a powerful messenger for a brand campaign in that vein, someone who can help Athleta ingratiate itself with moms looking for a feel-good brand to shop with their daughters. 
The loss of Biles on Nike's roster won't have much of a financial impact on the company, which still maintains a veritable murderer's row of sponsored athletes. Nevertheless, the optics aren't good for the apparel and sneaker behemoth. Bolstering its women's business is an important component of its growth strategy, and it has endured a trickle of tough headlines in recent years about being an inhospitable workplace for women and for its maternity policies affecting sponsored athletes, including Felix. The loss of Biles certainly won't help repair those reputational wounds. 
Also, it is noteworthy that the Biles partnership comes in the same week that Bloomberg News's Matthew Boyle reported that Dick's Sporting Goods Inc. has signed DeVonta Smith, a college football Heisman Trophy winner, to promote its new private-label athleisure line. If this and the Biles gambit are successful, it could encourage other retailers to join the fray in courting athletes, scrambling a multiplayer battle that has usually involved a small handful of athletic wear megabrands. For stores looking to reach consumers in the extremely competitive athleisure market-share showdown, that could be a game changer.  
This column does not necessarily reflect the opinion of the editorial board or Bloomberg LP and its owners.
Sarah Halzack is a Bloomberg Opinion columnist covering the consumer and retail industries. She was previously a national retail reporter for the Washington Post.