Short-Term Interest Rates Demand Your Attention
(Bloomberg Opinion) -- It was an impossible task for the traditionally humdrum short-term interest rate markets to divert attention away from the frenetic trading in shares of GameStop Corp. and other Reddit favorites last week. But no one can accuse them of a lack of trying.
On Monday, the U.S. Treasury sold a whopping $60 billion of two-year notes, the largest auction of that maturity ever, at a record-low yield of 0.125%. On Tuesday, it priced $34 billion of 52-week bills at a rate of 0.09%, matching the previous record set in September 2011. On Wednesday, tucked within the Federal Open Market Committee decision, the New York Fed quietly announced that "in light of the sustained smooth functioning of short-term U.S. dollar funding markets," it would stop offering one-month term repo operations after Feb. 9. On Thursday, one-month Treasury bills fell to a rate as low as 0.0228%, a level unseen since the Covid-19 crisis roiled markets in April 2020. On Friday, the three-month London interbank offered rate for dollars was set at 0.20188%, below the previous low of 0.20488% from November. The top U.S. replacement for Libor, the Secured Overnight Financing Rate, or SOFR, dropped to 0.03% last week from 0.11% earlier in January.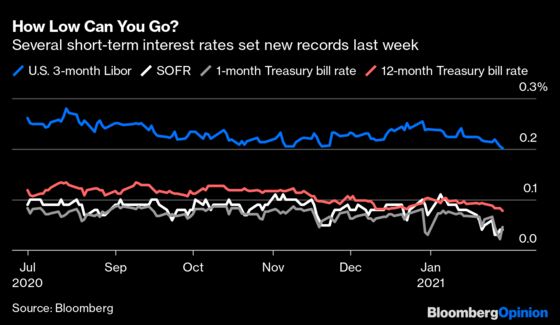 This is nothing short of a cry for attention, though the trend has been clear to anyone paying attention in recent months. As I wrote in mid-December, those who closely watch front-end interest rates had been wondering for a while what the Fed would do to keep short-dated U.S. rates from hitting zero. The primary issue is a wave of cash set to hit this part of the market as the Treasury, now run by Janet Yellen, looks to slash its $1.61 trillion cash balance in the next several months to abide by federal debt-ceiling rules. That means auctioning fewer bills and increasing bank reserves instead. There should be at least a bit more clarity on that this week when the Treasury releases its quarterly refunding announcement.
The Fed didn't do anything to address this looming cash glut at its meeting last week, leaving the interest rate on excess reserves, known as IOER, untouched at 0.1%. Its next decision isn't until March 17. Meanwhile, the fed funds rate slipped late last week to 0.07%, from 0.09% as recently as Jan. 20. Sure, that's technically within the central bank's target range of 0% to 0.25%, and it was as low as 0.04% in April. But it's still an uncomfortable position for policy makers in the coming several weeks — in their ideal world, they wouldn't want to raise IOER between meetings or sell short-dated Treasuries to alleviate the supply-demand imbalance for fear of the move being misinterpreted as a modest tightening.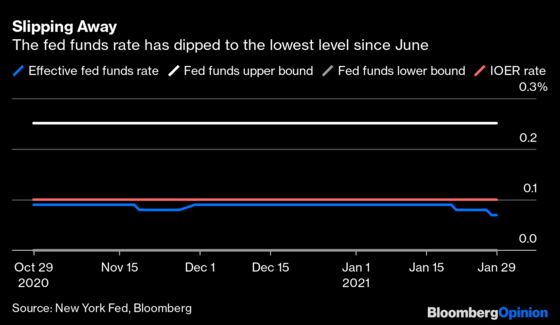 It's a real possibility that they might not have a choice. "We see risks the Fed might need to increase the IOER rate at or before the March FOMC," Bank of America Corp. strategists Mark Cabana and Olivia Lima wrote in a report on Friday, highlighting a fed funds rate of 0.05% as a level at which the central bank would feel compelled to act. They argue that a potential regulatory change for Fannie Mae and Freddie Mac, which would push them into Treasury repo agreements rather than those tied to mortgage-backed securities, has accelerated the move toward zero. Barclays Plc strategist Joseph Abate has flagged the March meeting for an early IOER adjustment. Priya Misra at TD Securities reckons the Fed would move to tweak IOER if the fed funds rate falls below 0.05%.
All of this hand-wringing over a few basis points might seem inconsequential. But it shows just how committed the Fed is to keeping interest rates pinned as close to zero as possible without crossing its lower bound. Negative short-term rates could potentially crush the $4.33 trillion money-market fund industry, to say nothing of the fact that Treasury isn't allowed to auction bills at negative rates. Even a five-basis-point boost to IOER, or some acknowledgment that policy makers are eyeing such a move, might have been enough to avoid these potential headaches. Instead, it seems the Fed will cross that bridge only when markets clearly force the issue.
Notably, this stands in stark contrast to what's happening in China, where authorities are effectively orchestrating a liquidity crunch to quell excess financial-market speculation. The cost of overnight interbank borrowing surged last week to 3.3433%, the highest since March 2015 and up from an all-time low of less than 0.6% in late December. According to reporting from Bloomberg News, the real cost was even higher for some would-be borrowers, with brokers offering funds at rates of 10% or more. This has crushed leveraged traders. Here's more context:
Bubbles have long been a concern to the Communist Party. Capital borders mean the country's 1.4 billion people have few investment options. Abundant liquidity in the past has fueled speculative frenzies in everything from housing to equities and commodities, something that the government is keen to avoid. Officials don't have to look hard to see the effect of easy money in the rest of the world on asset prices, and the risk of a sharp reversal. ...

Signs of overheated markets were popping up all over China after authorities flooded the financial system with funds at the end of 2020. While the goal was to stabilize sentiment after a spate of high-profile credit defaults, the result was a stream of cheap money with nowhere to go. Excess liquidity made its way into a popular bond-market carry trade, sent a gauge of domestic stocks to near a record and flowed at an unprecedented pace into Hong Kong's shares.
Fed Chair Jerome Powell argued at his news conference last week that "the connection between low interest rates and asset values is probably something that's not as tight as people think." He's correct in the sense that a modest tweak to IOER couldn't have possibly quelled the mania that swept over popular Reddit stocks in recent weeks. But China, for all of its many differences with the U.S. economy, at least shows what's possible when short-term rates are moved swiftly and liquidity is drained from the financial system. Powell reiterated that "it's just too early to be talking about dates" for when the central bank might scale back its $120 billion in monthly asset purchases.
But judging by last week's fireworks, it's not too soon for the Fed to start crafting its message around how to best keep short-term interest rates from falling much further. If anything, it might be better to get the word out now, when all of Wall Street is seemingly preoccupied with short squeezes that are inconsequential to the path ahead for the world's largest economy. 
This column does not necessarily reflect the opinion of the editorial board or Bloomberg LP and its owners.
Brian Chappatta is a Bloomberg Opinion columnist covering debt markets. He previously covered bonds for Bloomberg News. He is also a CFA charterholder.