Short Sellers Giving In May Be a Bearish Signal
(Bloomberg Opinion) -- Life is getting even harder for short sellers. Some of the most famous names in the business of seeking to profit by anticipating declines in the value of financial securities are closing their positions. Time will tell if they were right to abandon their bearishness – or whether their capitulation signals a market turn.
Russell Clark, who took over John Horseman's eponymous $3.2 billion fund in 2010 and renamed it after himself in the middle of last year, is shutting up shop, Bloomberg News reported this week. He spent the past decade speculating on a stock market decline; those wrong-way positions saw assets at Russell Clark Investment Management Ltd.'s flagship fund dwindle to about $200 million.  
A relentless rally in global stocks has confounded short sellers. An initial slump at the start of the pandemic saw Clark's fund up 44% at the start of last year, almost 30% in the first 18 days of March 2020 alone. That proved short lived; worldwide equities have doubled from their low point in the first quarter of last year.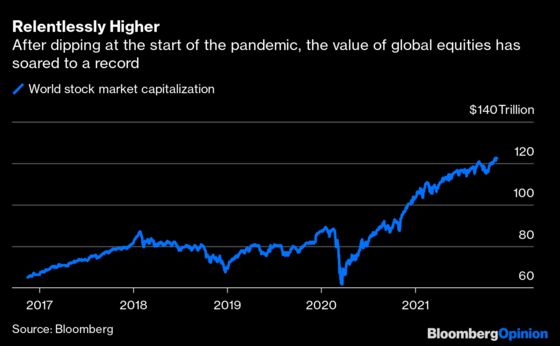 Clark is far from alone in being undone by the persistence of higher equities. Morgan Stanley chief U.S. equity strategist Mike Wilson's year-end outlook for the S&P 500 saw the index declining to 3,900, about 17% below its current value. He said this week he's sticking with his bearish view, though he has increased his target to 4,400 in the next 12 months – which would still need a 6% drop to come good.
Michael Burry, played by Christian Bale in the movie version of Michael Lewis's "The Big Short" book about the global financial crisis, abandoned some of his largest skeptical bets at the end of the third quarter, Bloomberg News reported this week. Filings by his Scion Asset Management firm show he scrapped short positions against Tesla Inc. and Cathie Wood's ARK Innovation exchange-traded fund.
Those bets may prove to be a case of right call, wrong timing. The ARK ETF's concentrated holdings have produced both big winners and big losers this year. After soaring by more than 150% in 2020, the fund is down by about 25% from its February high, leaving it 5% lower for the year.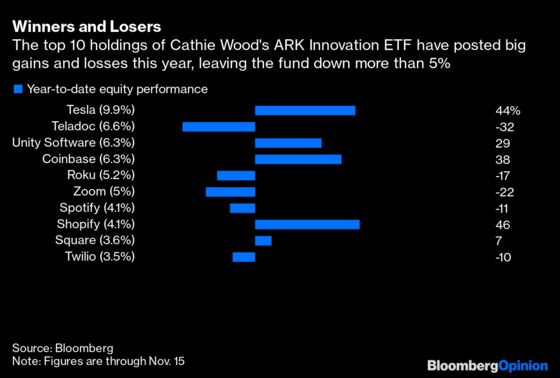 Perhaps the most unpredictable stock in the world is Tesla, Elon Musk's electric car company and ARK's biggest holding. Tesla shares are down about 18% from the peak they reached earlier this month, as the world's richest person has offloaded stock worth $7.8 billion in recent days.
That leaves them up 44% this year - but vulnerable to further disinvestment by Musk, who would need to double his sales to make good on his recent Twitter poll that voted for him to offload 10% of his stake.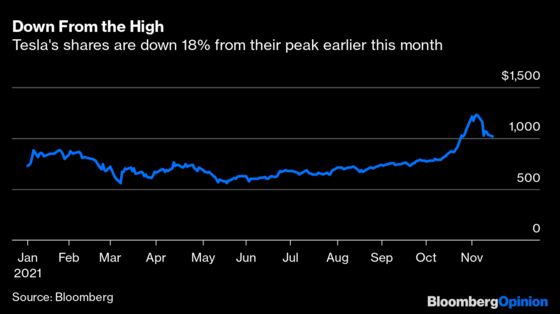 Burry, who made his name and a fortune betting against mortgage-backed securities, also closed out a short position against long-dated U.S. government debt at the end of the third quarter. Bonds have proven to be particularly difficult to read this year as investors debate how central banks will respond to accelerating consumer prices.
Debt analysts were far too bullish on the 10-year Treasury in the first half of the year, with yields way higher than the consensus forecast. By the time bond watchers caught up with trend, the benchmark had pivoted to lower levels.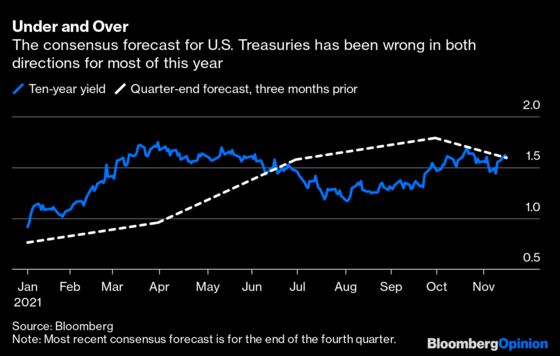 We're currently at another inflection point in fixed income, with the actual Treasury level matching the collective quarter-end prediction made at the end of September. And investors, analysts and traders are becoming increasingly wary of stocks, with indexes in several markets setting records even amid the prospect of tighter monetary conditions to combat rising prices.
Fear of missing out has been arguably the most powerful driver of markets for months. If economic fundamentals start to reassert themselves – and those fundamentals turn out to include faster inflation, slower growth and reduced central bank stimulus – short sellers may find their pessimism back in vogue.
This column does not necessarily reflect the opinion of the editorial board or Bloomberg LP and its owners.
Mark Gilbert is a Bloomberg Opinion columnist covering asset management. He previously was the London bureau chief for Bloomberg News. He is also the author of "Complicit: How Greed and Collusion Made the Credit Crisis Unstoppable."