Shoplifting Is Scaring Retailers. Wall Street Should Worry, Too
(Bloomberg Opinion) -- Wall Street is desperately trying to figure out where consumer demand is going. Alongside sentiment and sales, there's another indicator worth watching: shoplifting.
This metric is rarely talked about. It's uncomfortable for retail executives to acknowledge that their customers or, worse still, their employees are stealing from them. But theft has long been a bugbear for retailers, and it's now been thrust into the spotlight by a spate of increasingly violent robberies across the U.S.
Although these losses were the work of organized criminal gangs, and far from small-scale pilfering, the two can't be completely disaggregated. Shoplifting, large and small, tends to rise during times of crisis. As inflation makes things harder for more families, retail theft data will be a telling gauge for consumer distress.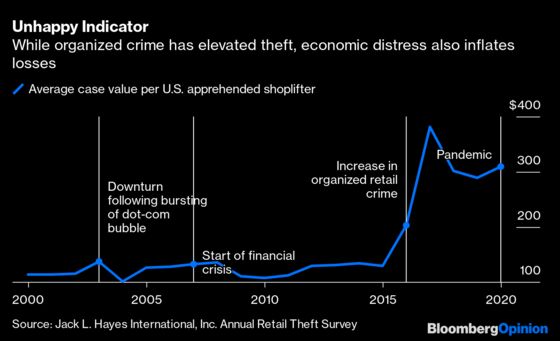 Jack L. Hayes International, Inc., a Florida-based loss-prevention consultancy, has been surveying retailers on theft for 33 years. In 2020, the store groups reported a significant increase in the instances of theft for need. With U.S. food prices rising the most in 13 years in November, expectations are that this will become even more of a problem in 2022.
This comes against the backdrop of a rise in organized retail crime. The Retail Industry Leaders Association, whose members include Target Corp., Best Buy Co Inc. and Walgreens Boots Alliance Inc., estimates that $68.9 billion worth of products were stolen from retailers in 2019, about 1.5% of total retail sales, due to organized gangs. The average amount recovered from apprehended shoplifters has risen sharply since 2016, as raiders have become more prolific, according to Jack L. Hayes. But just a tiny fraction of stolen goods is ever recovered from shoplifters, so overall losses to stores are much bigger.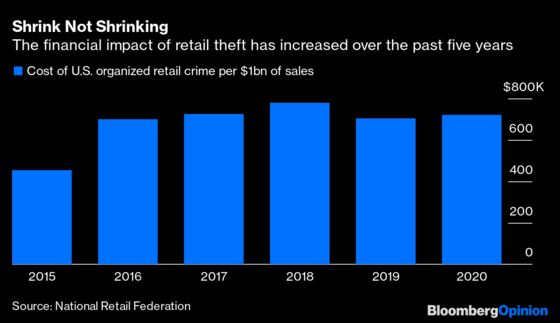 In the past, stolen goods were often disposed of through flea markets or pawn shops. The explosion in online shopping has made it easier for gangs to resell them without getting caught. Stores are seeing the typical targets go missing — razor blades, infant formula, cosmetics and personal care products can be easily sold off again — but they're also reporting more theft of larger-ticket items — from designer clothes and handbags to power tools.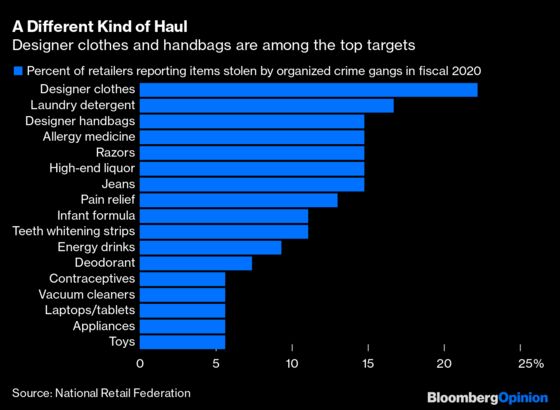 Retailers are pressing lawmakers to take shoplifting more seriously. Last month, a letter signed by 20 CEOs urged Congress to pass legislation requiring online marketplaces to collect and verify third-party sellers' identities and financial details, and forcing high-volume sellers to disclose contact information to consumers.
Even these measures, though, might not be enough to deter theft. The last time consumers were under severe strain — in the wake of the 2007 financial crisis, amid rampant job losses and spikes in prices for food and fuel — shoplifting surged. 
A paper from Joshua Bamfield, director of Britain's Centre for Retail Research, found that in western Europe, so-called "shrink" (stock that is lost because of systems errors, as well as theft by employees and customers) fell from 1.45% of sales in 2002 to 1.23% in 2006. But it rose quickly from 2007 onwards, reaching 1.39% of sales by 2011. The U.S. experienced a similar trend. Jack L. Hayes noted an increase in the average amount recovered from apprehended shoplifters in 2007 and 2008, and also in 2003, when Americans were grappling with the economic consequences of the dot-com bubble burst. 
While organized crime was a factor, Bamfield noted that as early as 2009 retailers were seeing more "amateurs" stealing from their stores, often targeting everyday goods including food (blocks of cheese, meat, frozen pizzas, coffee, milk powder) and household products (knives, antiseptic cream, analgesics, contraceptives, vitamin pills, dietary supplements). These items had always been subject to some theft — with criminals attempting to sell a leg of lamb in the pub or to a restaurant — but it became so severe that supermarkets had to put electronic tags on items such as joints of beef.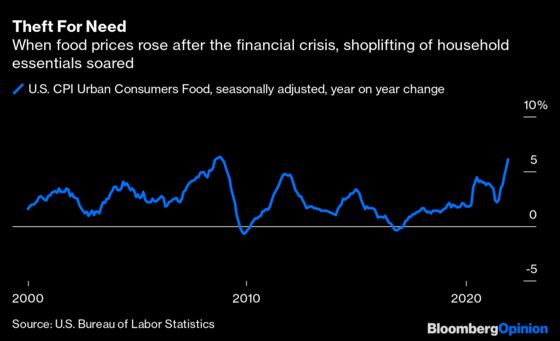 And it wasn't just shops that criminals turned to as food prices spiked. Brits who grew their own fruit and vegetables, on plots known as allotments, had to introduce security patrols after a jump in thefts.
After a rollercoaster two years for many retailers, another step up in shoplifting will be a big worry for stores — and for Wall Street too. It would show that more consumers are struggling under the weight of inflation, and are turning to increasingly desperate measures to cope.
More From Other Writers at Bloomberg Opinion: 
This column does not necessarily reflect the opinion of the editorial board or Bloomberg LP and its owners.
Andrea Felsted is a Bloomberg Opinion columnist covering the consumer and retail industries. She previously worked at the Financial Times.