SPACs Are a Pretty Wild Party for Wall Street's Finest
(Bloomberg Opinion) -- Few of Wall Street's parties have ever been quite this exuberant.
Since the pandemic struck, investment banks have been earning billions of dollars from a surge in stock-market listings of special purpose acquisition companies (SPACs). What for decades was a relatively small area of finance — using listed blank-check companies to acquire promising businesses and thereby take them public — has exploded. The amount raised in north America by these vehicles this year has risen to $92 billion, driving the market for initial public offerings to new records. Investment banks have been drinking freely from this punch bowl of easy money.
Understandably worried about the robustness of some of the companies being taken public via SPAC acquisitions — many are a long way from making any revenue, let alone profit — the U.S. Securities and Exchange Commission is trying to get a better grip on the dangers of the SPAC frenzy. The regulator is now asking bank underwriters questions about compliance, internal controls and their generous fees, Reuters has reported. It's mostly a fact-finding exercise, but it could become something more formal.
Fans of the SPAC boom say it's pumping fresh blood into the public markets, after a long period when promising tech companies were happy to remain private. But using a SPAC as the vehicle to take a company public exposes stock-market investors to greater risks than a traditional IPO.
In the old way of doing things, investment bank underwriters would do due diligence before signing off on the company being listed. In the new process, the banks underwrite the blank-check company. There are concerns that the level of diligence the SPAC sponsor and their financial advisers do on the business the SPAC later acquires isn't as robust, and that those involved are heavily incentivized to get a deal done.
In some ways a SPAC acquisition is more transparent than a traditional IPO because it provides forward-looking forecasts, but this has led to wildly optimistic assessments of a target's prospects and inflated market valuations. Add to the mix the concerns that investors may not be fully cognizant of their costs once SPAC sponsors' cuts are included, as well as not being aware of SPAC managers' potential conflicts from their other investments, and it's no surprise that the SEC is worried.
Investment banks' somewhat opaque and lucrative takings on SPAC IPOs are adding to the SEC's angst. Back in December, the supervisor urged SPACs to spell out in their prospectuses if underwriters were due deferred fees once they complete a deal with a target company, and it pushed SPACs to disclose any potential conflicts of interest that may arise from additional services the underwriter may provide and get paid for.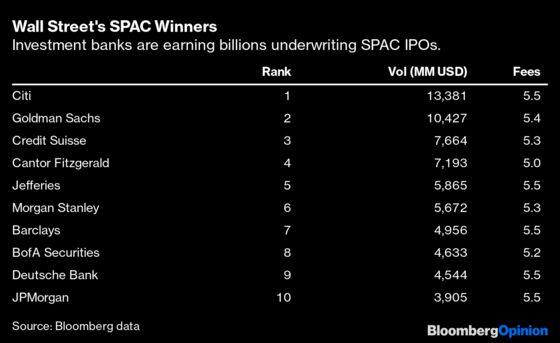 The amounts banks can make are mouthwatering. Disclosed fees for SPAC IPOs average at about 5.2% of gross proceeds, data compiled by Bloomberg show. For deals that in essence require little more than a thin filing with scant details and very little balance sheet risk — and where someone else carries responsibility for the due diligence on the eventual target — it's a hugely attractive business for securities firms. Throw in any additional advisory fees over the life of the SPAC, and the income up for grabs is at least 50% higher than on regular IPOs, according to one of investment banking chief I spoke to.
Some firms are doing especially well. Take Credit Suisse Group AG, ranked third this year among the underwriters of SPAC IPOs. Analysts at Barclays Plc estimate that the Swiss bank could see a 10% uplift to group net income from underwriting these deals in 2021. As we've seen before, incentives of this magnitude can push firms to take excessive risk and shouldn't be ignored by regulators. 
Transparency on investment bank commissions may be the SEC's primary objective. U.S. IPO fees are notoriously steep compared to equivalent deals in Europe, where company share sales tend to be charged at less than half of what Wall Street would bill.
The SEC's move last year to allow companies to sell stock in direct listings — almost entirely skirting investment banks' services — may make the market more competitive and drive down prices. But the SPAC binge shows IPOs are too juicy a business for regulators to ignore.
This column does not necessarily reflect the opinion of the editorial board or Bloomberg LP and its owners.
Elisa Martinuzzi is a Bloomberg Opinion columnist covering finance. She is a former managing editor for European finance at Bloomberg News.